Diamond Provider Review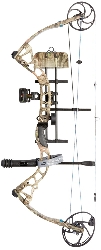 Where to buy


from $300
Compare Prices

Editors' review
Diamond Archery's new addition to the extremely popular Edge lineup, although strikingly similar to other models, brings to the table a whole new single cam shooting platform to raise the bar in terms of shooting experiences for archers across the nation. The Provider shifts away from the all-around recreational use of models like the Infinite Edge and is shifted more towards the hunting spectrum of the archery field. Likewise, it would have been nice to see an improvement in specs like a higher IBO, longer ATA, or a reduction in weight, but the redesigned shooting experience brought with the single cam system makes up for what could have been improved. For the price, it is a very respectable hunting bow that can be shot and enjoyed by multiple individuals with various ranges of archery experience.
Finish
The Provider is available in one finish option to suit the needs of archers looking to hunt with this setup; Mossy Oak Breakup Country. Although the hydrographic dip process shows the edge of the pattern, it has no effect on the performance or overall look of the compound. As a benefit, two color blue and silver strings are used, being an upgrade from simple black threads. Overall, the finish is simple, yet complementary when regarding the overall level of the compound on a scale from entry-level to a flagship model, and is on par with Diamond's good standard, as should be.
Riser
Although using the same updated riser as the Infinite Edge Pro, the fully CNC machined aluminum platform is solid, as well as lightweight with 13 cutouts for an overall weight of 3.3 lbs bare bow. With the included limb system, the Provider reaches an ATA of 31", a generous brace height of 7.5", and nearly achieves perfectly parallel limbs at full draw. Attached to the riser are fiberglass string stop and cable guide rods, as well as all the normal mounting holes for accessories.
Limbs
The solid limbs featured on this bow are standard, coming on similar models, however, in addition to the completely dipped camouflage look, they include anodized blue split retention clamps for extra torsional rigidity of the limbs during the shot sequence. Limb pockets are simply built into the aluminum riser, and are attached by a standard Allen bolt to adjust poundage from 20 to 70lbs, a great range of adjustment to suit the needs of archers of many ages and experience levels.
Grip
The Provider features a bulbous, plastic grip built into the riser. The benefits include features like a generous arrow shelf and the small factor of insulation when handling the bow in cold weather. However, it is aesthetically somewhat unappealing, and it may take some time to get used to the feel of this grip during the shot sequence.
Eccentric System
Being the nicest, most beneficial upgrade to the series, the implication of the single cam system makes any initial tuning incredibly straightforward, lessens the initial setup time by allowing only one draw length module to be rotated, and removes the possibility of having two cams come out of sync which each other. Although speed in terms of IBO did not increase from its dual cam counterpart at 310fps, it is still definitely enough to take to the woods for any situation, however it may limit the possibility for longer shots depending on the arrow setup and the individual archer's settings. Likewise, there is a generous draw length range of 25.5 to 31", and a pleasant 80% letoff.
Draw Cycle/Shootability
Featuring 50lbs of draw weight adjustability from 20 to 70lbs, this bow has a definite advantage at suiting the needs of growing archers to eventually allow for use out in the treestand. The draw cycle changes at each respective draw weight due to the cam geometry, however it consistent in the fact that it reaches peak draw weight about 2/3 into the cycle, dropping off into a good holding weight at full draw. With a string-actuated back wall, the back wall isn't solid and leaves some range of travel to allow for creep, however with even a little practice, any archer will be able to shoot consistently with this setup. Overall, it is a very solid shooting compound, having the edge over its brotherly models featuring un-synced dual cams.
Silencing Package
The Diamond Provider comes factory shipped with the RAK package, including basic accessories like a 5" Octane stabilizer, basic sight, quiver, peep, and rest. Attributing to its fairly quiet output after the shot sequence are pieces like the rubberized string stop bumper, Dura-FLX dampener, coated speed nocks, and the aforementioned stab. With a little assistance from aftermarket parts like limb, or even cable guide rod dampeners, this bow could be as quiet as many higher end models in the market today.
Comparison
Bow

Bear Wild

Version

2016

Picture
Brace Height
7.25 "
AtA Length
32.25 "
Draw Length
24 " - 31 "
Draw Weight
40 lbs - 70 lbs
IBO Speed
310 fps
Weight
4.0 lbs
Let-Off
80%
Where to buy


Best prices online
In comparison to the new
Bear Wild
, the Provider is noticeably lighter, has a much larger draw weight range, and a quarter of an inch larger brace height, all the while outputting arrows at the same IBO of 310 fps. On the other side of the spectrum, the Wild has an extra inch and a half of bottom end draw length and an extra inch and a quarter of ATA length to increase stability at full draw, as well as a retail of $399. For the extra hundred dollars, the Provider brings a lot to the table, but it is safe to say that they are respectively both very good compounds for the growing archer looking to hunt in the near future.
Usage Scenarios
The Edge series has grown rapidly in recent years, and this bow, the Provider, is a solid performer to sway the scales towards the hunting spectrum of an all-around compound. As much as this bow would be perfect for a growing archer to adjust respectively through time, it can also be setup in multiple ways to accommodate the needs of archers, young and old. The 31" axle-to-axle measurement is compact, yet provides a respectable string angle at full draw; especially useful in tight areas such as tree stands and ground blinds where a small stature is necessary. To say the least, this bow setup, especially when mixed with different accessories, would fit the bill for many archery-related tasks at hand, from hunting to simply shooting in the backyard.
Summary
Diamond Archery is known for making a large range of compounds, from their extremely adjustable series to their mainline and flagship models alike. Their new-for-2016 Provider continues this lineup with a beneficial single cam setup to allow for ease of adjustment as well as providing tuning longevity, plus it features a very forgiving brace height and a reasonable overall IBO of 310fps. For roughly half the price (and nearly half the overall weight) of a flagship model at a $499 MSRP, any archer would be happy with a setup with such adjustability, assortment of features, and specs to fit the needs of a reliable hunting rig.