Hoyt Alphamax 32 Review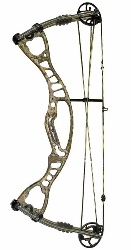 Where to buy


from $100
Compare Prices

Editors' review
With very efficient and innovative technological changes, the Hoyt design team managed to take the quality of their bows to the next level by overhauling all their technologies and releasing the new Alphamax 32. The new TEC Lite riser, XTR & 1/2 Cam system, ZT lock pocket system, and XTS limbs are all new and innovative solutions introduced by Hoyt in 2009.
Riser
While the new Alphamax riser looks similar to its 2008 predecessor version, it is almost one pound lighter. The new TEC Lite riser is slimmer, has more cuts, and is designed to absorb shock effectively. Made from aluminum and then machined into shape, the new riser is very stable and helps reduce the overall bow weight to 3.9 lbs.
Balance, quietness, and vibration
Although the Alphamax 32 is a lightweight rig, it has minimal hand shock and vibration as confirmed by multiple tests conducted by bow experts. According to multiple reviews, this is a very well balanced rig that feels right in the hand (as noted by many shooters).
Limbs-to-riser connection
Another major change is the new Zero Tolerance (ZT) Lock Pocket system. The riser-to-limb connection is the most important contact point in any bow. That is why Hoyt engineers re-designed the pocket system so that it locks the limbs to the riser very tightly. Experts believe this design significantly improves accuracy and consistency of the Alphamax 32.
Grip
The new 180 Pro-Fit Custom grip system is designed to increase accuracy and deliver consistent shots. This fully laminated one piece grip has received a lot of great feedback from shooters.
Limbs
Made of a 5 layer laminated material, the new XTS limbs are very light, lean, and durable. At 5/8" wide, they further contribute to the overall bow weight reduction. It's a well known fact that lightweight limbs can cause all sort of durability problems. This is not the case with the new Alphamax though. The Hoyt design team came up with a very effective and robust technology to address this challenge. They proved the new design does not affect durability and bow life time by testing this rig rigorously. According to the results of their tests, the new limbs can survive a minimum of 1,000 dry-fires at 30" draw length and 80 lbs draw weight.
Eccentric system
The last major improvement in the new Alphamax 32 is a totally redesigned eccentric system. The new modular XTR Cam & 1/2 system allows for adjusting draw length in half inch increments without using a bow press. This is a major step forward for Hoyt because the previous Z3 eccentric system was not adjustable. In fact, there are two cams covering the overall range of 26 to 30 inches. The XR2 cam covers a range of 26" to 28", and the XR3 cam is used to further adjust draw length from 28" to 30". Another nice thing about this system is that it has adjustable draw stops. That means you can choose the type of valley you like. Finally, the bearings on the cams are sealed properly to effectively protect the bow from any outside dirt such as mud or rain.
Draw cycle and shootability
Experts agree that the Alphamax 32 is a great shooting bow with minimal jump and recoil. With a very solid back wall, the bow can be easily held at full draw with just the right amount of back tension. Many archers say the draw cycle is extremely smooth and consistent. The Alphamax 32 has minimal hand shock and vibration that can be eliminated by installing a stabilizer.
Hoyt Alphamax 32 Bone Collector edition
Some people ask what the difference is between the standard Alphamax 32 and the Alphamax 32 Bone Collector edition. There is a show called Bone Collector run by Michael Wadells. Hoyt has drawn on the success of this show by releasing the new Alphamax edition that features a camo riser along with black limbs. In addition, this bow has Michael Waddell's signature on the limbs to improve the look. That's it. There are no any technological differences apart from what's mentioned above.
Other recommendations
Bow

Hoyt Alphamax 32

Hoyt Alphamax 35

Hoyt Maxxis 31

Version

2010 (XTR Cam)

2010 (XTR Cam)

2011 (XTR Cam)

Picture
Brace Height
7 "
7 "
7 "
AtA Length
32 "
35 "
31 "
Draw Length
26 " - 30 "
27 " - 31 "
26 " - 30 "
Draw Weight
40 lbs - 80 lbs
40 lbs - 80 lbs
40 lbs - 80 lbs
IBO Speed
321 fps
316 fps
323 fps
Weight
3.9 lbs
4.1 lbs
3.9 lbs
Let-Off
75%
75%
75%
Where to buy


Best prices online

Not available now.
Please check later.

compare more bows
If you have a longer draw length, or prefer bows with longer axle-to-axle length, have a look at the
Hoyt Alphamax 35
bow. With exactly the same technologies, the Alphamax 35 has a longer 35" AtA length and is adjustable from 27 to 31 draws. It's a bit slower though (316 fps) compared to the Alphamax 32 (321 fps). Alternatively, if you are not on budget consider getting the
Hoyt Maxxis 31
which is considered to be the Alphamax's successor and has almost identical specs.
Summary
To conclude, the Alphamax 32 is a lightweight, balanced, and quiet bow that shoots very well. Although this rig is not the fastest bow out there, it is a great feeling bow with a smooth draw and low vibration. Equipped with a lot of innovative engineering solutions, the Alphamax 32 is a forgiving bow delivering good performance. That is why this bow is a great choice for average shooters as noted by many experts.
Hoyt Alphamax 32 Review