Hoyt Maxxis 31 Review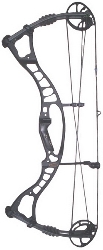 Where to buy


from $650
auctions from $300
Compare Prices

Editors' review
The Maxxis is Hoyt's premiere hunting bow for 2010. When designing this bow Hoyt engineers reused and further enhanced their best technologies from 2009. The result is the new Maxxis - a bow that is considered to be even better than extremely popular 2009 Alphamax. While the grip and the XTR & 1/2 performance system are exactly the same, the new riser, post parallel limbs, improved limb pocket system, and in-line roller cable guard make the Maxxis a better bow. A very well balanced, smooth Maxxis 31 is lightweight, sleek, and fast, and is definitely one of the best bows in 2010.
Riser
The Maxxis 31 is equipped with a light and slim TEC Lite riser similar to the one that was introduced by Hoyt in 2009. Made from aluminum and then machined into shape, the TEC Lite riser is stable and helps to reduce the overall bow weight to 3.9 lbs. Experts say the riser is designed in a way that helps to absorb shock more effectively, reduce vibration through the grip, and improve accuracy. While the new riser has identical geometry to the one installed on the Alphamax 32, it looks a bit trimer and sleeker due to the new Pro-Lock Pocket system design.
Limbs-to-riser connection
The new Pro-Lock Locking Pocket system is very similar to the Zero Tolerance system introduced in 2009. Being lightweight and durable, the new system improves accuracy and consistency by connecting the limbs to the riser very tightly.
Grip
The fully laminated 180 Pro-Fit Custom grip system is designed to increase accuracy and deliver consistent shots. Made from a thermo plastic elastomer, this one piece grip is soft to the touch and acts as an effective insulator.
Limbs
One of the major enhancements introduced with the Maxxis 31 is the new XTS laminated limbs engineered using Hoyt's new ARC Limb technology. Capable of exceptional bend, the new limbs are designed to move to past parallel angles. Being highly pre-loaded, the XTS ARC limbs store an incredible amount of energy which helps to increase speed and reduce recoil. The beyond-parallel configuration ensures the limbs act in opposition to each other effectively eliminating shock, vibration, and noise as confirmed by multiple tests carried out by experts and archers.
Hoyt Maxxis 31 Dangerous Game edition
While the standard Hoyt Maxxis 31 is available in weight ranges from 40-80 lbs, there is a special edition called Hoyt Maxxis 31 Dangerous Game. This special setup has additional set of limbs covering a range of 80 lbs to 90 lbs - great news for big game hunters. In addition, the Hoyt Maxxis 31 Dangerous Game features reinforced components, a wood grip, and custom Dangerous Game graphics on the limbs.
In-line roller cable guard
Another interesting enhancement to the Maxxis 31 is the In-line Roller Cable Guard. With this new aluminum roller guard, one cable is placed in front of the other so that the cables are not stacked side by side. This innovative system serves to reduce friction, increase speed, and improve efficiency.
Eccentric system
The Maxxis 31 comes with the option of two different cam systems that are both smooth to draw. While the older Z3 Cam & 1/2 covers a range of 23.5"-25.5" draws, the newer XTR Cam & 1/2 is adjustable from 26" to 30" draws.
The newer XTR Cam & 1/2 system is a very efficient and smooth to draw eccentric system capable of producing IBO speeds reaching 323 fps. This cam system allows for adjusting draw length in 1/2" increments without using a bow press. Actually, there are two cams covering the overall range of 26 to 30 inches. The XTR2 cam covers a range of 26" to 27.5", and the XTR3 cam is used to adjust draw length from 28" to 30". Another great feature this cam system offers is adjustable draw stops which allow for choosing the type of valley you prefer. Finally, cam bearings are sealed properly to protect the Maxxis 31 from any outside dirt such as mud or rain.
Draw cycle and shootability
Experts agree that the Maxxis 31 is great shooting bow. The draw cycle is very smooth and drops off into a solid valley without much hump. While some archers say they can't feel any difference between the Maxxis 31 and the Alphamax 32, others insist the new Maxxis 31 is smoother due to the new roller guard it is equipped with.
Quietness and vibration
While no bow is completely quiet, archers say the Maxxis 31 comes very close and is virtually dead in hand. Having explored a lot of tests and reviews, we can confirm this rig is very quiet and has minimal jump on releasing the arrow. Shooters recommend installing a stabilizer to reduce vibration and improve shootability.
Other recommendations
If you prefer bows with longer axle-to-axle length or have a longer draw length, take a look at the
Hoyt Maxxis 35
bow. Designed and equipped with exactly the same technologies and solutions, the Maxxis 35 has a longer AtA length (35") and is adjustable from 27" to 31" draws. It's a bit slower though (318 fps) compared to the Maxxis 31 (323 fps). Another alternative would be the
Hoyt Alphamax 32
which is considered to be the Maxxis's predecessor and has almost identical specs.
Bow

Hoyt Maxxis 31

Hoyt Maxxis 35

Hoyt Alphamax 32

Version

2011 (XTR Cam)

2011 (XTR Cam)

2010 (XTR Cam)

Picture
Brace Height
7 "
7 "
7 "
AtA Length
31 "
35 "
32 "
Draw Length
26 " - 30 "
27 " - 31 "
26 " - 30 "
Draw Weight
40 lbs - 80 lbs
40 lbs - 90 lbs
40 lbs - 80 lbs
IBO Speed
323 fps
318 fps
321 fps
Weight
3.9 lbs
4.2 lbs
3.9 lbs
Let-Off
75%
75%
75%
Where to buy


Best prices online

compare more bows
Summary
To summarize, the Hoyt Maxxis 31 is a very maneuverable, lightweight, and well balanced bow with extremely low vibration and great shootability characteristics. Available in weight ranges from 40 lbs to 90 lbs this top hunting bow is ideal for big game hunters. While being a bit expensive, this top quality bow is a pleasure to shoot. Being accurate, forgiving, quiet, and smooth, this bow is also a very good match for average shooters who prefer shorter, maneuverable bows.
Hoyt Maxxis 31 Review