Hoyt Ruckus Review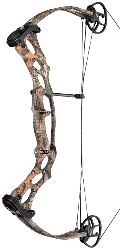 Where to buy


from $149.95
auctions from $52
Compare Prices

Editors' review
The 2013 Hoyt Ruckus does everything one could ask for out of a youth bow. The bow will fit a large amount of draw lengths and draw weights. Depending on the size of the youngster it could be shot from the beginning to end of a child's youth years. It can be plenty to hunt large game if a child is strong enough to pull the proper amount of weight. This bow may possibly have the most quality of any youth bows available on the market and can be used a great deal without worry. This is a great smooth shooting bow that is quiet and real simple to adjust. The range of adjustment is enormous to fit many different sized youth and some adult beginner archers.
Finish
There is a large amount of color options available for the Ruckus. There should be one that everyone can fall in love with. Available colors include Realtree AP, Realtree Max-1, Realtree Pink, Black Out, and many other custom paint options for target shooting. All of the options have a nice look. The finish seems to be withstanding to abuse and does not easily wear or chip. The texture is flat with no glare which is a good attribute in hunting situations.
Riser/Limbs
The axel to axel measurement on this bow is 29.75. It is nice a short for smaller framed youths and may be slightly too short for older youth or adult shooters. With the Ruckus coming in at 2.8lbs.it won't get too heavy for young shooters as quickly as some other heavier bows. It has a cool looking riser with similar lines to other Hoyt bows including their carbon line up. There is not a string stop included on the bow. It comes standard with a stabilizer bushing.
The Ruckus has limbs that are split. The brace height is 6.75". The draw is amazingly smooth and it shoots very well at all draw weights. This bow is very comfortable to shoot for anyone shooting it at any set up. The hand shock is only minimal especially for being so light in weight.
Grip
This bow has a grip that is built in to the riser without any additional material added to it. It is as simple as it gets, but does everything it needs to do without any torque. It doesn't seem to thick or too thin and should fit a wide variety of kid sized hands. If it gets too cold in cool hunting conditions some rubberized tape could be added for less of a chill. Although it is only composed of the riser material it seems very balanced and sturdy without wanting to lean to one side or the other.
String Suppressers
The Ruckus does not come standard with a string stop. With it not being a super powerful, stiff drawing, high speed bow a suppresser is not needed. For its large amount of adjustability in weight and draw it has very little vibration and is far superior to other youth bows in this category and many others.
Eccentric System
There are rotating modules within the cams on this bow. It will adjust from 18" to 28" in draw length. With a range like this it will fit most children and even teenagers that could shoot a bow. The bow has 1/2" draw length adjustment increments and 70% let off that gives youth archers a good feel for larger bows. It is simple to adjust without the use of a bow press or any additional parts to change the draw length. The ease of adjustment is perfect for bow owners and parents who need to make adjustments frequently during growth. The Ruckus is available in draw weight ranges of 10-40lbs. and 20-50lbs. There are minimum and maximum draw weights at each draw length that increase with longer draw lengths. The range of draw weights slowly increases with each 1/2" draw length extension. The IBO speed of 281 fps is rated with a 28" draw length at 50lbs. of draw weight.
Draw Cycle/Shoot Ability
The draw cycle on the Ruckus is silky smooth with only a small bump toward the beginning of the draw. It feels good at full draw and has a soft back wall that is best for most youths. The valley is very large also and won't want to easily jump back forward on the archer. This is important in teaching a young archer to shoot. With as light feeling and nicely balanced as this bow is a stabilizer will still improve it. A light stabilizer would work fine especially if it is a smaller archer that doesn't need anymore weight added. It has a slide type cable guard that works fine for this level of a bow.
Silencing Package
This bow is nice and quiet without out any added silencers. It is put together well including the limb pockets which can play a large role in silencing a bow. If one prefers a string stop it could be added for heavier draw weight shooters. A stabilizer may slightly improve on sound on an already silent bow.
Comparisons[VS]hoyt-ruckus,mission-menaceThe Hoyt Ruckus and the Mission Menace are both bows that are at the top of their class. They have a completely different look from one another. The Ruckus is 1.25" shorter ATA, slightly lighter, and has a .5" shorter brace height. The ranges of draw lengths and weights are very similar on both bows. The Ruckus is adjustable from 18" to 28" in draw length and the Menace is 17" to 30". There is a draw weight range of either 10 to 40lbs. or 20 to 50lbs. on the Ruckus and it is 16 to 52lbs. on the Menace. The Menace has more color patterns available. All in all these are both amazing youth bows. The Menace is slightly more quiet, but it seems to be the only area that it beats the Ruckus in. Although they are very close in all categories and it could also be a matter of personal preference the Ruckus seems to be slightly faster and smoother in draw. The Menace has an MSRP of $269 while the Ruckus comes in at $299.
Perfect Usage
For a child still learning the fundamentals of archery, some adult beginners, and advanced youth shooters this bow is perfect. Children can grow with this bow, shoot 3D, and hunt. With its' range of adjustment it will fit most youths that are ready to start shooting their first bow or are even more experienced.
Value
The Ruckus is a great value especially if a child will still be growing and it can be adjusted for them as the years go on. It is on the higher end in price range for youth bows, however, this bow is well worth its price. Quality is written all over this bow along with comfort and shootability. Its durability and adjustability make a great combination for lasting through a childhood.
Summary
This bow is eager to guide a new archer in the right direction. It's the perfect kids bow for a child that will take it serious. It is very light, comfortable, smooth, and quiet. Combined with its adjustability it is the best bow in its class. It's also fast with its dual cams at all draw weights and speeds. The quality is top notch on this bow and it has the look of adult sized bows in Hoyt's line up along with the same colors available. This in itself is enough get a lot of kids excited to look like dad. The Ruckus' ease to shoot will make the archery experience much better for the first timer. The $299 MSRP is a lot for a youth bow, but quality isn't always cheap.