Hoyt Vector 32 Review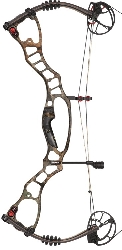 Editors' review
The Hoyt Vector 32 is a well-balanced, smooth drawing bow that comes standard with tons of Hoyt technologies. The newly designed RKT cams with ErgoDraw shoot achievable advertised speeds along with offering a very smooth draw. Sticking with Hoyts 32 inch axel-to-axel measurement, the Vector 32 also comes available in several finish options sure to offer an option that matches almost every shooters style.
Finish
Hoyt has a great finish on their bows that feels very substantial and proves to be long lasting. It feels somewhat textured, and is sure to withstand the abuse a hunting bow goes through. The dipping process makes the Vector 32 look very appealing and there are several color options for shooters to choose from. Hoyt has offered Realtree camo on their bows for several years, and the Vector continues with this trend. With Realtree AP and Realtree Max-1 being offered. Shooters have the option to have the entire bow dipped in the camo pattern or a half and half option with a black out riser and camo limbs in either Realtree pattern.
Hoyt also offers the Bone Collector edition that features a Realtree AP riser and black limbs with the custom Bone Collector limb decals and green logo. The Vicxen option is similar to the Bone Collector Edition offering pink custom graphics. For shooters not interested in camo, Hoyt offers several target colors as well. Shooters can get a black out bow, jet black, fusion, red fusion, green, orange, or colbalt blue. All options look very appealing and should last a long time.
Riser
The Hoyt Vector 32 features a newly designed riser using what Hoyt calls Tec Lite technology. Strategically placed cutouts are inserted to maintain supreme strength along with minimizing the bows weight. The bow features a rear facing sting suppressor, which is becoming an industry standard. There is also a front mounting stabilizer hole for shooters who want an added dampener and some added stability. The Vector actually has an offset front mounting hole that helps to offset the weight of the sight and quiver. The riser shelf also features a very unique design Hoyt calls silent shelf technology. The riser shelf is covered in a rubber dampener designed for today's popular drop away rests to make silent contact with the fingers of the rest after they fall. This really is a great design and works very well.
Grip
Hoyt offers several options for grips, but all use the Pro-Fit custom grip technology. Perhaps the most common grip is the 180 grip. This is a rubber grip that really feels great and makes it very easy to have a repeatable hand placement in the proper position. This grip features the Hoyt logo, and is offered in several different colors as well. Also available are several wooden grips as well. Hoyt offers side plate wooden grips, which seem to be another very popular choice. Also available is the standard black all wooden grip as well as the high wrist all wooden pro fit grip. All these options really offer all shooters options in terms of fit, feel, shape, and material. All grips are comfortable, but they offer a little different feel to match shooter's preferences.
Limbs
Hoyt also features a new limb design for this year's models. Although they stay with parallel split limbs they have used for several years, this year's limbs have a few changes not featured on previous bows. Using a few major technologies including 5LL (five layer limbs), ARC limbs, and Pro-lock limb pockets Hoyt has designed a very long lasting, high performing limb design sure to withstand all the shooting a person can put on them. The five layer limbs are designed with contours to strengthen the limbs in vulnerable places along with helping the limbs store more energy while remaining less stressed. This really help to eliminate vibration caused after the shot as well. The stronger limbs help cancel out residual vibration. Hoyt also redesigned the limb pockets with what they call the Pro lock Limb pockets. This is the strongest limb pocket they have ever designed. The limb bolt is also larger giving the even more strength than before. All this adds up to a very repeatable shot and better accuracy. Limbs are available in ten-pound increments with max weights or 40, 50, 60, 70, and 80 pounds.
Eccentric System
Hoyt uses a redesigned cam system they call the RKT cam. This cam is a cam and a half system that uses ErgoDraw to make it smoother draw from start to finish. The cams are designed for shooters to draw with the proper muscles while using your body's natural leverage to make the cycle smooth and rather easy to draw.
Hoyt draw length changes based on cams and modules. Draw lengths are available for the Vector 32 from 24.5 to 30-inches in half-inch increments. There are three cam options that offer modules to change the draw length within that specific range. The number 1-cam features draw length adjustability from 24.5-26 inches. The number 2-cam features draw lengths between 26-28 inches, which can be changed using the modules. The number 3-cams features draw length 28-30 inches.
One of the best features of the RKT cams is their ability to reach achievable IBO speeds. Often times IBO ratings are next to impossible for real life situations to reach. The RKT cams 330 feet per second is an achievable number.
Draw Cycle/Shootability
The Vector draw cycle is very smooth. Hoyt did a nice job with the ErgoDraw technology and the bow draws very smooth. The transitions are very smooth from start to finish. The valley of the bow is not very big, and it comes back to a decently solid back wall. The draw stop back wall not the most solid in the industry, but it does feel nice. When the bow is at full draw, it really wants to shoot. The Vector does not allow much creep when at full draw. It wants to transfer all of that stored energy to the shot. Many shooters like a bow without much creep because it makes the shooter keep tension while shooting. This often helps with proper shooting technique. The release has a little vibration as well. Most of the vibration will be taken care of with a front mounting stabilizer, but there is a little vibe when shooting. Overall, the draw cycle is easy to get used to and most shooters really enjoy the draw cycle.
Silencing Package
Hoyt comes equipped with Alpha Shox limb dampeners. They fit between the split limbs and help eliminate residual vibration caused after the shot. The rear-mounted stabilizer also comes equipped with a rubber dampener that helps the string come to rest after the arrow has been released. The bow is very quiet without string silencers although some shooters may choose to add them later.
Hoyt Vector 32 and Hoyt Vector 35
Bow

Hoyt Vector 32

Hoyt Vector 35

Version

2013

2012

Picture
Brace Height
6.75 "
6.75 "
AtA Length
32 "
35 "
Draw Length
24.5 " - 30 "
25.5 " - 31 "
Draw Weight
30 lbs - 80 lbs
30 lbs - 80 lbs
IBO Speed
330 fps
325 fps
Weight
4.0 lbs
4.2 lbs
Let-Off
75%
75%
Where to buy


Best prices online

Not available now.
Please check later.

compare more bows
Hoyt has manufactured a 32-inch axel-to-axel bow and a 35-inch model for several years. The Vector is also offered in a 32 and 35-inch model. The bows feature the same limbs, the same cams, and a similar riser despite different lengths. Shooters main decision between the two Vector styles will more than likely come down to the use of the bow. If shooters are primarily looking for a hunting bow, the Vector 32 may be a better option due to the shorter axel to axel measurement and being easier to maneuver around in a treestand or ground blind. The longer measurement of the
Hoyt Vector 35
may be a little sturdier for shooters wanting a target bow.
Usage Scenarios
The Vector 32 is a wonderful all around bow designed for hunting but suitable for 3d and target shooting as well. Hardcore tournament shooters have different options available to them. However, shooters interested in a bow designed to be a terrific hunting bow with a smooth draw and decent speeds will love what the Vector 32 has to offer.
Summary
The Hoyt Vector 32 is a really great option for those in the market for a new hunting bow. Hoyt uses a lot of useful technology and innovation to make sure this bow will last a very long time and perform flawlessly. Shooters have the option to personalize their grip and finish options to match their shooting needs. With achievable IBO speeds and a perfectly balanced feel the Vector 32 should be added to added to the list of bows to try out. For those on a strict budget, the Vector 32 may not be an option because of a rather large price tag. However, shooters not on a budget and able to try out the 2012 lineup may be surprised with how well this bow shoots. No matter what type of shooter you are, the Hoyt Vector 32 has something to offer.
Hoyt Vector 32 Review