Martin Onza 3 Review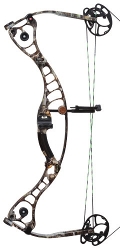 Where to buy


from $125
Compare Prices

Editors' review
The 2011 Martin Onza 3 is one of those bows that is a good choice for someone looking for a great do everything bow. The incredibly smooth drawing and smooth shooting Onza 3 is not only quick but very accurate and form forgiving. As part of the Gold Series line up from Martin this bow is available for purchase at big box stores for a very reasonable $599.99 MSRP. At this price it the performance of this bow is out of this world.
Finish
The Onza 3 is a fully machined bow from solid block aluminum and then the bow goes through a dip process. The paint looks good from a distance but upon further investigation runs in the paint are noticeable. It is even possible to feel some spots here and there that feel rough to the touch, a type of grooving in the riser due to the CNC machining process. However, this could be a give and take for the price point of the Onza 3, with an MSRP set at $599.99 the finish can stand to be a little less than perfect but far from terrible.
Color Options
The Onza 3 comes in a plethora of different color options. There are three camouflage patterns to choose from, with the Next Camo as being the standard option, and three target colors available as well. As far as the camo patterns go the Next and Bonz camo look pretty standard in the world of camo patterns that is however, the Bonz camo has a bronze hue to it; probably not a coincidence. When it comes to the Skulz pattern, it really does look pretty slick, it's that never been seen before on a bow feeling at first sight. Then the target colors are Crimson Red and Leopard Skin which are pretty self explanatory. The Hunter black paint option could go either way between being a target or hunting color. All of which are fairly attractive and have very little affect on the price of the bow, choosing any pattern other than the standard option of the Next Camo only increases the cost by around $35.
Limbs/Riser
Looks like Martin wanted to take a trip back in time and make some upgrades when it came to the Onza 3. They took the bridged riser from the older Onza and made it look great. Don't be fooled by some people Martin introduced the bridged riser long before one of the big named company did. Back to the bow now; this riser has a stiff feel due to the bridge that Martin used. This is a strong CNC machined 6061 T6 Aluminum riser that has very limited riser torque. The Onza 3 has a 7.25" brace height and a moderately long axle to axle of 33.25", which creates a stable shooter. A little added bonus is the Quick-lock stabilizer mount which uses a barrel nut to attach the stabilizer. There are a few benefits to using a system like this; the barrel is replaceable so stripping out the riser never happens, and it is very fast for removing the stabilizer for storage or travel.
Martin also put the PowerTough limbs on this bow which are the strongest limbs that they have every produced. They come in 50,60, and 70lbs, but with the Roto Cup limb attachment system that they have designed the limbs are adjustable up to 15lbs. The Roto Cup system isn't technically a limb pocket it is a little similar to the center pivot design from Bowtech. Martin calls these the PowerTough limb because they are very durable and they are accurate and it is rare to hear of a finish problem.
TRG and SOS systems
The Torque Reducing Cable System was developed as a way for Martin to reduce cam lean during draw. It accomplishes this by allowing the cables to move freely towards the arrow during draw back. Which is the natural tendency for the cables to do but most of the time companies put on roller guards or cable slides; these are the types of products that are hard on strings. The TRG causes virtually no wear on the strings because it doesn't restrict natural movement or create much friction. This natural motion reduces torque on the riser itself as well.
The SOS or String Oscillation Suppressor is where the majority of noise dampening comes from. This accessory also takes out as much of the string vibration as anything else out on the market. Unlike most STS's which have no give when the string hits it the SOS has a buffer built into it so instead of the string bouncing off string suppressor it basically catches the string which in turn cuts out a lot of vibration and noise all together in harmony. Another fact that separates the SOS from conventional STS's is its location. Instead of being placed down on the riser directly behind the stabilizer it is placed closer to center of the string; which in turn, makes string vibration dampening an easier task because the string will be split top and bottom, closer to equal than ever.
Grip
Most shooters tend to really enjoy the grip on the Onza 3, it is slim line and it just looks pretty cool. Martin uses a Saddleback thermal grip which consists of a strip of leather where the palm makes contact with the riser and on the sides of the riser there are carbon fiber inlays. Martins design is thin enough to not bring hand torque into the equation while providing a little bit of protection against the cold weather and vibration as well. This grip feels natural in the hands of most shooters so it's rare to hear a complaint about the shape of the grip.
Eccentric System
The Onza 3 features a hybrid style Nitro Cam system which produces a very smooth drawing rock solid bow capable of hitting 330-340fps. Using the Nitro Cams allow this bow to be changed easily without the use of a bow press. Instead of needing to order a new cam to change the draw length it uses a rotating cam mod that allows the change in draw length from 27.5" to 30.5" in half inch increments. All that is needed to make changes in the draw length is the removal of a screw then a turn of the cam mod to the desired setting. Also the draw stop is infinitely movable to create an extremely customizable draw cycle.
Martin went through many steps to try and create the smoothest, easy to shoot and accurate bow that they could while keeping a reasonable price. The TRG system allows for natural movement of the cables during the draw cycle which prevents cam lean producing great accuracy. Along with the equipment on the bow itself; Martin put Hammerhead bow strings that they boast being the best stock strings that money can buy. With these strings the "break-in" is already taken care of because the strings are stretched at 300lbs so there is no peep turn due to stretching string.
Draw Cycle
This is one smooth drawing bow; the cam system works very well with the TRG and upon release this bow doesn't even think about jumping. There is of course a peak as the bow is drawn but it isn't sharp like some hybrid cams. However, the peak seems smooth and the fall back to the back wall happens close to full draw. A few shooters have a hard time getting a nice valley; this is most of the time a set up issue that can be worked out by adjusting the draw stop. Getting in touch with a professional may be required to get this bow tuned in.
Vibration Dampening
Martin used a lot of different technologies to deaden most of the vibration on the Onza 3. From the before mentioned TRG and SOS systems to the VEM (Vibration Escape Module) and the silent hunter arrow shelf system Martin tried everything they could in order to make this one of the smoothest shooting bows they've made. The VEM system was put into the riser close to the Rotocups in order to take vibration out of the riser. Even though the Silent Hunter Arrow Shelf doesn't seem like a way to reduce vibration, but it does. If Martin could think of anything else that they could have put on this bow to reducing vibration it would be surprising.
Best Usage
If a hunting bow that will perform well at local shoots is what is needed; Martin has just answered the call. This is one of those bows that really could go either way; a great hunting bow and a really good target bow. Fast shooter with low vibration and very quiet, all while being forgiving is the kind of bow that a lot of shooters are looking for but may not find without looking at the Martin Onza 3. With a 7.25" brace height it is respectable in the world of stability even with a little bit short for target shooting axle to axle length of 33.25". People strictly looking for a target/competition bow would like to see an axle to axle of 35" to make this bow perfect; but for the shorter statured shooter this bow would be an amazing target bow.
Onza 3 Vs. Firecat 400
The 2011 line up from Martin is full of speed demons and real tack drivers; two of the top bows from this line up are the Onza 3 and the Martin Firecat 400. When it comes to equipment on these two bows they look practically identical. They both use nitro cams, TRG, SOS, quick lock stabilizer.... The list goes on and on. The main difference that is noticeable from a mile away is the bridged riser on the Onza 3 and the traditional looking riser of the Firecat 400. (Even though the riser of the Firecat is pretty gnarly)

Now for some more not so noticeable differences; the Onza 3 is a quarter inch longer on its brace height and three quarters of an inch longer axle to axle. Which aren't blaring differences but some shooters can look at these numbers and immediately choose one over the other. When it comes to noise the Firecat seems just a little bit louder and a touch jumpier in your hand when you shoot. However, the Firecat seems to hit higher Ibo speeds than the Onza 3 but both fall short of the advertised IBO speed of mid 330's. Both of these bows are an excellent choice the Onza 3 will be a bow that you can find at places like Bass Pro shops and other big box stores that handle Martin's line, and to find the Firecat 400 you are going to have to stop by your local Martin Pro Shop.
Bow

Martin Onza 3

Martin Firecat 400

Version

2013 XT

2011

Picture
Brace Height
7 "
7 "
AtA Length
33.25 "
32 "
Draw Length
25.5 " - 31 "
27 " - 30 "
Draw Weight
35 lbs - 70 lbs
40 lbs - 70 lbs
IBO Speed
330 fps
335 fps - 345 fps
Weight
4.0 lbs
3.7 lbs
Let-Off
80%
80% adj
Where to buy


Best prices online

Not available now.
Please check later.

compare more bows
Summary
For people looking for a do everything well bow; don't overlook the Onza 3. An IBO speed rating 330-340 makes this bow a real rocket ship, if you can get it there. Not to mention the 7.25" brace height which turns this into a stable tack driver. This bow performs like a target bow but a reasonably short 33.25" axle to axle makes it a bow that will fit in the arms of a treestand or even a groundblind hunter. However, this was a little on the hard side to set up for some shooters. With very few downsides to this bow it is hard not to say go and buy one. Martin did just about all that they could do to create a $599 bow that has the stats and equipment of a $900 bow.
Martin Onza 3 Review