Mission Ballistic Review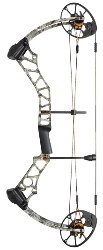 Where to buy


from $485
auctions from $279
Compare Prices

Editors' review
The guys at Matthews pulled off the "near impossible" with the Mission Ballistic. This bow was introduced in the 2013 lineup and has not disappointed. This rig is often overlooked because of its price and because it's not one of the most popular brands. With a 30.5" ATA, 7" brace height, and a smooth 333 fps, this is not a bow to be taken for granted. This is a solid shooter and will hold up to any situation you put it into.
Finish
This rig only comes in two colors, either black or Lost Camo AT.
Risers/Limb
This bow comes with an extruded, forged machined aluminum riser that forms a very solid platform for any situation. With cutouts in all the right places, this design forms a look that is pleasing, while providing the strength necessary to handle the limb loads at full draw. The riser also has a cutout at the bottom that enables the shooter to add a Matthews harmonic stabilizer for additional noise cancellation. The ends of the riser are capped with a strong plastic limb pocket that secures the limb in place without any side-to-side movement that could cause problems with consistency and accuracy.The limbs for this bow are a parallel split limb design. This technology is tried and true and offers excellent performance. The limbs absorb vibrations and recoil making this bow very quiet through the shot. The limbs come in 70# peak weight design, but can be adjusted down to approximately 50# by loosening the limb bolts. These bolts can be adjusted out 10 full turns allowing the weight to be set anywhere in the 50# - 70# range quickly and easily.
Other Components
This bow comes with a carbon rod cable guard, Zebra Hybrid strings, String Grubs, Dead End string stop, and a composite grip. Some have been less than pleased with the grip, as it is a medium-to-large sized grip and causes torque if it doesn't fit into the hand properly. The Dead End string stop and the String Grubs are very effective at reducing vibration and noise.
Eccentric System
This bow has a highly-efficient modular AVS Cam system. This system gives this rig the right mix of speed, adjustability, and performance. This system not only provides the 333 fps IBO, it also allows for the 26" - 30" draw length adjustments in 1/2" increments. These adjustments are easily made by replacing the draw modules with the desired draw length on each cam. This is done by removing the two screws securing the module, replace the module, and re-insert the screws. This has to be done on both cams.
Draw Cycle/Shootability
Most shooters find the draw cycle on this rig to be quite smooth. They also comment on how fast, quiet, and accurate it is. The draw loads quickly and tapers off rather nicely, but there does seem to be a slight hump to get past to reach let-off. The rig has an 80% let-off which makes it pretty easy to hold on target. The back wall is not as solid as you would expect, but that is easily remedied through adjustment.The peak draw weight of 70#, but the rig is adjustable from 50# - 70#. This can be done through adjusting draw length and using the limb bolts. The draw length will have some effects on the peak weight of the bow. This rig remains smooth regardless of the draw weight.
Silencing Package
This rig was designed to be fast and smooth. Although the limbs, riser, and cams offer some vibration and sound dampening features, and it is a fairly quiet bow, it is not as quiet as some other bows of similar specs. This bow comes with String Grubs, Dead End string stop, and a carbon rod cable guard that help reduce noise. The Dead End string stop virtually eliminates post-shot string noise, while the String Grubs will help this as well. The String Grubs also do this without causing speed loss as many other string type suppression kits do. This rig will do well with the addition of a good stabilizer and harmonic stabilizer.
Comparisons
Bow

Mission Ballistic

PSE X-Force Dream Season DNA

Version

2015

2014

Picture
Brace Height
7 "
6 "
AtA Length
30.5 "
31.25 "
Draw Length
26 " - 30 "
26 " - 30 "
Draw Weight
50 lbs - 70 lbs
40 lbs - 70 lbs
IBO Speed
330 fps
344 fps - 352 fps
Weight
4.18 lbs
3.7 lbs
Let-Off
80%
70%
Where to buy


Best prices online

compare more bows
The Mission Ballistic can be closely compared to the
PSE X-Force Dream Season DNA
. The DNA has 1/2" longer ATA, 1" less brace height, and weighs only a couple of ounces less total mass. The size of these two bows is very even. The DNA offers the shooter 11 fps more speed, but is not near as smooth as the Ballistic. The DNA also only provides the shooter with 70% let-off instead of the 80% from the Ballistic, making it just a little more difficult to hold it on target for those long pauses. Both are adjustable from 26" - 30" draw length and both have a peak draw weight of 70#. When comparing these two bows, although they are basically the same size and weight, the Ballistic gives the shooter better let-off and a smoother draw, while the DNA provides a little more speed. Depending on your shooting requirements, 11 fps isn't noticeable, and that 11 fps is going to cost you an additional $400.
Usage Scenarios
This rig is designed for all archery scenarios. The speed, forgiveness, and accuracy make it perfect for the 3D or target ranges. When you add this to the quietness and size, it is an excellent option for the tree stand or ground blind, too. This bow is lightweight so carrying it on those long hikes on your DIY hunt in Colorado or Utah will not be a problem either. The 30.5" ATA, 7" brace height, and only 4.1 pounds of mass, this bow is sturdy and compact and will fit any shooters needs.
Value
This bow retailed for $499 when it came out in the 2013 lineup, but can be found just a little cheaper today with the unveiling of the 2014 lineup. Even with a price tag of $499, this bow out-performs almost every other bow in this price group and even many in higher price groups. Anyone looking to make a new bow purchase must give this bow a serious look. You will be hard pressed to find another bow that offers the speed, quietness, and accuracy even if you look in the $699 price range. So, save yourself some time, and probably money, and give this bow a look.
Summary
The 2013 Mission Ballistic has everything the archer needs in a bow. With a 30.5" ATA, 7" brace height, and a very smooth draw, this bow is well-suited to fit any archery scenario from the target range to the most desolate hunting grounds. The machined riser, split limbs, and the AVS Cam system produce a very worthy 333 fps. Many shooters will overlook this rig as Mission is a subset of Matthews, and with a price tag of $499 it just it just can't be a very good bow for that price. WRONG! This bow is quiet, accurate, and fast. It is also adjustable from 26" to 30" draw length and 50# to 70# without using a bow press. If you are in the market for a new bow, give this one a try. You may find a bow that fits you while also saving a buck or two.
Mission Ballistic Review