Mission Venture Review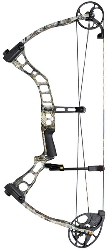 Where to buy


from $229.95
Compare Prices

Editors' review
The Venture does everything Mission set out to do, and that is provide reasonably priced bows that shoot very well. The Venture has a suggested price of $499 and it would be tough to find a better shooting bow at that price. The bow is smooth pulling, shoots fast, and offers a forgiving brace height over 7-inches. Along with this, the Venture is adjustable to basically fit every shooter in the whole family. Although cams are draw length specific, they are available in 26-31.5 inches in half-inch increments. Limbs are also adjustable from 35-70-pounds. For those interested in a compact bow on a budget, the Venture is really tough to beat.
Factory Package Options
Mission offers three factory package options for shooters wanting a ready to shoot package straight out of the box. For shooters wanting this, there are three options available to them all offering what shooters need to get started.
Pro Hunter: This package is the highest end of the three offerings. It includes a QAD Ultra Rest LD drop away rest, a Mission M5 quiver (holds 5 arrows), a five pin Copper John Mark III sight, and an Axion stabilizerBow Hunter: This package is available with a QAD Ultra Rest hunter drop away rest or a Whisker Biscuit, an Alpine Bear Claw Quiver, a four pin Axion sight, and an Axion stabilizer.Basic: The basic package includes some starter accessories including: a whisker biscuit rest, a Bohning Lynx quiver, and a three pin Copper John Saxon sight.
Finish
Mission has a specifically developed a finish pattern designed for Mission and only applied to Mission bows. The Lost AT pattern looks really nice, and should blend in with a variety of backgrounds making it useful in a variety of hunting situations. For archers not interested in a camo pattern the Venture is also available in all black and Pink Lost AT as well. All finish options are done very well and will leave the buyer very pleased. There have been no peeling issues under normal wear and tear and the bows just end up looking great.
Riser
The Mission Venture's riser is highly reflexed, which gives the bow a unique look. The Venture's reflexed riser along with a 7-inch brace height work well together to make the bow fast and forgiving. The cutouts are placed to keep the bow weighing in less than 4-pounds while still maintaining the strength needed to perform well. The bottom of the riser has a harmonic dampener hole, but the dampener needs to be purchased separately should shooters decide to add one. This dampener is available in a variety of colors as well. The Venture also features a Dead End String Stop to help dampen the noise and vibration caused from the string, and has a roller guard instead of a traditional cable slide. The front of the riser also features a front mounting stabilizer hole directly in line with the dead end string stop.
Grip
The rubber composite grip is not the most comfortable grip and seems to be a little on the thick side for some shooters. With that being said, it is going to be decently warm in hunting weather on chilly morning sits. After several practice sessions, most shooters will adjust to the grip, but it may take a little bit to get used to because it will more than likely have a different feel than many other bow grips. Proper hand placement should not be too difficult with this grip either, and that is going to ultimately improve shooting accuracy. Although many would prefer a thinner grip, it still functions well.
Limbs
Perhaps one of the best aspects of the Mission Venture is its ability for draw weight adjustments. This rig has a draw weight range of 35-70 pounds, which is sure to meet the needs of almost every shooter in the family. The solid parallel limb design is great for cancelling out vibration after the arrow has been released as well. They measure in at 14-inches in length and are layered for great strength and durability. They are also factory equipped with rubber limb dampeners as well. The composite limb pockets perfectly fit the limbs V-notch for a secure fit through all transitions of the draw force curve while they pivot with the bow being drawn. The parallel design also aides in making the bow quiet after the arrow has left the string because they help cancel out extra noise and vibration based on their geometry.
Eccentric System
The Voyager single cam powering the Venture is extremely adjustable, but draw length is cam specific; meaning shooters are only able to change the draw length by purchasing new cams and taking it to a shop. Still, the Venture is able to accommodate shooters ranging from 26-31.5-inches in half-inch increments while offering an 80% let off. Not too shabby for a bow that is capable of flinging arrows up to 321 feet per second. The bottom cam also features a tuning window for quick reference to see if the bow is still performing the way it is designed to shoot. This allows the average shooter an insight as to how the bow is performing and if any adjustments are needed to improve efficiency.
Draw Cycle/Shootability
Single cam bows are characteristically smooth, and the Voyager cam lives up to this reputation. The Venture draws very nicely as the weight gradually and comfortably stacks up. The 80% let off makes it feel like shooters are holding no weight at all while settling the pin on target. The back wall is decently solid as well. It is not the most solid wall produced, but there are much spongier back walls on the market as well. This seems to be a good mix between the two. While holding the bow on target, there is no creep forward at all either, which makes it an absolute dream to shoot. Although the axel-to-axel measurement of 30.25 inches is a little short for some, it really does have stability that rivals longer measuring rigs. Shooters will also easily adjust to the over 7-inch brace height of this rig as well. After the shot, there is a slight kick and some short lasting hand shock. Adding the optional harmonic dampener and a stabilizer will help with that too. Despite the little bit of feedback after the arrow is released, the bow offers almost no noise whatsoever. For a hunting rig, shooters will love what the Venture has to offer.
Usage Scenarios
Engineers had hunting in mind when they put this bow together. Although accuracy is fine, shooters wanting to be more serious with target shooting should check out other models. However, for virtually every hunting situation, the Venture makes the cut for what many archers on the market are demanding. Forgiveness, speed, and a smooth draw cycle along with a compact design should make shooters feel more confident than ever in the woods.
Comparisons
Bow

Mission Venture

Mission Riot

Version

2014

2014

Picture
Brace Height
7.125 "
7 "
AtA Length
30.25 "
31 "
Draw Length
26 " - 31.5 "
19 " - 30 "
Draw Weight
35 lbs - 70 lbs
15 lbs - 70 lbs
IBO Speed
321 fps
310 fps
Weight
3.96 lbs
3.85 lbs
Let-Off
80%
80%
Where to buy


Best prices online

compare more bows
These two rigs from Mission have many of the same offerings. The Venture is slightly faster, and a little shorter in its overall measurement as well. Both have really great adjustability options as well. For shooters interested in adjustment on their bow, the
Mission Riot
may be slightly better because cams do not need to be purchased and most work can be done without a bow press. However, those with only minor adjustment projected, may find the Venture a better option. Both bows are great shooters and the prices are hard to beat. Like any archery purchase, the final decision comes down to personal preference after shooting each bow.
Summary
The Venture is a bow designed with what many hunters are looking for in a bow. It is compact, forgiving, weighs in at under 4-pounds, and shoots pretty decent speeds for a smooth drawing single cam. These specifications should be enough of a selling point, but if it is not enough, the Venture has a price tag less than $500 as well. Although the Venture has a little kick and hand shock, shooters in the market for a great budget friendly bow should seriously consider what Mission is offering with the Venture.
Mission Venture Review