Athens Ibex Review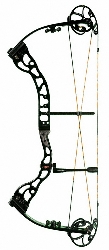 Where to buy


from $400
Compare Prices

Editors' review
A super smooth drawing bow that gives you the feeling you are drawing less than what you actually are. After release it remains dead in the hand and hardly makes a peep, which would leave you to believe that it is a dog when it comes to speed but the advertised IBO speed of 335+ stands true; some shooters will see a higher number on the chrono. From a customer's point of view Athens is a company that is hard to look past due to their incredible customer service and extreme attention to detail.
Limbs/Riser/Finish
The riser of the Ibex is a fully machined aluminum riser that is hand dipped and held to very high standards. The finish looks amazing on their entire lineup and some of the offered colors are very unique. The limbs are solid piece laminated, offered in 40lb-70lb (10lb increments), with a parallel orientation which aids in the great feel of the shot cycle. The limb pocket attachment point is a rear pivot limb pocket design which is fairly common and quiet durable. The finish on the Ibex bow one of the best in the business, and they stand apart by offering the Next Vista camo patterns which seem to be a big hit with hunters.
Grip
The grip is very comfortable, not to thin but thin enough to reduce the likely hood of canting the bow from left to right. The laminate two piece grip is comfortable in most hands and its ability to promote good form due to the thin neck is great.
Eccentric system
The Ibex uses the EV2X Extreme Velocity Duo Cams dual cam system, which has proved to be an extremely capable cam system. Changing draw length will take a different cam which means it will require the use of a bow press; the draw lengths available are from 24.5"-29.5" which means it won't cater to the longer draw length shooters. It is however a very simple cam system that is slaved together making it easy to keep in time, with minimal adjustments. Even though the draw length is not adjustable the let off is adjustable from 65%-80% which can make characteristics change drastically. Lastly the Ibex is equipped with sealed cam bearings which will aid in longevity of the eccentric system.
Draw Cycle/Shootability
This bow draws like a dream! Very smooth shot cycle from beginning to end, a 70lb bow draws more like a 67lb bow and once the shot occurs there is practically no vibration or noise. At full draw, the back wall feels super solid and the valley is nice; it doesn't feel twitchy what so ever, there is some room for a little bit of creeping without firing.
Silencing Package
With the smooth draw characteristics it is no surprise that this bow is whisper quiet, but to aid in silencing Athens equipped the Ibex with a set of Bowjax dampeners and an STS string suppressor. Both of which reduce recoil and vibration, therefore increasing efficiency and reducing noise.
Best Usage
Athens had hunting bow in mind while making the Ibex even though it is a good enough shooter to make a great 3D bow. As far as best use, it will feel most at home in the woods either sitting in a tree or inside of a ground blind. With the weight of the bow being coming in at 3.6 pounds the Ibex would be great for taking on long hard hunts when it will have to be carried for miles.
Ibex vs. HGO
Bow

Athens Ibex

Athens HGO R120

Version

2012

2012

Picture
Brace Height
7 "
7 "
AtA Length
30 "
32 "
Draw Length
24.5 " - 29.5 "
25 " - 30 "
Draw Weight
40 lbs - 70 lbs
40 lbs - 70 lbs
IBO Speed
335 fps
330 fps
Weight
3.6 lbs
4.2 lbs
Let-Off
65% - 80% (adjustable)
65% - 80% (adjustable)
Where to buy


Best prices online

Not available now.
Please check later.

compare more bows
This might actually be one of those bows that you could put up to a lot of different bow types out there. The closest comparison may be the
Athens HGO R120
(Hallowed Ground Outdoors) signature bow. The guys from Hallowed Ground Outdoors started with the Ibex and then got with Athens to create the HGO. The new bow only had minor changes; the most noticeable would be the 2" longer axle to axle. When it comes to feeling they are practically identical outside of the more tournament style grip on the HGO.
Summary
The Athens Ibex is a hunters dream; it is blazing fast at 335+fps with a 30" axle to axle all while having a generous 7" brace height. The smooth characteristics will make most people fall in love with how this bow feels and once they shoot it, the love will grow. It's absolutely amazing how quiet this bow can shoot, another reason why this is a hunters dream. You could use it for hunting squirrels, at 30 yards+ and not have them jump the string. With the only findable downside being the draw length specific cams, this bow is something worth looking at for the serious hunter.