Athens Recluse Review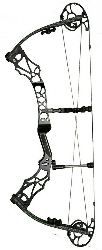 Editors' review
The Athens Recluse is a really great shooting bow with a solid back wall. With the use of dual string stops and two string suppressors, the Athens bow shoots very well with virtually no hand shock. With IBO speeds reaching up to 33o feet per second, the speeds of the Recluse are enough for big game hunting and those using the bow at the range will be satisfied with being able to make slight errors in judging distance with the speed of the bow making up for the distance errors. Those on a slight budget looking for a high-end bow should give the Recluse a shot and see what they think.
Finish
Athens has several finish options available on their bows, including their very own camo patterns. They also produce their own quivers and sights dipped in their camo patterns for shooters wanting a matching design for their bow and accessories. Some shooters have experienced flawed camo patterns in part to how the hydro dipping process works with particular patterns. The Recluse used in this review had a great finish with no issues, but it may be something to look at before purchasing.
The standard camo options are black and Next Vista camo (designed by Athens). Along with this, Athens also offers a few other patterns as well including: BoneHead Skulls or BoneHead Web, Predator Brown Deception, and Pink Next Vista.
Riser
The Recluse riser is completely unique and offers a really great look. The machined riser looks like no other bow in production while maintaining the strength needed to offer a repeatable shot. For shooters wanting a bow with a different look, this is definitely a head turner for sure.
Athens also uses the Torque Reduction Cable Slide (TRCS) on the Recluse as well. This cable slide has two independent rollers that house the strings separately from one another, which each string housed in its own compartment. Attached to the end of the cable slide is a string suppressor as well, which contacts the string above the arrow nocking point. The Recluse also features another rear mounting string suppressor as well, giving the bow two rear mounting string stops, one above the nocking point, and on below. The front of the riser also has a spot for a front mounting stabilizer for anyone interested in adding more weight out front.
Grip
The Recluse has a very comfortable two-piece wooden inlay grip that is a machined part of the riser. The grip fits comfortably in the shooters hand and has a relatively thin neck, which many shooters prefer. The grip is designed to fit in the shooters hand allowing repeatable hand placement in the proper position. Shooters will find it simple to adjust to this group regardless of what style they have gotten used to.
Limbs
The Recluse utilizes solid limb construction and is very adjustable allowing the Recluse to fit a wide range of shooters. Limbs are adjustable in ten-pound increments, but are sold in maximum weights of 40, 50, 60, and 70 pounds. The limbs also come from the factory with Bowjax limb dampeners installed. These help take care of any vibration caused after the arrow has been released. The limbs also come with the Athens logo, which looks really great as well. The rear pivot limb pockets have Recluse written on the sides as well adding a neat look to the bow.
Eccentric System
The EV2S Extreme Velocity Duo Cam System powers the Recluse to IBO speeds of 330 feet per second. These cams are draw length specific, so it is important to be set up with the proper draw length since changing the draw requires purchasing new cams and the use of a bow press. Draw lengths are available in half-inch increments from 25-30-inches as well. Each cam has a solid wall draw stop, which will allow shooters an extremely solid back wall when at full draw. The cams also feature an adjustable let-off of 65-80% so shooters can fully customize how the draw cycle feels.
Draw Cycle/Shootability
The EV2S cam is a very smooth drawing cam that produces decent speeds. Combined with a seven-inch brace height, shooters are going to appreciate how accurate this bow is and how well it performs. The draw weight of the bow seems to stack up pretty quickly, and eases through transitions in the draw seamlessly. The back wall is extremely solid and allows the shooter to stay at full draw for a long time without being uncomfortable. After the shot, there is little vibration and the bow moves very little. There is a slight metallic noise on the shot that sounds a little different than other bows, but it is not necessarily loud, just different. Overall, the bow is a really great shooter and the back wall is amazing. The cams allow a little creep as well, which some shooters are more comfortable with when hunting out of a treestand.
Athens Recluse vs. Athens Ibex
Bow

Athens Recluse

Athens Ibex

Version

2012

2012

Picture
Brace Height
7 "
7 "
AtA Length
32 "
30 "
Draw Length
25 " - 30 "
24.5 " - 29.5 "
Draw Weight
40 lbs - 70 lbs
40 lbs - 70 lbs
IBO Speed
330 fps
335 fps
Weight
4.2 lbs
3.6 lbs
Let-Off
65% - 80% (adjustable)
65% - 80% (adjustable)
Where to buy


Best prices online

Not available now.
Please check later.

compare more bows
The Recluse and the
Athens Ibex
are similar shooting bows, with the Recluse being two-inches longer axel-to-axel. Shooters wanting a more compact bow may be more interested in the Ibex. The Recluse does feature a little smoother draw cycle, but also shoots about 5 feet per second slower as well. Both bows feature a forgiving 7-inch brace height and prove to be really great shooters while being very accurate. The price for both bows is the same with an MSRP of $799.
Usage Scenarios
The Athens Recluse is a hunting bow based on its specifications, but would do very well for the weekend 3D shooter. Serious tournament shooters have better options available to them. As a hunting bow that can be used on the 3D course getting ready for season, the Recluse sports fast enough IBO speeds, a solid back wall allowing shooters to stay at full draw longer, and a forgiving 7-inch brace height. As a hunting bow, the Recluse has a lot to offer shooters at an affordable price.
Summary
Shooters in the market for a new hunting bow owe it to themselves to test shoot an Athens Recluse. With a fully transferable warranty, shooters have the sound piece of mind they need for a relatively new bow company. Despite some experiencing finish flaws, and a metallic sound after the shot, The Recluse is a great shooter at an even better price. Shooters should check the camo finish before purchasing to make sure it is what they want. The durability is great, but the hydro dipping process can leave some unwanted lines that may bother some shooters. The Recluse has really good shootability characteristics archers will appreciate with fast speeds, a solid back wall, and a forgiving 7-inch brace height. Along with this comes a unique riser design, and camo patterns made only for Athens products. Thos wanting a bow not like any other in design and camo patterns can also accessorize their rig with Athens accessories as well. Those wanting a new hunting bow should give the Recluse a shot.
Athens Recluse Review