Athens Ultimatum Review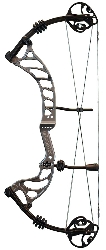 Editors' review
The archery market has exploded in the recent years with an ever-increasing amount of new archers, both young and old, all looking for the setup that fits those best and suits their individual needs. With this, there is a growing number of individuals that require a draw length less than the optimized 30" length where the bow performs the best and shoots at peak efficiency. What did Athens Archery do about this? Introducing the Ultimatum, a compound designed with a max draw length of a much more reasonable 28.5", mass weight well shy of 4lbs bare bow, and an axle-to-axle length of less than 29". With such a small platform, it isn't the most forgiving shooter or have the smoothest draw, but at the lower edge of the draw length or draw weight spectrum, it is the bow to satisfy the cravings of many prospective archers.
Finish
The Ultimatum is available is multiple standard finish options. As of 2017, it is available with a Yukon Brown riser and Next Evo Limbs, Sand or Green riser with Kryptek Highlander limbs, and Next Vista Black riser with matching limbs. Target riser colors include electric purple, candy red, teal, target black, gunmetal, hunting black (textured), and white (all with black limbs). Setting itself apart from many other manufacturers, Athens also utilizes an in-house custom shop with capabilities ranging from hydro dipping and laser engraving to powder-coating and custom painting. The finish is pristine, with major attention to detail, and 452X strings complement the quality of the product overall.
Riser
One of, if not Athens' smallest to date, the riser featured on the Ultimatum is modeled from the bigger, burlier Ace, and features 10 beautifully designed cutouts to keep the final weight to a mere 3.7lbs. Similarly, it has minimal but sufficient attachment points for the string stop and cable guide rod and a stainless external stabilizer bushing. Creating a 28.625" axle-to-axle and a 6.375" brace height definitely makes it easy to hold and aim, however weight should be added in the forms of a stabilizer or side bar to minimize float to the target. The brace height is on the shorter side of compounds with this stature, however the past-parallel limb structure and riser geometry makes this compound go hand in hand with tree stand hunting or tight quarter applications.
Limbs
Sticking with an offshoot of the Tetra dual limb system, the single rear pivot actuation with minimal limb pockets is both popular and consistent within a 10lb draw weight range under the max pull. Also appealing to the smaller framed archers, the Ultimatum is available with lightweight 35lb limbs, all the way up to 65lb limbs in 10lb increments. The past parallel limb structure cancels out almost all post-shot vibrations and makes for a very quiet and smooth shooting machine.
Grip
The Ultimatum, in addition to the other compounds in the Athens lineup, features "The Grip"- a CNC machined handle designed as part of the riser. It is not only well rounded, but sits at a pleasant angle and is thin enough to make finding centershot with your palm easy. The only downside comes from the lack of insulative properties that sideplates or a rubber mold implements in cold weather conditions.
Eccentric System
With an adjusted IBO of 315fps at this bow's max draw length of 28.5" and max pull weight of 65lbs, the DLS cam is impressive for what it is. Featuring a movable, limb actuated draw stop to create a letoff range of 65-85%, and a smooth, binary yoke-less system for ease of tuning with no synchronization or rattling (no screws to work loose) issues, it is the ideal design for the Ultimatum. The only downside with the system is the fact that each separate cam is draw length specific, however it spans from 24-28.5" to cover most smaller individuals looking for a compound of this caliber and cam swaps can normally be done at a local shop for little to no cost.
Draw Cycle/Shootability
Along with other slaved binary cam systems, the cam used on the Athens Ultimatum is stiff in beginning, followed by a quick build up to the peak, large valley, and then locking in to the hold at the very end at the standard 80% letoff setting. Due to the short riser, the string angle is small compared to bows with longer axle-to-axle measurements, and makes it a bit more difficult to control during the shot sequence, however the draw cycle is very comparable to other short brace height compounds offered by Athens. During the shot, no abrupt forces were felt with the shooting hand, even without a weighted or vibration dampening stabilizer- this enforces the fact that it is balanced well and the limb stature is parallel and within tolerances to ensure concentricity. Normally this is the case in all compounds, however some mass produced risers are prone to minor issues that give an unbalanced feel after the shot.
Silencing Package
Equipped with Limbsaver Superquad limb dampeners, a string stop rod silencer, and a soft rubber string stopper, the vibration output is minimal with an average-weighted arrow. The additional implementation of string silencers or a cable guide rod dampener would not be necessary when considering the difference they will make compared to the speed loss in the setup.
Comparison
Bow

Athens Ultimatum

Mathews Avail

Version

2018

2018

Picture
Brace Height
6.375 "
6 "
AtA Length
28.625 "
30 "
Draw Length
24 " - 28.5 "
22 " - 28 "
Draw Weight
25 lbs - 65 lbs
30 lbs - 60 lbs
IBO Speed
315 fps
320 fps
Weight
3.7 lbs
3.96 lbs
Let-Off
65 - 85%
80%
Where to buy


Best prices online

Not available now.
Please check later.

compare more bows
Compared to the similarly marketed and priced
Mathews Avail
, the Ultimatum is both more adjustable in terms of draw weight and let off, has a more compact axle-to-axle measurement and a longer brace height, and is a significantly lighter bow. On the flip side, the Avail is rated to be 5 fps faster and has 1.5" more draw length adjustment. In terms of feel, the Ultimatum has a much firmer back wall and a slightly smoother draw cycle, but to only way to correctly determine which compound is better is for the prospective archer to shoot them both in a local shop. Either way, with equivalent MSRP prices of $999, these are both impressive bows for the smaller or lighter framed individual that both will last a lifetime and not limit the shooting performance of the archer on the range or in the field.
Usage Scenarios
While it's impressive finish and adjustment capabilities set this compound up to be great for the range or 3D target, there is no mistake that it's compact sub-29" ATA nature is designed for maneuverability in the woods- even more specifically, the treestand. Although this would not be the best choice for a growing archer with a current draw length approaching the max 28.5" length (especially since the cams would need to be swapped for any alteration to forego), there are many other individuals, men and women, that the Ultimatum would provide a perfect fit for.
Summary
The 2017 Ultimatum by Athens Archery provides a solid example of how a company can produce a specific bow to fill a long looked-over gap in the market, and a high quality one at that. Although the nature of the smaller platform creates less forgiveness at the get-go, and it is fairly expensive when compared to less aesthetically pleasing compounds from other manufacturers, the advantages well outweigh the few negatives. With a fully machined riser, tons of custom finish options for those who respect a compound for being more than a tool (or weapon), and impressive specs for those who have a smaller reach, Ultimatum is ultimately one to test out at a local dealer today.