Browning Compound Bows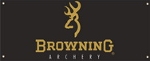 History and Facts
Browning was founded in Morgan, Utah in the 1960s and was a strong competitor in archery for many years. In 2001 for business and competitive reasons, Browning reached an agreement with PSE to take over the license for Browning Archery products. In 2010 for business reasons PSE discontinued the Browning Archery brand but continue to offer their commitment to service and repair Browning bows according to product warranties.
Technologies and Achievements
Browning has been in the archery game for many years and has had a product range from the old wooden limb bows to today's faster and lighter rigs. The most recent equipment in the Browning line were light, short axle to axle bows with smooth draws.
Eccentric Systems: The most recent notable system from Browning is the Trance cam system. It has the patented Inner Cam system allowing a smooth draw and draw length adjustment without the need of a bow press.

Limbs: Browning limbs over the years have been made from wood and various types of fiberglass. Most recently their bows have been equipped with one piece solid glass limbs.

Risers: Like many bows on the market Browning's riser were made from machined aluminum. There most current line of bows had short lightweight risers.

Popularity and Customer Feedback
Browning has been one of the biggest names in hunting and shooting sports for years now. So naturally with their popularity they have been popular in archery as well. Their popularity however tapered off in their last years of making bows, with the rise of other competitors. But there are still many avid browning shooters out there that still shoot use their old to modern Browning archery equipment.
Product Range
Browning has had a wide product range over the years but here are some of the most recent bows.
Youth: The Micro Adrenaline is one of the browning bows that would be well suited for a youth archer. However this isn't a small child's bow. This would be more suited to a child that can pull at least 30 lbs.

Women's Bows: While Browning doesn't have a line specifically made for women. Models such as the Verado MT and the Micro Adrenaline would suit the lady archer well.

Hunting/3D bows: The most current lineup of Browning hunting bows is the Illusion, Mirage TC and Verado MT. All three are short, forgiving and smooth rigs that would work well in many hunting situations.

Summary
Browning has been a major name in shooting and outdoors equipment for a very long time and archery wasn't any different. Even most recently when they has their bows made by PSE, they still had a very competitive designs and features. From recurves to the more modern compounds a bow with the famous browning buck mark on it will be a reliable piece of equipment.