Darton Compound Bows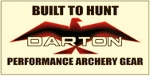 Quick History
Darton is a name that almost anyone, who has been shooting for 20 years or more, recognizes as top of the line bow manufacture of the days of old. However, many of today's beginning archers have never heard of the brand Darton. Despite the fact they have continued to produce a high quality product for today's shooters. Darton was founded in 1950 originally as a division of a company manufacturing leather goods for mill workers. In 2011 Darton is spending some dollars on advertising and sponsoring in hopes to bring their name back to the top with other manufactures putting out high quality archery equipment.
Darton Technologies
Eccentric Systems - Darton's Rex Darlington is responsible for all the Hybrid Cam systems we see today, he invented it. One of the most popular was the CPS-G2-2 1/2 Cam system. This system was the first to conquer the timing issues traditionally associated dual cams.
Limbs - Today all of Darton's top end bows feature beyond parallel, pre-stressed, split limbs to optimize performance and produce accurate shots each and every time. The more affordable models feature single limbs but are still consistent and accurate.

Risers - Darton CNC machines 6061-T6 Aluminum to create its risers. They are designed to be strong and lightweight so the shooter has consistency shot after shot but also can be comfortably carried to the tree stand or on a spot and stalk hunt.

Popularity and Customer Feedback
While Darton has not been a household name for a number of years, those who have continued to shoot Dartons have been very pleased. The company from Michigan has always produced a quality product that is right up there with the big name brands in every category, making Darton a company worth considering.
Darton Product Range
Darton Adult Bows - Darton has 5 adult models to fit your style and price point. The DS-3800, DS-3800SD, and DS-2800 are designed for the serious bowhunter along with the DS-600 which is also a quality hunting bow at an afforadable price. Darton also manufactures a long axle to axle bow in the DS-4500 designed for target or 3D archery, and a bowfishing bow in the Aqua Force.
Darton Youth Bows - The Ranger's I, II, & III are youth bows that will fit your child as they grow up. These are quality youth bows that are great for teaching and learning how to shoot properly.

Summary
Darton Archery has been producing bows for over 60 years. While their popularity is not what it used to be, the quality of the bows they manufacture has never changed. New technology has always been important, consistently using the newest, or even developing new technology, such as the Hybrid Cam. This brand has stood the test of time, while many other companies have come and gone. Thus, they must be doing it right, check them out next time you're in the market for a new bow.