Diamond Deploy Review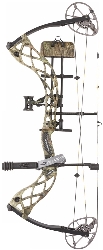 Where to buy


from $74.95
auctions from $104.5
Compare Prices

Editors' review
Diamond has created their most technologically advanced bow yet with the Deploy SB. This rig has a 31.5" ATA, 6.75" brace height, 27" - 30.5" draw length, and a choice of 50#, 60#, or 70# peak weight limbs, and launches an arrow downrange at 330 fps. This bow is said to be the smoothest drawing bow on the market, and some that have shot it say it "like an old friend from day one." What else needs to be said? Give this one a try.
Finish
This bow is very limited on finishes and can only be purchased in Mossy Oak Break-up Country, Black Ops.
Risers/Limb
This bow is built around the lightweight Carbon Knight riser, a forged carbon composite frame that is lightweight (3.2 pounds total) and is easy to handle, very maneuverable, and exceptionally strong and well balanced. This bow also has a 31.5" ATA and 6 3/4" brace height.The parallel limbs are a fiberglass composite one-piece limb and come in peak draw weights of 50#, 60#, and 70#. The draw weight can be adjusted by approximately 10# from peak simply by loosening the limb bolt (max of three turns from fully tightened position). The limb pockets on the Deploy SB are a "minimalist style" pocket and are integrated into the riser with a limb bolt cap. This reduces weight, yet secures the limbs perfectly in place while enhancing the shot.
Other Components
This bow is virtually vibration and noise free right from the box and only has a carbon string stop. If it is purchased in the R.A.K. package, it comes with a 4-pin custom sight, Octane Hostage Max Arrow Rest, wrist sling, Octane DeadLock Lite quiver, carbon peep sight, Octane 5" stabilizer, and BCY string loop.
Eccentric System
This rig is set-up with Bowtech's most accurate cam system, the Synchronized Binary Cam System to date. This is a dual cam system that is based on a "set it and forget it" technology. The cams aid in the production of the 330 fps touted by this bow. Many shooters say it will meet the mark pretty well. The rotating modules are easy to adjust, allowing the draw length to be adjusted between 26" and 30.5" in half-inch increments. It can be fine-tuned using the draw stop all without a bow press. The bow has a very solid back wall and is easy to hold on target.
Draw Cycle/Shootability
This bow has a radically smooth draw cycle, and is considered by many a "dream to shoot." Not only is it easy to draw, the 80 percent let-off means it is easy to hold on target without feeling strained. This bow is easy to tune, and is virtually vibration and noise free. This rig provides the shooter with the perfect combination of power, accuracy, and consistency. One shooter said the Deploy SB "seems like an old friend from day one."
Silencing Package
The Deploy SB will certainly meet the needs of any hunter. It is built to be noise and vibration free out of the box, but does have an adjustable carbon string stop, limb dampeners, and a very smooth cable guide that helps with this. If the R.A.K. package is purchased, it will also include an Octane 5" stabilizer. The shooter can add string leaches if they choose, but are not necessary. This is a quiet bow.
Grip
The bow has a two-piece composite grip that sits nicely in the hand. This grip gives the bow a comfortable feel in the hand without any slippage on those warmer shooting days or wet ones.
Compared to Similar Bows
Bow

Diamond Deploy

PSE Drive

Version

2018 SB

2018 Drive X

Picture
Brace Height
6.75 "
7 "
AtA Length
31.5 "
30 "
Draw Length
26 " - 30.5 "
25 " - 31 "
Draw Weight
40 lbs - 70 lbs
40 lbs - 70 lbs
IBO Speed
330 fps
326 fps - 332 fps
Weight
3.2 lbs
3.7 lbs
Let-Off
80%
80%
Where to buy


Best prices online

compare more bows
The Diamond Deploy SB is very similar to the
PSE Drive
. Both bows are easily adjustable and good shooting bows. The sizes are similar, but the PSE is 1.5" shorter ATA. Brace height and draw weights are the same, but PSE offers two more inches of draw length, and an extra six feet per second speed. Many shooters say the draw cycle on the PSE is fairly harsh, where the Diamond is reported to be exceptionally smooth. There is a $200 price gap in favor of the PSE for the bare bow, but only $50 difference for the R.A.K. package. Beyond this, you definitely have to shoot in order to make the choice.
Usage Scenarios
This bow is very versatile and will fit most archery situations. Based on the Knight riser, it is a solid hunting bow, but is definitely not limited to only hunting. The design definitely had the hunter in mind as this 31.5" ATA bow is excellent for tree stand or ground blind hunting, it will also work well for target shooting or the 3D course. Weighing only 3.2 pounds, it will also not cause any fatigue on those long DIY hunts where you have to hike in and carry it along on those long trails.
Value
This rig is pretty average with the price point for a compound bow. It can be purchased as a bare bow for $650 or with a Ready-Aim-Kill package at $750. This is a nice, quality bow and should not be dismissed by anyone.
Summary
The Diamond Deploy SB is a new bow built on an old platform; the Knight riser. The new limbs and cams provide plenty of speed (330 fps) and accuracy, draw length adjustability (27" - 30.5"), and an overall draw weight range from 40# - 70#. With a respectable price point of $650 for the base bow and $750 for the Ready Aim Kill package, this very smooth shooting bow is something everyone should look forward to shooting.
Diamond Deploy Review