Diamond Fugitive Review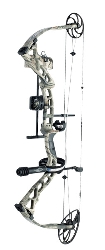 Where to buy


from $260

from $599.99
Compare Prices

Editors' review
The 2011 Diamond Fugitive is fast, quiet and loaded with features that will appeal to many archers this year. With an IBO speed of 337 and a ready to hunt package called R.A.K (ready, aim, kill) this set up has everything you need to grab your arrows and release, and start shooting. Also with a $599 price tag this bow will be a very viable choice this year.
Finish
The Fugitive is available in Mossy Oak tree stand camouflage and has a quality and durable finish in the Invelvet system by Diamond. Invelvet is a unique finish system designed to dampen noise, prevent dings and scratches and feel soft and warm to the touch. Despite its soft feel this finish is a very durable finish that will be very reliable for many years of use.
Riser
The riser on the Fugitive is a one piece machined aluminum riser with a multiple cut outs along the length of the riser. It is designed to be as lightweight as possible without giving up any strength.
Limb/Limb Pockets
The limbs on this bow are solid glass, one piece limbs that rest in the parallel position. The limb pockets are constructed out of aluminum and encapsulate the end of the limbs for a tight fit between the limb and the riser at any draw weight.
Grip
The grip on the Fugitive is a medium size, one piece component that is constructed out of a composite material. Some archers have stated they prefer the feel of a rubberized or wood grip over the plastic feel of this particular grip.
Eccentric System
The Fugitive features Diamond's new Throttle single cam and idler wheel system. This system is unique in the fact that the bearing assembly is attached to the limb tips. This design enables the cam track geometries to approach the center of rotation and beyond. This almost eliminates creep and creates equal tension on the strings and cables. The Throttle cam system has a rotating draw module on the cam. Without the aid of a bow press, you simply remove the module screws adjust the length in half inch increments, retighten the screws and you are set to your preferred draw length. The effective let off of this system is 80% which makes it hold with ease and the infinite draw stop allows you a solid back wall at any adjustment. Also this system boasts and impressive a 337 fps IBO rating with 88.28 ft-lbs of kinetic energy.
R.A.K system
The R.A.K system stands for ready, aim, kill. Basically this bow comes set up with everything you need to start shooting. Grab your arrows and your release, then sight in the Fugitive and then you are ready to go. At $100 more than the bare bow this system is very affordable way to give you everything to need. The accessories in this package go as follows:
- 4 pin Tru Glo Apex Sight
- Hostage XL arrow rest
- 1 piece Ultra-lite quiver
- Comfort wrist sling
- Alloy Peep
- 5" Ultra-lite stabilizer
- BCY string loop
- Dura-Flex string dampeners
Carbon Rod string stop
The Fugitive comes with the Carbon Rod string stop. While many of today's bows come with string stops the design of this stop is unique. The rod itself is made of carbon which makes it very strong. Also unlike many other string suppressors, this stop comes with a vibration module attached where the rod meets the riser and is in line with the stabilizer for consistently quiet shots. Then it is tipped with a limbsaver type material making a very quiet shot.
Shootability
With the aggressive cam system on the Fugitive the draw cycle is a tad harsher than other single cam set ups. When drawing this bow the valley is seemingly pretty steep but transitions well to full draw. Once at full draw the back wall is very solid with little to no creep and with 80% let off it is very easy to keep drawn. The bow feels very balanced in your hand but the grip is hard and has a plastic feel to it. As far as felt vibrations some archers admit that the Fugitive does have a noticeable vibe when shot but the addition of a vibration dampening stabilizer and limbsavers, that could be reduced a decent amount. One thing archers agree on is that this bow is very quiet when shot and is no slouch in terms of accuracy.
Diamond Fugitive vs. Outlaw
These two bows share many characteristics which are as follows; The Throttle cam system, limbs, 3.80 mass weight, 80% let off and the R.A.K package. Probably the most noticeable difference between these two bows is the speed, the Fugitive comes in at about 7 fps faster than the Outlaw. The brace height on the Fugitive is a 1/2" shorter than the Outlaw and the riser is slightly different shape also. In addition Fugitive's price tag comes in at about a $100 more than the Outlaw.


Perfect hunting bow
The Fugitive with the R.A.K package is a set up that screams bow hunter. A short axle to axle will make it effective for tree stand hunting. With it completely set up, ready to sight in and kill this system is going to be very appealing to bow hunters. While this bow seems like a hunter's set up, it could be used for 3D or recreational use as well.
Bow

Diamond Fugitive

Diamond Outlaw

Version

2012

2014

Picture
Brace Height
6.5 "
7 "
AtA Length
32 "
32 "
Draw Length
26 " - 30 "
26.5 " - 30.5 "
Draw Weight
40 lbs - 70 lbs
40 lbs - 70 lbs
IBO Speed
337 fps
330 fps
Weight
3.8 lbs
3.8 lbs
Let-Off
80%
80%
Where to buy


Best prices online

compare more bows
Summary
Overall the Diamond Fugitive would be a very solid choice. Whether you are an avid archer on a budget or a beginner this is a very affordable and feature packed set up. Durable, fast and quiet this bow has a lot to offer the archer whether you are a bow hunter or want a bow for 3D shooting. Even though the draw cycle is more on the harsh side, once at full draw the back wall is extremely solid and with the high let off you can hold this bow for a good period of time. In conclusion if you are looking for a fast, quiet and accurate rig with a very affordable price tag the Diamond Fugitive could be a great fit for you.
Diamond Fugitive Review