Diamond Nuclear Ice Review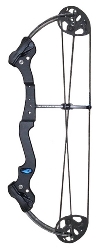 Editors' review
The Nuclear Ice is a very well built bow specifically designed for small kids. With the mass weight of less than 3 pounds, minimum draw weight of 10 lbs, and minimum draw length of 14 inches, this rig is normally easy to handle by kids from 4 years old. Admittedly, this is one of the best youth bows suitable for youngsters from 4 to 10 years old.
The bow that looks like a Dad's one
Before we delve into the details, let's quickly mention that this rig looks like an adult bow. This means that any child who shoots this bow will be extremely excited to know their rig looks like a dad's one!
Riser and limbs
The fully machined aluminum riser is solid and does not have cutouts. While the Nuclear Ice is one of the best quality bows for small kids, some people think that having cutouts in the riser would make it even more perfect because it would help to make it even lighter. The post-parallel limbs help to reduce unwanted vibration and further contribute to the "like a Dad's bow" look. The pivoting limb pockets allow for draw weight adjustments from 10 to 29 pounds and perfectly align limbs to deliver improved accuracy.
Grip
The Nuclear Ice doesn't come with a hand grip. While this is not a big deal for some parents, others say this is an area for improvement. Such people say it's not a major issue anyway and just put some tape on the grip to make it feel better.
Eccentric system
Although this is youth bow, its eccentric system delivers exceptional performance. Many parents are surprised how fast this rig is. At 29 pounds and 24 inch draw length, the bow is capable of generating IBO speeds of 200 fps. Many archers agree that's pretty fast for a kid's bow of that size. The Nuclear Ice comes with a rotating module designed for easy draw length adjustments from 14 to 24 inches without using a bow press or any additional cams/modules. The let-off is 70%.
Suitable ages
As was mentioned earlier, the Nuclear Ice is specifically built for small kids. This bow is mainly used by kids from 4 to 10 years old. So, if your child is under 9 years old, you should seriously consider this bow as one of the best suitable rigs for them. On the other hand, if the child is 4 years old or 9-10 years old, you should also consider other options especially if their body is outside of average standards for their age.
For example, if a child is 9 years old and is stronger than average, a bow like
Diamond Razor Edge
could be a better choice because it would be a better match and you would not need to upgrade soon. On the other hand if your boy or girl is only 4 years old and quite petite, experts recommend putting the bare minimum on this rig and using only the lightest accessories. This will allow for reducing the overall bow weight and will significantly help a small shooter to be more successful. Alternatively, you may want to consider a plastic/recurve bow or a compound bow with lower mass weight such as Fuse Freestyle or Mathews Mini Genesis.
Summary
To conclude, the Diamond Nuclear Ice is one of the best youth bows suitable for small kids from 4 to 10 years old. A lot of experts and archery enthusiasts agree this is one of the best youth bows on the market. They say the Nuclear Ice is a very well made bow that delivers exceptional performance and has a nice look and feel. Although this is a youth bow, it looks "like a Dad's bow" due to beyond parallel limbs, fully machined aluminum riser, and efficient cam system. Being extremely adjustable, the bow does not require a bow press or additional modules for changing the draw length. Overall, the Nuclear Ice comes with a very low price tag, yet it is one of the best quality youth bows out there.
Bow

Diamond Nuclear Ice

Version

2010

Picture
Brace Height
6 "
AtA Length
22.75 "
Draw Length
14 " - 24 "
Draw Weight
10 lbs - 29 lbs
IBO Speed
187 fps - 195 fps
Weight
2.8 lbs
Let-Off
70%
Where to buy


Best prices online

Not available now.
Please check later.
Diamond Nuclear Ice Review