Elite Pure Review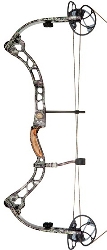 Where to buy


from $78.99
Compare Prices

Editors' review
The Elite Pure is a great longer axel-to-axel bow for those in the market for a truly multipurpose rig. This bow would be great for 3d tournaments, spot leagues, and even hunting with a forgiving 7-inch brace height, and IBO speeds up to 330 feet per second. With a super smooth draw combined with a solid back wall, the Elite Pure is a very shootable bow with a lot to offer potential shooters.
Finish
Given the Elite Pure's multipurpose ability to be shot as a hunting bow or a tournament bow, there are a lot of finish options available to meet the needs of such a large spectrum of shooters. The dipping process looks very nice, and appears to be as blemish free as they come. For those interested in a camo pattern, there are three options available. Realtree AP, Realtree Max-1, and Realtree AP Snow, which are all available in a complete bow option or combined with Matte Black in a cross Elite calls their AT Edition. For those interested in more of a target bow look, the Pure is available in Ninja Edition Matte Black, Cosmic Orange, Slime, and Blue Fliptone. All patterns offer a unique look sure to please shooters with different ideas of what they want their bow to look like.
Riser
The Elite Pure's fully machined riser is the longest offered by Elite archery. For those interested in a long riser associated with a more stable shot the Pure may be a great option. Elite archery has added a few options to their risers helping them tune up a little easier and make them more adaptable with different style rests available on the market today. The riser shelf is completely flat on the Pure allowing the popular drop away rests the ability to completely fall out of the way of the arrows flight. Along with this, the back of the riser where the arrow rest makes contact is completely flat as well. This allows the arrow rest to make solid contact with the riser and still be completely flush and level. This makes the bow easier to set up and a joy to paper tune. The riser also comes with a rear mounting Limbsaver string stop system used to transfer vibration. Directly in line with the rear-mounting stabilizer is a front mounting stabilizer bushing. For those wanting a little added weight on the front of their bow, this is a great option. Being mounted directly in line with the rear stabilizer is a great design to eliminate residual hand shock.
Grip
The Pure grip is identical to other Elite models. The slightly curved handle comes with wooden side plates that make it look nice and feels great. This grip is comfortable and seems to be the middle of the road between slim and thick. It is simple for shooters to adjust to the Elite grip because it is likely to be somewhat similar to what they are already used to. The slight curve in the grip fits very nicely in the shooters hand and allows shooters to grip the handle in the proper hand placement.
Limbs
The limbs on the Elite Pure are a great addition adding to the craftsmanship of the bow. Barnsdale limbs come standard on the Elite Pure. These limbs are very high quality and tested for durability and longevity. Along with this, shooters have the option to choose between maximum draw weights of 50, 60, 70, and 80 pound limbs. The limbs also come equipped with a rubber limb saver to help reduce vibration causing noise.
Eccentric System
The Elite Pure features the EFX cam that is known as a speed cam with a smooth draw. Elite offers a lot of adjustability in terms of draw length as well. With adjustments available in half-inch increments from 27.5-31.5, most shooters will be able to find their proper specifications. Shooters with longer draw lengths often do not have many choices to choose from in terms of bow choices. The Pure's ability to reach a maximum draw length of 31.5 inches gives long draw shooters another option. The top and bottom cams have a draw stop, which rolls around making contact with the limbs. This makes for an extremely firm back wall that has a great feel at full draw. With a let off of 80 percent, the EFX cams are easy to hold at full draw as well.
Draw Cycle/Shootability
For IBO speeds up to 330 feet per second, the Elite Pure's draw cycle is uncharacteristically smooth. Pure shooters praise the draw cycle that is hump free and very smooth through the transitions. The valley is great and allows shooters to hold the bow and make adjustments without the bow jumping forward. The dual stop back wall makes for a very solid hold at full draw and combined with an 80 % let off shooters will not need to rush when finding their mark before shooting. Letting the string down is almost effortless as well. There is no jerk or uncontrolled lunge forward, which can be felt on other bows. The longer axel-to-axel measurement makes this bow very steady in your hand and very easy to shoot. When shooting bare bow, there is a little vibration felt in the shooter's hand. However, after adding accessories and a front mounting stabilizer, this bow is very dead and produces no noticeable shock.
Silencing Package
Elite archery uses Limbsaver products to aid in noise dampening and eliminating vibration. Each limb of the Pure comes from the factory with installed limb dampeners. These rubber composite dampeners take vibration after the shot and disperse it through the rubber. This help with eliminating hand shock and noise. Along with this comes a Limbsaver string stop system that stops the strings forward motion after the arrow is released. Again, the rubber absorbs the energy and transfers it to the front mounting stabilizer hole. The Pure does not come with factory installed string silencers though. The bow is extremely quite and string silencers take energy and speed from the arrow. Those shooters wanting to add these have the option to do so, but the bow is not shipped with them from the factory.
Elite Pure vs. Elite Pulse
The Elite Pure and the Elite Pulse are both longer axel-to-axel bows with impressive speeds. The Elite Pure is the longer option with a larger brace height as well. The
Elite Pulse
is slightly faster and offers an inch smaller brace height. Both rigs offer the ability to be multipurpose bows. The Pure seems to be more geared toward shooters primarily interested in tournament shooting and a little bit of hunting. Whereas the Pulse may be for those shooters who enjoy hunting with a little interest to tournament shoot, given the shorter axel-to-axel measurement that characterizes many hunting bows. To make the final decision, shooters will have to take a look at their purpose for the bow and decide which one fits their needs the best.
Usage Scenarios
The Elite Pulse is a wonderful multipurpose bow. Although the axel to axel measurement of 36-inches may be a little long for a hunting rig with today's short, past parallel bow designs, the Pulse does produce enough kinetic energy and speed for a variety of big game species. The long riser offers supreme stability target shooters crave and the colors that will help them stand out on the range. For shooters with a target shooting addiction and likes to hunt a bit too, the Pulse is a great option.
Bow

Elite Pure

Elite Pulse

Version

2013

2013

Picture
Brace Height
7 "
6 "
AtA Length
36 "
34.125 "
Draw Length
27.5 " - 31.5 "
26 " - 30 "
Draw Weight
40 lbs - 80 lbs
40 lbs - 70 lbs
IBO Speed
326 fps - 330 fps
340 fps - 343 fps
Weight
4.1 lbs
4.3 lbs
Let-Off
80%
80%
Where to buy


Best prices online

compare more bows
Summary
The Elite Pure offers versatility for shooters who participate in a variety of shooting types. For those shooters with a long draw, or those in the market for a longer axel-to-axel bow, the Pulse may be the bow for them. With fast speeds of up to 330 feet per second, a seven-inch brace height, and an extremely smooth draw, the Elite Pulse has a lot to offer target shooters and hunters alike. The minimal hand shock noticed while shooting bare bow is easily fixed by adding a front mounting stabilizer, which the majority of shooters use anyways. For shooters interested in either a hunting bow or a target bow, there may be better options. However, for those looking to get the best of both worlds, the Elite Pure may be a perfect option.
Elite Pure Review