Hoyt Vector 35 Review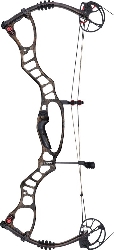 Where to buy


from $600
Compare Prices

Editors' review
A force. That is the definition of the word "vector", and a force is exactly what Hoyt has created in their new Vector 35. This may well be the perfect bow for the hunter that likes a longer axle-to-axle, as well as the 3D or competition shooter. This is truly an all-around great bow for any application.
Finish
Hoyt continues to used their powder-coating techniques, which does increase the strength of the finish, but isn't the prettiest thing to look at (in some people's eyes). Although, most hunters will agree that we aren't trying to be pretty when pursuing game, we want a product that is built to last, and this bow will do just that.
Riser
The TEC-LITE riser used in the Vector series allows for maximum strength along with the benefits of low weight. Cutouts throughout the riser reduce weight and give the bow a unique, aggressive look and coming in at 4.2 pounds, the Vector 35 is a dream to carry on long hunts. Incorporated into this new riser design in an offset stabilizer insertion on the opposite side that the accessories attach to. This will equal out the side to side weight of the bow making for faster target acquisition, a more steady hold and more accurate shooting.
Grip
The stock grip on the Vector 35 is simply awesome. It has a very narrow neck for high wrist shooters, but also a little bit of "meat" further down for the middle and low wrist shooters. If you just can't find a liking for this grip, you can easily swap it out for one of the other 3 Pro-Grip options Hoyt offers from the extremely thin "side-plate only" grip, to the beefy full grip. These options allow for a huge variety of shooters.
Limbs
New limbs were also in Hoyt plans for 2012. While they did continue to use their split limb technology, which eliminates the chance of V-Grooves, a 5 Layer Lamination (5LL) system was introduced this year. These limbs have been pre-stressed and also endured Hoyts grueling dry fire testing. Along with that, they are pre-contoured; this eliminates areas on the limb that previously experienced higher stress than other areas. The result is a Uniform Stress Distribution (USD) on all areas of the limb. ARC technology also drastically reduces vibration while increasing speed. Ultimately, these improvements in the limbs store more energy and speed, with less stress than previous limb designs. Another new innovation was the Pro-Lock limb pockets. Hoyt made the most critical contact point in a compound bow as strong as can be. The strength created here will result in more consistent and accurate shooting
Eccentric System
The RKT Cams, another Cam and 1/2 improvement, are also new for 2012. These cams are linked by a control cable which means that the top and bottom cams function in sync every time. The engineering behind this cam design also requires the archer to draw with proper form, using back muscles rather than the arm. Although you could draw with the arm, it is much smoother when drawn properly, and that difference is easily noticeable with the RKT cams.
The RKT cams are adjusted via mods on the cams. There are three cam options, Cam 1 is 25.5-27", Cam 2 is 27-29" and Cam 3 is 29-31", each mod adjustment is 1/2 of an inch. The great thing is no press is needed to make these adjustments, only an allen wrench.
One of the most appealing, and honest, things about Hoyt bows is that their speed ratings are very realistic, and in most cases, spot on. Hoyt uses the ATA rating system, opposed to the IBO ratings most other companies use. The ATA scale has much more strict guidelines, hence Hoyts accurate ratings. A lot of companies calculate their speed ratings using the lightest arrow possible in order to jack their numbers up, which isn't realistic especially since hunters shoot fairly heavy arrows. The Hoyt Vector 35 shot 295fps with a 405gr arrow. Smoking fast considering that's a bit heavier than most guys use for a hunting arrow, and that Hoy uses an arrow that is 55 grains lighter when calculating their speeds. Bucks beware!
Additionally, for you guys with a big wingspan, Hoyt is offering the Vector Long Draw bow. This bow is ultimately the same as the Vector 35. The difference lies in the draw length range which is 31-32", hence the surname Long Draw. See below for more info on the Vector Long Draw.
Anyone shooting the RKTs who has experience with past Hoyts will immediately notice the smooth, crisp feel, a tremendous leap from years prior.
Draw Cycle
The Vector 35 has a very nice draw cycle. From the start of the draw to valley the resistance is uniform with gradual building, resulting in a very smooth and solid feel. Once you get to the valley, it falls nicely into it with no harsh "jolt" like the Hoyt Trykon from a few years back. While the valley isn't very big, it is there with a 75% let-off.
When testing the creep of the bow, she does itch to be shot, but there was no harsh or uncontrollable jump from the bow, the creep is very manageable and should not be a problem. The back wall on these bows is a bit mushy, nothing like the wall of an Elite bow. The Vector 35 (and 32 for that matter) has more of a "hard rubber" back wall, rather than a "rock solid" one. Once at full draw the bow gets on target very nicely and holds steady due in part to the Perfect Balance technology. As long as you can get past the less than perfect back wall, anyone shooting this bow will be pounding X's.
The Vector 35 also offers three different modules for different draw length variances, 25.5-27", 27-29" and 29-31".
Other Components
Hoyt was also generous in the silencing features that come with the factory bow. A Stealth Shot string suppressor comes with each bow in the Vector series which has been proven to reduce 70% of string oscillation resulting in a cleaner arrow release and more forgiving shooting. Another great idea that hunters will love is the Silent Shelf. A rubber pad generously covers the shelf area of the riser removing the chance for an arrow clanking around when Mr. Big comes out and you can't control the jitters. Along with silencing the arrow, this feature is also great for drop away arrow rests, rather than slapping down against the riser, it can now silently come to rest on a cushion of rubber. The ever popular AlphaShox also come with each Vector series bow to reduce the already minimal limb vibration. Finally, the custom Fuse string is equipped with a Sims cable leech.
Aside from silencing components, Hoyt also came up with a new inline roller guard system. The new system is lighter and each roller has a shorter lip on the inside of each. This results in less of a pinching effect on the string resulting in faster speeds and less energy loss. The new shape also makes it much easier to change a string since the rollers don't have to be removed anymore.
Noise/Vibration
While testing this bow, no additional silencing features were added, it was simply the factory bow with a whisker biscuit. Surprisingly, the bow was very quiet, even in an indoor shooting range. Upon release there was the slightest bit of vibration, almost unnoticeable unless you were really thinking about it, and keep in mind this was a bow taken off of a pro shop shelf and shot, not tricked out with additional gear.
Value
The Vector 35 can be found for around $950. This is a pretty steep price, and will surely turn some people off. What can be said for that price is that you'll get a quality piece of equipment. Does the quality match the price tag? Some say it's a bit over priced since you can wait a year and get it for a lot less. You be the judge....
Vector Long Draw
As mentioned above, this bow is the same as the Vector 35, just offering an option for long draw length shooters, specifically 31-32". The Long Draw also has 3/4" more brace height than the regular Vector 35. Due to the longer draw length option, this bows ATA speed rating is 337fps with a 350 grain arrow at 32" draw length. Another example of a smoking fast bow from Hoyt.
Vector 35 vs. Hoyt CRX 35
Bow

Hoyt Vector 35

Hoyt CRX 35

Version

2012

2012

Picture
Brace Height
6.75 "
7 "
AtA Length
35 "
35 "
Draw Length
25.5 " - 31 "
25.5 " - 31 "
Draw Weight
30 lbs - 80 lbs
40 lbs - 80 lbs
IBO Speed
325 fps
318 fps
Weight
4.2 lbs
4.2 lbs
Let-Off
75%
75%
Where to buy


Best prices online

compare more bows
The improvements to the 2012 lineup are man. The most notable improvements are the RKT cams, which bring an amazing feel that hunters will love due to the smooth draw cycle. Last year's
Hoyt CRX 35
featured the Fuel Cams and when compared side by side, the RKTs show a noticeable improvement in smoothness and speed. The new roller cable guard is also a huge improvement from last year not only lessening cable wear, but also makes it a lot easier for the guys who like to work on their own equipment. Other than those 2 differences, the CRX and Vector 35 are very much alike.
Summary
Hoyt has really upped their game with the 2012 lineup. Many new technologies have made some of the best bows on earth even better. This fine piece of equipment is well suited for the hunter than prefers a longer axle to axle, or, the 3D and competition shooter that needs a rock steady bow to bring home the checks. The smooth draw cycle will make it easy to smoothly draw back on that weary buck, and the dead quiet release this bow showcases makes it the ultimate hunting rig. Finally, Hoyt opened the door to a variety of consumers by offering the Vector Long Draw. In short, no matter what type of archer you are, do yourself a favor and shoot the Hoyt Vector, it will surely end up in your stable soon after.
Hoyt Vector 35 Review