Limbsaver Deadzone DZ-30 Review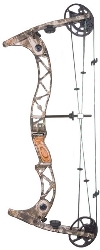 Editors' review
The Deadzone 30 was introduced in 2009 after numerous requests for a shorter and lighter version of Limbsaver's first bow, the Deadzone 32. Archers wanted a bow that was more maneuverable in the tight situations a hunter can sometimes find himself in, whether in a treestand or blind, and something light enough to easily carry on a spot and stalk hunt. This review will discuss how Limbsaver accomplished this to give hunters what they wanted.
Finish
The DZ 30 is dipped in G1 Next Generation Camo. This is a high quality finish, that look great and is made to handle the elements without ever fading or wearing off.
Riser
To make the DZ 30 very easy to point, aim and hold on target Limbsaver manufactured the 6061-T6 Aluminum riser to be nearly straight. Additionally, by placing cut-outs in a waffle pattern engineers were able to reduce the weight of the riser and gain strength. The modified I-beam structure of these cut-outs reduces riser flex and further strengthens the riser. Many short axle to axle bows are forced to have a fairly small sight window to maintain the integrity of the riser, but this rig is able to keep a large sight window thanks to the strength of this riser design.
Limbs and Limb Pockets
This Deadzone bow follows in the footsteps of it big brother, the DZ 32, when it comes to being a quiet and vibration-free bow with a smooth draw. Many of these characteristics can be attributed to the design of the limbs and limb pockets. The DZ 30 has 12.25 inch fiberglass/graphite composite limbs. Each set is solid and matched. They are attached to the riser through the full capture pivoting limb pockets. Made of 6061-T6 Aluminum, these pockets extend beyond the riser and are connected to it through a no-contact pivoting system. This system greatly reduces noise and vibration, while extending the pockets beyond the riser increases balance and efficiency of the limbs. Furthermore, rather than a bolt running through the limb into the riser for draw weight adjustments Limbsaver employs a Rolling Fulcrum system, which with the use of just two allen wrenches can also press the bow, enabling all adjustments to be made without using a bow press..
Grip
The DZ 30 comes with black side plates and a wood grip. The side plates give this bow a slim grip which is known to reduce hand torque helping shooters to have greater consistency and accuracy. The wood grip looks incredible but is a little thick. However, it does have a thumb grooves giving this grip a thin neck. Limbsaver says this gives the archer more control over the bow, but thick grips are known to induce hand torque. Both grips are comfortable and user friendly.
Eccentric System
For optimal energy transfer Limbsaver developed the H.E.A.T. (High Efficiency Active Transfer) Cam system to achieve maximum arrow speed at all draw lengths. With an IBO speed of 325 fps this bow is faster than most bows of this size. Two different size H.E.A.T. Cams are used to allow for draw length adjustments in half inch increments from 25 - 30 inches. The Small cam is used for shorter draw lengths of 25 - 27 1/2, while the Large cam is used for the longer draw lengths of 28 - 30 inches. Draw length adjustments do not require a bow press.
Draw Cycle and Shootability
The H.E.A.T. cam system gives the DZ 30 a very smooth, linear draw without a big ramp up before the cam turns over to an extremely solid back wall. With multiple draw stop holes these cams allow for a significant adjustment within your draw length to make for a perfect fit. Shooters will be able to hold at full draw for long periods of time thanks to the 80% let-off. This is a great benefit when waiting for a deer or other game to enter a shooting lane. This rig is also "dead in the hand" after release and once a good stabilizer is added it becomes one of the quietest bows on the market.
Silencing Package
Limbsaver is known throughout the archery industry for its proprietary NAVCOM vibration control systems. The DZ 30 utilizes 6 sting leeches, a cable guard dampener, 2 Ultramax Limbsaver and installs a strip of NAVCOM into the riser shelf. All these components work together to keep this bow quiet and give it a soft feel.
Compared to other Limbsaver bows
Limbsaver is producing 4 bows using the Deadzone technology. These bows are the
Limbsaver Deadzone DZ-32
,
Limbsaver Deadzone DZ-36
, and the
Limbsaver Speedzone SZ-34
(Speedzone) and of course this rig, the DZ 30. While the DZ 32 is engineered to be an all-around bow; the DZ 36 is designed to be very forgiving, used for target shooting and allow for finger shooting. The Speedzone installs a Hyper-drive speed module into its H.E.A.T. cam system to produce an IBO speed of 350 fps. The DZ 30 is designed to be the best bow to tight hunting situations thanks to its light weight and maneuverability.
Bow

Limbsaver Deadzone DZ-30

Limbsaver Deadzone DZ-32

Limbsaver Deadzone DZ-36

Limbsaver Speedzone SZ-34

Version

2013 (large cam)

2013 (large cam)

2013 (large cam)

2013 (large cam)

Picture
Brace Height
7.25 "
7.125 "
7.875 "
5.875 "
AtA Length
30 "
32 "
36 "
34 "
Draw Length
27.5 " - 30 "
28 " - 30.5 "
30 " - 32.5 "
27.5 " - 30 "
Draw Weight
40 lbs - 70 lbs
40 lbs - 70 lbs
40 lbs - 70 lbs
40 lbs - 70 lbs
IBO Speed
320 fps - 325 fps
325 fps - 330 fps
320 fps - 325 fps
345 fps - 350 fps
Weight
3.9 lbs
4.5 lbs
3.8 lbs
3.8 lbs
Let-Off
80%
80%
80%
80%
Where to buy


Best prices online

Not available now.
Please check later.

Not available now.
Please check later.

Not available now.
Please check later.

Not available now.
Please check later.

compare more bows
Best Usage
The DZ 30 was created with the hunter in mind. More times than not, hunters find themselves in tight spots, whether in a ground blind, tree stand, or on a spot and stalk. Having a rig that is just 30 inches axle to axle can make it much easier to shoot from spots that would not be possible with a longer bow. In addition, it is light enough to carry with you on a long spot and stalk hunt.
Value
Limbsaver produces a very high quality product and is able to keep them affordable. With an MSRP of $699.99 this bow is about $50 less than most other bows in its class. Take into account the technology incorporated into this rig and Limbsaver truly makes this a great value.
Summary
Limbsaver engineered the DZ 30 because so many hunters wanted a lighter, more maneuverable version of the DZ 32. First developed in 2009, Limbsaver has continued to produce and improve the DZ 30 each year. With the use of the nearly straight riser design and the ease of using the Rolling Fulcrum system this bow is not just great for hunting, but also great for learning to shoot, because it aims and holds on target so well and is very adjustable. Shooters will also find this bow to be very quiet and vibration-free. All in all, this bow is a great rig and a great shooter that is easy to take with you wherever you go.