Obsession Evolution Review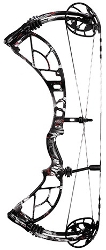 Where to buy


from $649
auctions from $599
Compare Prices

Editors' review
Launching this fairly new company into the "speed vs. shootability" race between top bow manufacturers of 2014, Obsession Archery's Evolution is an incredible performer, proven on the range and in the treestand. Winning this year's Outdoor Life Editor's Choice Award with no faults except for its 4.1 lb bare bow weight and it's uniquely designed riser cutouts, this bow is a speed bow, (rated at up to 353 fps) however the two track dual sync cam system creates a smooth, efficient draw cycle and a quiet, vibrationless release. Shooters looking to find a bow that stands out from the rest; take a long look at the Evolution from Obsession Archery.
Finish
The Evolution, as well as all of Obsession Archery's current models, offers an incredible amount of factory finish options, including Black, Predator 3D, and Stormy Hardwoods 12 unique finishes, including Stormy Original, Natural, Spring, Bloodtrail, Autumn, Passion, Canary, Royalty, Gunmetal, Prairie, and Patriot. Instead of the conventional hydrographic dipping process, these patterns are transferred to the aluminum by a process called dye sublimation, making it nearly impossible to have flaws in the coating that you might see with other processes. All hardware on this bow is type 3 hardcoat anodized to prevent any sort of rust buildup, plus titanium hardware kits are available at an extra cost. To add to the customization when buying a new bow, you get to choose either black, red, or orange cams, and get a choice of any two colors for the factory America's Best Premium strings. Obsession offers hundreds of finish combinations from the factory.
Riser
The Evolution Riser design is slightly different than the rest of the market. Coming in at 32" ATA, with a 6" brace height, it's highly reflexed parallel limb design utilizes truss-system designed bridges in the riser to minimize vibration and keep the bow as nimble as possible. The fully machined angled cable rod drastically reduces cable lean and riser torque, plus the factory installed Teflon cable guide keeps friction to the minimum and doesn't allow wax to build up as plastic cable guides are known to do. The string stop utilizes a non-cracking, soft rubber, and paired with a Limbsaver dampener, is a definite reduction to the bow's little sound output. There is little to no vibration felt after launching an arrow through the Evolution.
Limbs
The Evolution's pre-stressed split limb design allows for a high performance output, ultimately generating speeds up to 353 fps. From the point of being at rest to at full draw, the limbs are always in a past-parallel configuration, explaining the shock-free nature of the bow. The limb pockets, although designed to keep overall mass down, are very solid in construction. This bow is available in ten pound increments of 50-60, 55-65, and 60-70lbs.
Grip
The slim wooden laminate side plates abolish torque on the bow at full draw, and are comfortable to shoot for hours on end. Shooters who are accustomed to a bulky wooden grip will have to adjust with this style of hand placement, but it will be worth the improved accuracy in the end. Compared to other manufacturers using rubber grips to keep your hand from sliding, the evolution grip will utilize the smooth surface to find the center of pressure in your hand during each shot.
Eccentric System
The Evolution's two track dual sync cam system is rated at 353 fps, and is more often than not meeting or exceeding this IBO speed. Created out of durable, high strength anodized aluminum, the cams are robust but have engineered cutouts to reduce weight without losing strength. They are equipped with rubber coated limb stops, timing marks, deep string grooves, and 80% effective letoff. Numbered interchangeable draw length modules are needed along with a past-parallel limb bow press to change the draw length in half inch increments, available from 23.5" to 30". Since the limb stops are positioned to slide to adjust for different draw lengths, it is possible to adjust the letoff down to 65%-with the target shooter in mind.
Draw Cycle/Shootability
This bow's draw cycle has one of the largest valleys seen in a bow on the market today. The cycle starts out stiff and transitions smooth into the generous valley and seemingly locks into the rock solid back wall. If you ever have to let the bow down, you almost have to push the string forward to bring the bow to its resting position. Following a line of solid bows, the Evolution continues the company's reputation of feeling like you are pulling back a lighter draw weight than the bow is actually set at. Once the bow is at full draw, the wide limb design, slim grip, and balanced riser creates a consistent platform to shoot from, spilling accuracy out of each and every shot. The Evolution is over the common 4lb compound bow weight, but with the extra weight comes stability. Overall, this bow is a dream to shoot, both in the field and at the range.
Silencing Package
This bow comes factory installed with Limbsaver Quad Core Limb Dampeners, and Limbsaver silencers on both the string stop and cable guide rod. The Evolution is extremely quiet when shot bare bow, and there is no doubt these accessories contribute to the lack of sound outputted. String silencers are not included, but can be installed inexpensively.
Comparisons
Bow

Obsession Evolution

Version

2015

Picture
Brace Height
"
AtA Length
"
Draw Length
"
Draw Weight
lbs
IBO Speed
fps
Weight
lbs
Let-Off
Where to buy


Best prices online
Compared to last year's Obsession Lethal Force 2, this is a completely new riser design and platform altogether, equipped with new technology like the angled cable rod, slim torque-free grip, and the patented evolution cam with dual draw stops for an extremely solid back wall. A fully machined cable guide rod takes away any fletching clearance issues that were concerns in the past. Obsession Archery also offers the Pheonix for 2014, the only difference being a change to a 7" brace height and an IBO speed reduction down to 343 fps. For a shooter looking for more forgiveness, the Pheonix, at the same price of $859, may be another valid option.
Usage Scenarios
The Evolution was designed as a dual purpose bow, and at 32" ATA, is exactly that. It is long and accurate enough to give target and 3D shooters everything they are looking for in a consistent shooting machine, and is 100% maneuverable in the woods, with virtually no hand shock or noise to boot. Its speed creates forgiveness in judging yardage in hunting scenarios, and it's extremely comfortable valley and solid back wall allow you to hold back until you get the perfect shot.
Summary
Obsession Archery may not be the biggest or most recognized company at the moment, but the Evolution they have brought to the table in 2014 is swarming the industry. The incredible amount of customization, high performance, and outstanding finish is nearly unparalleled with other bows in its $859 price range at the moment. To some shooters, the Evolution will be a bit heavy, but to those shooters that pick it up, it will not be an easy bow to put down.
Obsession Evolution Review