Ross CR331 Review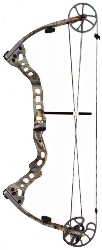 Where to buy


from $200
Compare Prices

Editors' review
The Ross CR331 is built to be smooth, fast, shock-free, and very quiet. Ross manufactured this bow using top end parts and design. It features a very appealing machined-aluminum riser, an easy drawing single cam system, Winner's Choice Bowstrings, Limbsaver silencers and vibration dampeners, along with numerous other features that enable this rig to be one of the best shooting bows of its time.
Riser
Engineering a perfect riser for a compound bow is a hard thing to do. It not only has to be strong and resistant to bending but it also needs to be lightweight and aesthetically pleasing. Ross has been able to do all of these things for the CR331. The cut-outs do a few things... First, they take out weight enabling the entire rig to weight a total of only 3.8lbs. Secondly, they put the strength where the strength needs to be in order to maintain a very stiff riser. And of course aiding in the look of the bow, the cut-outs really add an artful look to the riser.
Limb Pockets
The CR331 employs locking limb pockets made of machined aluminum. Both pockets pivot easily for draw weight adjustment and lock into place with Ross' locking system helping to maintain perfect limb alignment. The system works by tightening down a screw on each side of the limb pocket after any draw weight adjustments have been made. The locking feature removes any extra limb and limb pocket movement and dampens component vibration.
Limbs
Ross utilizes parallel limb technology on the CR331. This technology not only allows a bow to be compact while maintaining accuracy, but also because the limbs rebound with equal but opposite reactions after the shot, it works to dampen noise and vibration. Bill Krenz of "Inside Archery" magazine described this bow as "Wonderfully quiet, and shock-free", this is an accurate description of what the parallel limbs do for this rig.
Grip
A two piece laminated wood grip adorns the riser of the CR331. To promote consistent hand placement on each draw cycle the Ross designers shaped a thumb groove into each grip. Most archers will find this grip to be comfortable as well as a handsome addition to an already good looking set-up.
Quality Bow Strings
Ross goes a step above many other companies when it comes to stringing their bows by installing them with Winner's Choice strings from the factory. With most companies these would have to be a custom order to replace the factory installed strings. Using pre-stretched string fibers to construct their strings and buss cables ensures the product stays at it proper length for its life span. This, of course, is very important when it comes to timing and has a trickle-down effect that maintains arrow speed and accuracy. "X-Coat" is a protective coating Winner's Choice puts on their strings to reduce wear which increases the life of their strings by at least 50%. Not only do they make one of the best bow strings on the market but strings and cables can be ordered in a wide variety of color combination to suit your rig.
Sight Window/Guard Shelf
The CR331 feature a wide sight window and shelf. The wider sight window allows the shooter to see more of his/her target. This will enable the shooter to better settle on the target since most people have an easier time settling their pin on something when they can see the entire animal. Many other bows, because of their narrow window, may only let you see a portion of a larger game animal. An enlarged shelf is also a nice feature giving way to extra arrow/fletching clearance. Attached to the shelf is a broadhead guard that will protect your bowhand hand in case an arrow falls of the rest by keeping the broadhead away from your hand.
Eccentric System
The Oversized Single Cam system used by the CR331 allows for an incredibly smooth draw with an IBO speed 305 fps. This cam system allows for 80% let-off but there is an option to order with 65% let-off which will give an even smoother draw and increase arrow speed slightly. Draw length is adjustable from 26 - 30.5 inches by changing out modules without the need for a bow press.
Draw Cycle/Shootability
The draw cycle on the CR331 is silky smooth, especially with the optional 65% let-off, and almost no noticeable hump before hitting a pretty good back wall. Combining this smooth draw-cycle with a very forgiving 7 3/4" brace height and shooters will experience a very accurate shooting bow.
Silencing Package
Ross does not deck out the CR331 with a whole bunch of silencing equipment, but that's because they really do not need to. Between the stiff riser, parallel limbs, and well-designed limb pockets most of the noise and vibration is taken out with just the bare bow. Whatever sound or vibration that is still present is dampened with the Limbsaver string leeches and the Ultra Limbsavers employed on each limb, leaving a surprisingly quiet bow.
Ross CR331 vs. Ross Cardiac 31
The last year of production for the CR331 was in 2006, 2007 brought about the new Cardiac. Axle to axle length is the same and the cam system is close to its predecessor's. However, the cam system has been updated to use a rotating module vs. the changeable modules required for the CR331. While the cam looks very similar, many shooters still say the CR331 has a smoother draw cycle but the
Ross Cardiac 31
does boast a more solid back wall and gains about 15fps IBO over the CR331. Ross also adds a string stop to the new model to take get the arrow off the string faster which helps with vibration dampening and accuracy. Overall both are great bows but updates to the Cardiac help keep Ross shooters coming back for more.
Bow

Ross CR331

Ross Cardiac 31

Version

2007

2009

Picture
Brace Height
7.75 "
7.25 "
AtA Length
31 "
31 "
Draw Length
26 " - 30.5 "
25 " - 30 "
Draw Weight
40 lbs - 80 lbs
40 lbs - 70 lbs
IBO Speed
305 fps
315 fps
Weight
3.8 lbs
4.1 lbs
Let-Off
65% or 80%
80%
Where to buy


Best prices online

Not available now.
Please check later.

compare more bows
Usage scenarios
The CR331 was obviously designed with hunters in mind. With the short axle to axle length of just 31 inches this rig is perfect for hunting out of a treestand or a blind. Additionally, at a lightweight 3.8lbs this bow would be great on spot and stalk hunts as well.
Summary
The Ross CR331 is a bowhunters bow. It is well built, very quiet, virtually vibration-free, fairly fast and very accurate. Additionally, while being decked out in Realtree Hardwoods HD camo to conceal the rig where ever you are, it also features a short axle to axle length so you can make shots from the tight spots all bowhunters find themselves in from time to time. While draw length adjustments require a new cam module and the back wall could be a little more solid, overall this bow is one heck of a shooter. It was even named to "Bowhunting World" magazine's top 12 bows of 2006 because it is such a great rig. With the customer service Ross Archery is known for backing this, and all its rigs, archers are sure to be happy with the CR331.