Rytera Compound Bows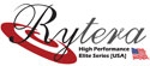 Rytera is a bow manufacturer that has been focused on achieving innovative new ways to improve the world of archery by creating cutting edge technologies. A very innovative manufacturer with Martin as its parent company, this is a great combination. Rytera shares many of their technologies with Martin, however with the creation of the Seeker 365 in 2011 they have set themselves apart from every company in the world. The Seeker 365 has an adjustable brace height, unlike anything the world has ever seen. Rytera is putting their mark on archery by building very high end bows that shoot great, vibration free, fast and smooth all without ripping apart your wallet. Currently Rytera is producing four elite level bows, the before mentioned Seeker 365 and three Alien line bows; the Alien X, Alien Z and Alien Nemesis. They don't solely focus on single cam or dual cam they focus on creating a bow that does what you want; shoot forgiving, silent, fast, and built to last. read more

Model
Prices,
USD
Years
Editor
review
User
reviews
Pros/
Cons
Seeker 365
not available now
2011
-
About Rytera
Technology and achievements
With Rytera you will have one of the top risers in the world of archery, their milling process, while it may be slower, produces one of the straightest risers on the market. The risers are machined from bar stock aluminum creating a very strong and durable riser. This is just a good building block to go with the rest of the high quality equipment used on their lineup. Their risers put together with your choice between the Hybrix cam systems, which uses a rotating module, the Tranz single cam system makes for a smooth shooter that's low on vibration and sometimes completely lacking vibration, and the Pulse Pro cam system (only available on the Seeker 365). The axle holding the cam system in place is stainless steel that is heat treated and tested to withstand dry fires. Lastly on eccentric systems would be the Hammerhead strings which are made from BCY Trophy material and are pre-stretched to eliminate peep rotation or stretching out while shooting.
Rytera takes it upon themselves to have a STS (Shock Terminator Suppressor) as a stock option on all of their bows. On the Seeker 365 there are two string suppressors stock which eliminates practically all post shot string noise and vibration. There are also vibration escape modules that decrease any type of buzz that is a common sound in most bows.

Price range
When it comes to price the Rytera line varies from $730 up to $900 which is a very competitive price in today's market, especially when considering the quality. These are more or less the Elite line from Martin for only a slightly higher price. When compared to the "BIG" bow manufacturers these bows should quickly rise up in popularity and put themselves on the map with the "BIG" componies.