Strother Eternal Review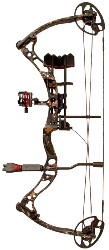 Editors' review
The 2014 Strother Eternal is a solid bow at a decent price. It performs well, is accurate, and forgiving. The Strother archery company gets better every year and they are selling a great deal of bows around the world now. From the top to the bottom of their line their bows are reliable. This bow would make a great hunting set-up. It's consistency is great and it is easy to adjust. This makes customers more likely to be able to work on their new bow without having to take it to the shop.
Finish
The Eternal only has one option when it comes to color. The Realtree AP Black pattern looks great on this bow. This is a black base color with pieces of Realtree AP camo over top of it. It is a unique color pattern that seems to be gaining popularity. The finish seems to be fairly flat in texture and quite tuff also. There has not been any complaints of this finish easily chipping or wearing off.
Riser/Limbs
This bow measures 32.5" axel to axel. The Eternal weighs 4 lbs. and really feels like a more compact bow than it actually is. The riser is somewhat thin looking, but very stable. It comes equipped with a string stop connected to the bottom half of the riser on the other side of stabilizer bushing that is also standard.
The limbs are solid in structure with a parallel design. They seem to be quite forgiving with a nice feeling shot with minimal hand shock. The ZT Locking Cradle System connects these limbs to the riser. This bow has a 7.75" brace height which also plays a large part in its forgiveness.
Grip
The grip on the Strother Eternal is basic and effective. It feels good in the hand and doesn't seem to produce much noticeable torque. The wood side panels are brown with visible wood grain. There is a good chance that it would be a little chilly on the hands during a cold morning bow hunt.
String Suppressers
This bow has one string suppresser and it seems to work well. The string stop has some adjustment to it and really deadens the string as most string stops do. With all of the padding on the large rubber bumper at the end of the string stop it really softens the shot. Vibration is minimal also in feel and sound.
Eccentric System
The dual cams on this bow produce a pretty nice draw cycle. It has rotating modules for very quick and simple draw length adjustments for the owner and no need for a bow press. This bow is adjustable from 26" to 31" in length of draw. The let off is 75% and the Eternal is available in 50, 60, 65, and 70 lb. maximum draw weights. Although the draw is decent it doesn't seem to produce a lot of energy, especially for a dual cam bow. With an IBO speed of only 312 fps it is fairly slow for this cam system. The actual speed seems to be pretty consistent with the IBO rating.
Draw Cycle/Shoot Ability
Although there is slight room for improvement the draw on the Eternal is quite smooth and comfy. The valley feels good with some room to move without the string wanting to jump back forward on you. Although this bow doesn't have a lot of sound at the shot a stabilizer always helps with this along with being more steady. One of the lower level features that help make this bow more economical is the slide type system. It does its job, but not as good as the many roller guard systems available today.
Silencing Package
The bow is fairly quiet and there really can't be much of a complaint on noise for a bow at this price range. The quality string stop does great at reduces noise in addition to any vibrations. There is no need for any other silencers on the Eternal which is a plus with nothing to slow the string down.
Comparisons
Bow

Strother Eternal

Strother Rush XT

Version

2014

2013

Picture
Brace Height
7.75 "
6.375 "
AtA Length
32.5 "
33.375 "
Draw Length
26 " - 31 "
27 " - 30 "
Draw Weight
50 lbs - 70 lbs
40 lbs - 80 lbs
IBO Speed
312 fps
345 fps
Weight
4.0 lbs
4.25 lbs
Let-Off
75%
80%
Where to buy


Best prices online

Not available now.
Please check later.

Not available now.
Please check later.

compare more bows
The Eternal is considered Strother's economical bow. Just because this isn't considered a top end bow with a top end price tag it makes a great hunting bow that is more than capable of filling the needs of many hunters out there. The basic style of the riser strongly resembles the other Strother bows. The
Strother Rush XT
is similar in specs to the Strother Eternal, but is .5" shorter, brace height is .25" longer, and the IBO speed is 18 fps faster. The Rush however has a $240 higher MSRP price.
Perfect Usage
For the hunter who is looking to save a couple of dollars from the top of the line bow prices this may be an option for them. Although is doesn't possess a lot of speed it is still enough for hunting most big game. For those who like to play around with 3D shooting it would work fine also unless they wanted to start taking it more serious. Its' easy and user friendly adjustments would make many hunters thrilled also.
Value
When it comes to value this bow is pretty fair. It seems to be a reliable bow that does its' job adequately. Although it is an economical bow it could be a little lower yet on the price range scale. Strother also offers the Eternal in a pre-assembled package with an AXT Headhunter Pro 30 sight, an AXT Triad Pro 6" stabilizer, an AXT Helix 5 arrow quiver, and a Trophy Taker Extreme SL rest.
Summary
The Eternal is a good bow without any extra bells and whistles. It serves its' purpose and doesn't have a lot of speed although is seems to shoot well along with being comfortable. The brace height is generous. It has a quiet shot without a lot of vibration. The bow is built well with easy adjustments for different sized archers or needed changes. It should fit many shooters who find it to fill their need. This bow has an MSRP of $599 for the bare bow which seems about right for a bow in its' class. There are many less expensive around this class also.