Whisper Creek Compound Bows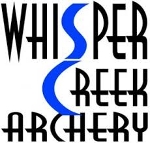 History
Although only around for a few years, Whisper Creek was, and still remains to be known as a top quality manufacturer of some of the market's quietest bows. From the first bow produced in 2004 to their unfortunate shutdown in 2009, this company out of Woods Cross, Utah has created unique technology that is used in other companies' designs today. Even though they are not in production, there still is a large number of them used for hunting, target, and practice shooting at any given moment.
read more
Model
Prices,
USD
Years
Editor
review
User
reviews
Pros/
Cons
Phantom
not available now
2008
-
About Whisper Creek
Technologies
Eccentric System: From the Baffler Cam to the Hyper Force Accel Cam, WCA introduced a unique single cam system that incorporates many designed technologies, including the use of their BowDamp string groove material to eliminate all metal contact with the strings and BowSuspension system to transfer vibration into low grade heat. Other various technologies include Bow, Pocket, In-Line String, Axle, and Pulley Suspension systems, BowStrut, and BowActuator dampening devices. All of these incorporated are guaranteed to diminish noise output by 8-13 dBA.

Limbs: WCA's solid limb composite design is constant, with dampening BowDamp material incorporated in the pockets. In 2007, they upgraded all limbs to solve any customer issues, a noticeable improvement in performance. All of their bows utilize a parallel limb design.

Riser: Their risers are set apart from the rest, in both cosmetics and apparent material. Created out of 6061-T6 aerospace aluminum, the riser material is tough and very tolerant to extreme temperatures. Although they are not very re-flexed risers, the BowDamp material creates a pivot point that quenches vibration throughout the riser.

Popularity and Customer Feedback
In their years of business, they earned their reputation as a fantastic manufacturer, with a strong customer service base. Their unfortunate shutdown was forced in 2009 due to the economy at the time and industry consolidation.
Product Range
Whisper Creek Archery came out with a few new bow designs every year, and with the high chance of a model continuing production for consecutive years, there are a large selection of models available to fit any archer's needs.
Youth Bows: Some bows, like the Panther and Phantom were created specifically for the younger archer. With a large amount of draw weight and draw length adjustability, light mass, and comfortable draw cycle, they are perfect for getting into the sport.

Women's Bows: The Stealth LX, originally created as a women's/ youth model, is available in larger draw weights, and likewise is a fantastic bow for all hunting purposes. The short, 26" ATA is ideal for treestand usage and has a smooth, rounded draw for ease of use.

Hunting/3D Bows: Built for the woods, the Innovator Pro is their last flagship model, coming in pricewise at around $600. This bow features a 31" ATA, 7" brace height, 50-70lb draw weight, and 25-30" draw length. Although it only meets an IBO of 310fps, it's total lack of vibration makes it a dream to shoot. Other popular models include the Sweet Demise, Devastator, Extreme Heat, Quantum, and Stroker SS..

Price Range
Ranging from a measly $300 to $700 new, these bows share a common low price, and even better, you can find one of these bows for less than half that price in the used market. For the large amounts of innovation into these bows, you are receiving a lot for your money.
Warranty
Whisper Creek Archery offers a lifetime warranty on all string wear, however it is non-transferrable, only applying to the first owner of the compound.
Summary
To sum it up, Whisper Creek Archery creates solid performers, both in the beginning archer's hands and in a seasoned hunter's. Their reputation as a trustworthy manufacturer of futuristic bow technology both has not and will not diminish in years to come, even after their unfortunate closure. Unless current manufacturers can design something similar, the innovations they brought to the world of archery will be second to none.