Diamond Infinite Edge Pro Review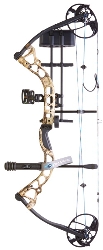 Where to buy


from $255
auctions from $200
Compare Prices

Editors' review
Since 2007, Diamond Archery has built up a legacy of creating incredibly versatile compounds; starting with the Edge, progressing with the Razor Edge and Infinite Edge, and ultimately bringing their newest option to the table, the Infinite Edge Pro. For 2015, many upgrades have been introduced to make this bow stand out from its predecessors- along with a new finish option and cam system, this all-purpose compound is ready to be shot by archers of all ages and experience levels.
Finish
The Infinite Edge Pro is available in three finish options for 2015- BlackOps, Pink Blaze, and Mossy Oak Break-Up Country. All finish options are planted onto the riser through a hydro dipping process; one that is both commonly used and has a very low margin of error in terms of cosmetic imperfections. In addition to the riser finish options, premium two-color strings are offered instead of simply being black in color. For being considered an "entry level" compound, there is lots of room for customizability in the looks of the Infinite Edge Pro.
Riser
Diamond's improved bestseller is based off a solid, fully-machined, one piece aluminum riser. With around a dozen cutouts, the design allows for strength retention and a minimal weight of 3.2 pounds to allow the shooter to place additional weight where needed. Minimal limb pockets, long limb bolts, and adequate mounting holes are included as factory standards.
Limbs
As a cost-effective option as well as a more stable approach to transfer energy to the arrow, solid limbs are installed on this bow. Anodized aluminum limb pockets keep the limbs stable and contained for consistency with each shot At full draw, the limb stance is not quite parallel (at max poundage of 70lbs) but especially at its lower draw weight settings (down to a mere 5lbs), will achieve a great past-parallel limb structure to minimize noise and vibration at the shot. With a 7" brace height and a 31" axle-to-axle measurement, it is compact enough for nimble shooting from a tree stand or ground blind, but forgiving enough for most target shooters.
Grip
Other than the limb spacers and other small components, the only plastic piece located on the bow itself is the grip. In terms of comfortability and fit, it is sufficient, however the plastic is somewhat tacky for those used to higher end materials with other compounds on the market today. The grip is also molded to the riser shelf to provide a lip and to quiet any stray arrows that may bump into the shelf before the shot; a useful feature for any hunter.
Eccentric System
The Infinite Edge Pro contains a newly designed dual cam system that provides many nice features any archer would appreciate. From 80% letoff and a smooth draw cycle to rotating draw length adjustment modules and a solid back wall, the machined aluminum cams are designed for both shoot-ability and adjustability. Large cutouts are used to minimize weight and to allow for a higher rotation velocity; one of the ways that allows this compound to reach an IBO speed of 310fps. Paired with the decent IBO speed, these cams adjust for archers with a draw length anywhere between 13" and 31", almost 20" of adjustment.
Draw Cycle/Shootability
For most bows on the market, there is either a small range or a fixed draw length and 10 to 15 pounds of draw weight adjustment; this is to keep an efficient draw cycle and for the bow to transfer the most energy into the arrow in each shot, resulting in much higher outputted arrow velocities. Diamond does a good job transferring some of that seemingly unnecessary speed into a wide range of adjustments, and still maintains a very nice draw cycle. With peak pull about a third of the way into the draw, the large amount of let-off and solid, limb actuated back wall provides a stable, easy to hold platform for consistent shots all around the board. From beginning teenage archers to aging archery enthusiasts, this bow is very easy to practice with for extended periods of time.
Silencing Package
The Infinite Edge Pro is a step up from its predecessor in terms of vibration reduction due to the addition of a 5" octane stabilizer and two Dura-Flx String dampeners. Those additions plus a soft rubber string stop create a pleasurable, fairly vibration free experience, however it can be improved with simple limb dampeners or other vibration reducing accessories for hunting scenarios where quietness is key.
Comparison
Bow

Diamond Infinite Edge Pro

Mission Riot

Version

2018

2014

Picture
Brace Height
7 "
7 "
AtA Length
31.5 "
31 "
Draw Length
13 " - 31 "
19 " - 30 "
Draw Weight
5 lbs - 70 lbs
15 lbs - 70 lbs
IBO Speed
310 fps
310 fps
Weight
3.2 lbs
3.85 lbs
Let-Off
80%
80%
Where to buy


Best prices online

compare more bows
In comparison to a very similar compound, the
Mission Riot
, the Infinite Edge Pro has a few key differences. In terms of specifications, the Riot is not only over a pound heavier, but 10lbs and 7" less adjustable in terms of draw weight and length, respectively. Prices are the same at $399, about half the price of a typical flagship model. Similarly, they both are rated at 310fps, and have similar build specs, but the Infinite Edge Pro has the edge in hand shock and overall features. Would a beginning archer go wrong with either bow? Definitely not- at this point it would be best to have the prospective archer shoot both models and make a personal choice.
Usage Scenarios
This compound, as it has been mentioned before, is one of the most adjustable and transitional bows on the market in this price range. From hunting any game in North America to finding a place at the range or local target archery competition, the Infinite Edge Pro can and will conform to the task.
Summary
While the Infinite Edge revolutionized the bow market last year, Diamond Archery has answered the call once again, providing a similar bow with many important upgrades. For half the price of a typical flagship hunting or target bow, archers can now purchase a bow that can technically last them their whole life. 65lbs of draw weight and 18" of draw length adjustment with a simple allen wrench is an impressive feat, especially with the retention of a high quality draw cycle at all settings. With a decent factory suppression system, well-engineered cams, a few solid finish options, and the option for long draw shooters to shoot the above average 31" draw, this bow should be seriously considered as both a first bow and as an upgrade from an archer's first.