G5 Quest Hammer Review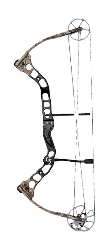 Editors' review
Quest seems to employ the mind set of "if it ain't broke, don't fix it". The new Quest Hammer is built using the many of the same materials and specs as its predecessor, the very popular QS33. The Hammer is a great bow, built for shootability but priced for the budget minded consumer. With some amazing new finish options the Hammer is sure to continue the popularity of this new brand.
Finish
The Hammer uses the "Durafuse" finish which is flawless, regardless of which finish option you choose. The Hammer is available in a Standard finish of Solid Realtree AP HD; or a GFade finish that has 3 different options available, Realtree Advantage Max 1, Realtree Advantage Max 4 and Realtree AP-HD. This finish blends in perfectly whether in a tree stand, ground blind or on a spot and stalk to better conceal the hunter from his or her game.
Riser
The Hammer utilizes the same riser as its predecessor, the QS33. Quest continues to use 6061-T6 Aluminum to manufacture the riser employing CNC-machining to produce the cut outs and give the riser its shape. The use of this technique allowed engineers to design the riser to be strong and to keep it lightweight at just 4.2 lbs.
Limbs
Quest has also continued to use the same limbs they used on the QS33. These limbs have been proven to be consistent, quiet, and tough enough to withstand the stresses any hunter will put them through.
Limbs-to-Riser Connection
Quest uses pivoting and locking limb pockets to connect the limbs to the riser. The limb pockets are forged from 6061-T6 Aluminum. This design allows the limbs to have contact with the entire limb pocket at any draw weight. The contact ensures there are no stress points on the limbs during the draw cycle.
Grip
The Quest Hammer is designed with two plastic side plates for its grip. A groove for the shooters thumb has been imbedded on the thumb side of each grip, this allows for consistent hand placement shot after shot. The grip is slightly wide, making it possible to produce hand induced torque. However, most Hammer shooters find the two piece grip very comfortable.
Eccentric System
The Hammer has a fairly average IBO speed rating of 312-315 fps. While this bow does meet these speeds it can also be expected to shoot a hunting weight arrow around 290 +/- fps. Of course, that is dependent on draw length and arrow weight. Draw length can be adjusted easily with an allen wrench in 1/2" increments to fit the bow to most shooters. In addition, this cam system will allow hunters to hold at full draw for lengthy periods of time, thanks to having 80% let-off.
Draw Cycle/Shootability
The Quest Hammer is equipped with the QS Single Cam system, which is designed to produce an incredibly smooth draw, with little vibration or sound upon release. Shooters may hear a faint "thump" after the arrow is released, but the "thump" can be easily eliminated by adding a quality stabilizer. Also, this rig also has a very solid back wall and will not creep on you. The draw cycle on this bow is so smooth it can be made with little extra movement, enabling the hunter to stay stealth like when pursuing game.
Silencing Package
Overall Quest has made the Hammer a very quiet bow. However, silencing features are one thing that is lacking on this bow. The Hammer does come with a fully adjustable string suppression system to take most of the vibration out of the Grey/Black 452X Precision Bowstring, but the addition of some string leeches, a stabilizer and shock dampeners on the limbs would go a long way.
Quest Hammer vs. Quest QS33
This bow is the successor to the very popular QS33. The Hammer continues to use most of the same components but Quest has slightly improved the IBO speed rating and draw length adjustability from 1" (QS33) to 1/2" (Hammer) increments. The
G5 Quest QS33
was factory outfitted with more silencing equipment, but these features can be added to the Hammer for little money. Where the Hammer does out do the QS33, is with Quest's new Exclusive GFade Durafuse finish that is available in 3 different camo schemes.
Bow made for Hunting
Quest makes hunting bows. Every bow is made with the serious bowhunter in mind. The Quest Hammer is no exception to this. With the new finish options the Hammer will be a hard bow for game animals to pick out of any situation. Additionally, the Hammer is very smooth drawing so the hunter will be able to draw with minimal movement thus able to remain elusive from game.
Bow

G5 Quest Hammer

G5 Quest QS33

Version

2011

2009

Picture
Brace Height
7.25 "
7.5 "
AtA Length
33 "
33 "
Draw Length
26 " - 30 "
26 " - 30 "
Draw Weight
40 lbs - 70 lbs
40 lbs - 80 lbs
IBO Speed
312 fps - 315 fps
310 fps - 314 fps
Weight
4.2 lbs
3.9 lbs
Let-Off
80%
80%
Where to buy


Best prices online

Not available now.
Please check later.

Not available now.
Please check later.

compare more bows
Value for money
The Hammer is a great value for the money. This bow retails for $399 and is available in a hunt-ready package for $499 (add $30 if you want the GFade Finish). Many shooters have stated that this bow shoots like an $800 bow and could probably sell for that price also. Quest continues to make bows that are high quality and great shooters at a price that is easy to afford.
Summary
Simply put, the Quest Hammer is a great hunting bow for your dollar. This bow is perfect for beginners or experienced shooters alike. The perfectly balanced 33" axle to axle frame is easy to handle, combined with the forgiving 7.25" brace height, make it possible for every shooter to drive tacks. When on stand or in a ground blind, the new technology used in the finish of this bow help to keep the hunter hidden. Not to mention, it looks and feels great. For the money, shooters get a high quality, well-built bow when they decide on a Hammer.
G5 Quest Hammer Review