G5 Quest Rogue Review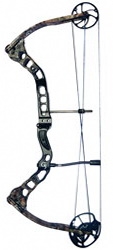 Where to buy


from $350
auctions from $239.99
Compare Prices

Editors' review
The 2012 G5 Quest Rogue is one of the best values around. It is well built with a great draw and good speed. G5 is making solid reliable bows and it is showing in their entire line up. The Rogue is accurate and compact which many hunters are looking for. This bow is smooth, quick, and well built with great fit and finish.
Finish
There are only two color options available for the Rogue. The double dipped Durafuse finish is available in Realtree AP or GFade Realtree AP. The GFade has a dark and sinister look that is black in the middle of the riser and blends into the camo at each end. It is a unique look that will catch the eye of many. It seems to be a very durable finish and there have been no reports of it chipping or cracking.
Riser/Limbs
The Rogue measures 31" axel to axel. It weighs in at 4.2 lbs., but the bow is fairly short and compact. The stretched and gently flexed riser has remarkable stability and is composed of forged 6061 aluminum. There is a string stop integrated into the bottom half of the riser. It comes equipped with a stabilizer bushing.
The limbs have a parallel design that create a very forgiving and smooth shot especially for it being it being on the short side. They are connected with pivoting limb pockets that are 100% machined. The combination of the riser and limbs on this bow produce a 7.5" brace height.
Grip
The grip on the G5 Quest Rogue is simple and blends well. It has minimal torque with a solid and balanced feel. The side panel design on the grip is black in color and made of an anti-slip material. Although it is scent free it will not do a good job with hand warming on cold hunting days.
String Suppressers
The one string suppresser on this bow does its' job well. This string stop is integrated, adjustable, and it deadens the string. The extra heavy duty bumper at the end of the suppresser cushions the shot and will be long lasting. There is no buzzing or jerking after the shot. Noise and vibration is practically absent on this bow.
Eccentric System
The Fluid Cam on the Rogue is silky smooth and produces an easy draw. It has a rotating module for adjusting the draw length without a bow press. The single cam design is adjustable from 26 to 30.5" in .5" increments. It has 80% let off and comes in 50, 60, or 70 lb. draw weights. The fluent feeling Fluid cam on this bow lives up to its' name. It has a lot of energy to back it up. The IBO speed is 312 fps which is pretty good for a single cam bow. This seems to be pretty true to the actual speed of the Rogue.
Draw Cycle/Shoot Ability
The draw on this bow is extremely comfortable and smooth. The back wall is rock hard with a good feeling valley. The Fluid Cam features an adjustable draw stop peg so you can set the let-off and the valley to your own personal preference. The standard setting seemed adequate. This is not a loud bow, but a stabilizer would quiet it more along with improve its' balance. The string suppresser does a great job of eliminating vibration and there is very little hand shock. The slide type cable guard system is a basic feature on this bow and does not compare to other roller guard systems that are on the market today.
Silencing Package
The noise level of this bow is quite low especially for it being considered to be on the economy line. The heavily padded string stop really silences any sound and vibration. There are no other silencers on the Rogue added or slowing down the string. They aren't needed.
Comparisons
Bow

G5 Quest Rogue

G5 Quest Torrent

Version

2012

2013

Picture
Brace Height
7.5 "
7 "
AtA Length
31 "
31 "
Draw Length
26 " - 30.5 "
25.5 " - 30 "
Draw Weight
40 lbs - 70 lbs
40 lbs - 70 lbs
IBO Speed
312 fps
322 fps
Weight
4.2 lbs
4.2 lbs
Let-Off
60% - 80%
80%
Where to buy


Best prices online

compare more bows
The G5 Quest Rogue is fourth in Quest's line of 5 bows. Although it is not at the top of their line it will still do everything the majority of hunters are asking for. Its' riser is nearly the same as Quest's entire line up. The
G5 Quest Torrent
is the next bow above the Rogue and it has a .5" shorter brace height with a 10 fps faster IBO. These two bows have the same ATA, weigh the same, have the same Fluid cam, and share all of the same materials. The Torrent is $100 more on its' MSRP.
Perfect Usage
This bow is excellent for hunting especially for the archer on a little more of a budget. It packs enough of a punch for any big game animal and is reliable enough to satisfy a serious hunter. Recreational 3D shooters would also be happy with this bow. The Rogue would be great for a large range of archers with its range and ease of adjustment. From entry level archers to experienced hunters spending within their means this bow has its niche.
Value
Value is what this bow is all about. It is an extremely solid bow with lots of quality. Whoever buys this bow will be getting a lot of bang for their buck. Quest even offers the Rogue in a complete package that includes a Cobra 5 pin sight with a built in light, a Cobra Cage rest, a G5 wrist sling, a G5 headlock 6 arrow quiver, a Sims 4.5" S Coil stabilizer, and a G5 Metapeep peep sight.
Summary
This is a basic practical bow that possesses everything needed to hunt with. It has an awesome draw with the Fluid Cam that has smoothness and solid comfort at the back. The Rogue has good speed with great fit and finish. The shot is quiet with out any buzz or rattle and the generous brace height also helps with comfort at the shot. It will accommodate a wide range of shooters in size with its adjustability and experience with its quality. With an MSRP of $429.99 to $459.99 it may be one of the best values available in the archery business.
G5 Quest Rogue Review