G5 Quest Storm Review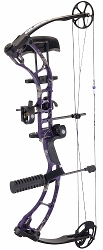 Where to buy


from $519
Compare Prices

Editors' review
The G5 Quest Storm is a redesign of the existing Quest Radical. The Storm has greater poundage adjustment capabilities, slimmer grip, and lighter overall weight for a solid shooting platform for the smaller statured shooters. Primarily marketed as a youth or women's bow, it is a very good shooter for the smaller man too. With a 31" ATA, 7" brace height, and a 290 fps IBO, this bow is not just a kids bow, so do not let the smooth, easy draw fool you. With an adjustment range of 30# - 60#, this rig will fit nicely for those shooters with a shorter draw, and provide the knockdown power you would expect, shot after shot.
Finish
The finish on the Storm is done through a patented process with patented materials. This finish is called Durafuse, and is accomplished through sublimation instead of water transfer. The Durafuse process gives this rig a better visual appeal and a more durable finish. The bow can be purchased in Realtree Xtra, purple, and jet black.
Risers/Limb
This rig is compact, maneuverable, and built on a very sturdy Stabilite 6061 aluminum riser created from forged machined 6061 aluminum. This is a well-balanced, strong, and light-weight riser. The ends are capped with a pair of CNC-machined pivoting limb pockets. These pockets have been used on multiple bows, and create a stable and reliable platform, keeping the limbs secure with virtually no movement during the draw cycle.
Other Components
This rig is pretty standard out of the box. The bare bow comes with an adjustable string stop, BCY 452X string and cable, and a patented Quest Roller Guide. It can also be purchased in a Ready-to-Hunt package that comes with G5 Headloc Quiver, G5 Stabilizer, bow sling, Halo arrow rest, Meta peep, and a 3-pin sight with light.
Eccentric System
This rig is powered by G5's patented Fluid SD Cam. This single-cam and wheel ride on self-lubricating sealed bearings and offer a very smooth draw for the shooter and provide some good speed (290 fps) for a short draw bow. There is also the choice from two modules for adjusting the draw length between 23" - 27.5" and the adjustment and mod change can be done without a bow press. The adjustments can be done in half inch increments by positioning the correct module in the correct position on the cam and tightening it down. It can then be fine-tuned using the draw stop.
Draw Cycle/Shootability
This bow has a very nice and very smooth draw cycle. The single cam setup provides this rig with some good power without making it difficult for the shooter that needs the shorter draw. The 290 fps IBO is not unrealistic, but will decrease significantly as items are added to the string. Setup in a hunting configuration, the shooter will most likely see around 260 fps, but will still see that this rig will pack enough punch to take down most game animals. The draw weight can be adjusted between 30# to 60# simply by loosening or tightening the limb bolt. You do not need to change limbs. As always, though, it is very important to NOT loosen the bolts too much. Each limb bolt must be adjusted the same to ensure the tiller is even.
Silencing Package
The G5 Quest Storm is a very nice bow designed for the smaller-framed archer. Although this rig is built to be pretty quiet, the bare bow only comes with the patented Quest Roller Guard and an adjustable string stop. The Ready-to-Hunt package includes the G5 stabilizer. These items combined will remove any vibration and noise, making this a very quiet bow to shoot.
Grip
The bow has a one-piece composite grip that is slightly slimmer than the average grip. It provides a better fit for the archer that needs the smaller grip without losing any of the comfort or accuracy of other grips.
Compared to Similar Bows
The G5 Quest Storm is a very nice shooter. It was introduced in 2015, but has pretty much the same specs as the PSE X-Force SD. Both are adjustable from 24" - 27" and have a peak draw weight of 60 pounds. The Storm has a low end draw weight of 30# while the PSE is 40#. The PSE has a slightly longer ATA at 33 3/8" and the Storm is 31." The Storm has a 7" brace height and the PSE has 6 9/16," and the PSE has a half pound more overall weight. The PSE also costs $50 more for a bare bow package. Both are very good shooters. The G5 Quest Storm will easily keep up the paces of the bigger bow lines.
Usage Scenarios
This bow is designed for those archers requiring a shorter draw length, from youth, women, and shorter men. It is also a hunting bow. It will be found on a target range, 3D course, and in many ground blinds and tree stands. Just because it's designed for the smaller statured shooter does not mean it is not effective. It is a smooth drawing, quick shooting, and packs plenty of punch.
Value
This rig can be purchased for $300 bare bow, and up to $529 Ready to Hunt package. This is at the lower end of the price range for a bow geared toward young shooters and women, but is also an excellent fit for the shooter that requires a shorter draw length. It also offers plenty of accuracy and shootability for everyone.
Summary
The G5 Quest Storm was introduced in 2015 and marketed for the shorter draw archer. It was a redesign of the Quest Radical the Storm gives better poundage adjustment, a slimmer grip, and slightly lighter overall weight. It has a 31" ATA, 30# - 60# draw weight adjustment range, and a 290 fps IBO. The Storm is a smooth drawing killer that will certainly meet the needs of those requiring a shorter draw rig for any situation. Give this one a test drive.