Hoyt Vector Turbo Review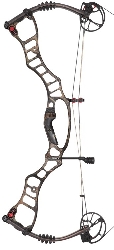 Where to buy


from $350
all auctions
Compare Prices

Editors' review
Speed bow shooters listen up. Hoyt has produced yet another bow that will cause you to secretly buy another bow behind your wife's back. The Hoyt Vector Turbo is quite possibly the most forgiving and shooter friendly speed bow ever built. Hunters who need speed for longer shots will love the accuracy and rock solid hold of this bow.
Finish
Hoyt continues to use the tough textured coating that we are all familiar with. This offers protection from nicks and scratches that a smooth surface bow could not offer. This finish also eliminates any chance of shiny areas and greatly reduces wear on areas that experience a lot of contact, like the grip.
Riser
The TEC-LITE riser on the Vector Turbo brings strength and has low weight. The bow has weight reducing cutouts throughout the riser giving the Turbo a bare weight of 4.2 pounds along with a sharp look. The offset stabilizer attachment brings a heightened level of balance allowing for optimum accuracy on those longer shots. This addition to the 2012 lineup is something target archers have been doing for years with offset stabilizer bars. A variety of 13 finishes can be seen on Hoyt website ranging from camo to cobalt blue and pearl white! You're sure to find something you like
Grip
The stock grip on the Vector Turbo is top of the line. For a stock grip, it can accommodate a huge variety of shooters due to its narrow neck and wider mid/lower section. The narrow neck caters to the high wrist shooters and gives a no torque feel. The fatter mid and lower section is great for mid and low wrist shooters. Along with its great shape, the rubbery finish on the grip also aids in keep your hand warm on those late season hunts.
Limbs
Hoyts Limbs now have a 5 Layer Lamination (5LL) system which is new for this year. As past Hoyt models, these bows have passed the dry-fire test and are also pre-stressed, which eliminates any reformation once you get shooting the bow. Other innovations are the Uniform Stress Distribution (USD) in the limbs which cause each part of the limb to have even strain. ARC technology in the limbs reduces vibration and increases speed. Pro-Lock Limb Pockets drastically strengthen the connection from limb to riser, which is the weakest point on any compound bow. With these innovations you can expect to feel a vibration reduction and see a speed increase when compared to last year's models.
Eccentric System
The new RKT Cams on the Turbo are linked by a control cable which means the top and bottom cams fire at the same exact time, every time. New design in the cams also promotes proper form while shooting, resulting in tighter groups. Adjustments are made via mods on the cams in half in increments and only an allen wrench is needed to make adjustments since no press is needed. Nearly every person out there can shoot the Vector Turbo due to its draw length range, 24.5-30". Draw weights also offer a great range, in ten pound increments from 30-80 pounds. There is also a 55-65 pound limb option to accommodate a majority of shooters. Since Hoyt uses the ATA rating system when listing their specs, you can expect to see exactly or very close to the advertised speeds. The ATA scale has strict guidelines, opposed to OBO which does not. The Turbo was shooting 330fps at 70 pounds, 28.5" and a 373gr arrow. That is right on their advertised speeds considering the arrow they use during testing is 350gr. Smoking fast!
Draw Cycle
The Vector Turbo has an amazing draw cycle, and not just for speed bows. The overall feel is solid, very smooth and has gradual build. Surprisingly, this bow has a better draw cycle than the Vector 32 and 35, quite surprising for a speed bow. The valley on the Turbo is noticeably larger than that of the 32 and 35 as well; furthermore, there is ZERO creep! You almost have to push this bow to let it down which is unlike most speed bows. Whatever Hoyt has done with this bow, other companies should take note of. As a side note, the tested bow was set at 63 pounds.Since there is no dual draw stops like other manufacturers bows, the back wall on the Turbo isn't "rock solid", although, it does have a very nice feel to it. The slight mushiness of the back wall allows you to settle into the valley, rather than the instant stop like dual draw stop bows have. That may benefit some shooters since someone with a fast draw movement experience a jolt when the dual draw stops kick in. Once drawn back shooters will notice the amazing balance of the bow due to Perfect Balance technology.
Other Components
Another great point on this bow is the included silencing options. A Stealth Shot string suppressor drastically reduces string vibrations and quiets the bow down. The Silent Shelf is a rubber pad that covers the arrow shelf, which is always a problem area during hunts. It's also a great cushion for drop away arrow rests, rather that hitting the riser. In addition to those accessories, Hoyts ever popular AlphaShox further reduce vibration on a nearly perfect limb setup.Hoyts new inline roller guard system is lighter and each roller has a shorter lip on the. This reduces the pinching effect on the string which brings faster speeds and less energy loss. The rollers don't have to be removed to change a string anymore either.
Noise/Vibration
The tested bow was surprisingly quiet considering it's a speed bow and was completely stock. The only added piece of equipment was a whisker biscuit. This bow did have noticeable hand vibration for a second or so after the shot, but the String Stop was a bit too far from the string. If that had been adjusted correctly, vibration would have been slim to none. Keep in mind this bow was taken of the display and shot, not tuned.
Value
The Vector Turbo can be found for around $975. That's more than a lot of guys want to spend, or are allowed to spend on "thing we don't need". For that price don't get anything less than an amazing bow though. Does the quality match the price tag? That depends on your wallets diet plan...
Vector Turbo vs. Vector 32/35
Bow

Hoyt Vector Turbo

Hoyt Vector 32

Hoyt Vector 35

Version

2012

2013

2012

Picture
Brace Height
6 "
6.75 "
6.75 "
AtA Length
35 "
32 "
35 "
Draw Length
24.5 " - 30 "
24.5 " - 30 "
25.5 " - 31 "
Draw Weight
30 lbs - 80 lbs
30 lbs - 80 lbs
30 lbs - 80 lbs
IBO Speed
340 fps
330 fps
325 fps
Weight
4.2 lbs
4.0 lbs
4.2 lbs
Let-Off
75%
75%
75%
Where to buy


Best prices online

Not available now.
Please check later.

compare more bows
As said earlier, you might find that the Turbo's draw cycle is better than the Vector 32 and 35. The Turbo is smoother, has a larger valley and is faster. Although the brace height is shorter on the Turbo when compared to the Vector 32 and 35, the forgiving feel of this speed bow is amazing. So, ff you like speed bows, there is no reason to get a slower bow, like the
Hoyt Vector 32
/
Hoyt Vector 35
, when you can have a faster bow that is just as forgiving. The Turbo is a bit more expensive than the 32 and 35, but that price difference is due to the speed difference.
Summary
The Vector Turbo was a huge surprise. Some speed bows are known for nasty draw cycles, unforgiving brace heights and creep as bad as Freddy Kruger. Forget about those expectations, the Turbo is perfect. Hunters who previously avoided speed bows because they worried of holding back an aggressive bow for long periods, stop, things have changes. The speed capabilities of the Vector Turbo will allow you to extend your range and put the smack down on the buck that in years passed would have lived another day. Get to your Hoyt dealer and shoot this bow for yourself, you'll be very surprised to see what this speed bow can do.
Hoyt Vector Turbo Review