Martin Blade X4 Review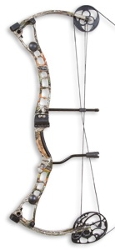 Editors' review
Designed with the avid hunter in mind, Martin's Blade X4 is a lot of bow for such a small price tag. This compound is extremely adjustable, whether you need to change the draw length, draw weight, or let-off on the fly. Rated at speeds up to 315 fps, the single cam's performance and smoothness is noticeable throughout the entire draw cycle. Shooters looking for a bow that meets the needs of hunters and target shooters alike, check out this one from Martin Archery.
Finish
This bow is only available in Next G1 Vista Camouflage. Finish turning marks noticeable in last years models are still present, and although they are small, are definitely noticeable under the camouflage film. Other than that, the dipping process isn't quite perfect, with only one or two recognizable blurs. The Blade X4 is equipped with Green/Blue Hammerhead Strings and has completely anodized black components.
Riser
This bow is CNC machined out of a solid piece of aluminum compared to other models being produced with three separate pieces, which gives it the extra strength that a higher end bow normally features. It includes a common straight cable rod with a Martin Teflon cable slide, but can be replaced with an angled rod to nearly reduce all horizontal torque created at full draw. The riser features efficient cutouts found in most modern compounds, specifically engineered in this bow to harness V.E.M. silencers like other bows in Martin Archery's lineup.
Limbs
New for 2013, the Martin X4 Twin Power Tough limbs are created out of continuous glass for consistent and quiet shots at speeds up to 315 fps. The innovative material plus the parallel limb construction creates a system that, even though it does not take it all, depreciates the overall noise output and hand shock this low priced bow contains. The limb pockets, even though a bit bulky, are efficiently designed to harness the strength of the limbs. Adjustable anywhere from 35-70 lbs with a draw press, it has the ability to perform in many different age groups and usage scenarios.
Grip
After the many generations of Martin grips, the saddleback thermal grip is top notch, fitting most hand sizes comfortably. It may seem to have a flat, wide, grip at first, but the leather back forming into carbon fiber side plates feels good and is easy to repeat before every shot. The leather also keeps the shooter's hand warm in cold hunting temperatures.
Eccentric System
The Fury XT cam system is rated to 315 fps at IBO, and is easy to hold at 80% letoff. Sometimes, this bow is not meeting its registered speed, reaching up to 300 or 305 fps at the max, but even so, that is fully acceptable for harvesting most large game. Instead of simply using an Allen wrench to decrease draw weight, which decreases string tension and shootability in general, there are different draw weight posts to position the main string at to decrease the max weight up to 35 lbs. The cams feature a fully adjustable rubberized limb stop to adjust let-off and stop the draw cycle in its tracks at anywhere between a 25" and a 31" draw length.
Draw Cycle/Shootability
The Martin Blade X4's draw cycle is extremely generous, with the peak weight nearly 2/3 into the draw cycle. A forgiving 7" brace height allows for more accuracy, even though it may deduct from some speed noticeable in bows with shorter brace heights. Similarly, at 31.5" ATA, this bow is compact enough to take it to the woods, but long enough to appeal to target shooter looking for the most forgiving setup. At full draw, the split limbs, large valley (if adjusted to one), solid limb stop, and slim grip create an extremely solid shooting platform. The bow does, however, have a bit of a jump to it at the shot, but it is nothing a good stabilizer can reduce or even completely remediate. Plus, even with a stabilizer, the bow will be closer to the desired 4lb hunting weight than bows from most companies on the market.
Silencing Package
This bow comes factory installed with V.E.M. (Vibration Escape Modules) and the Silencing Arrow Shelf, which quiets the bow down by taking away some of the unwanted vibration. Similarly, the Blade X4 includes a Carbon Fiber String Suppressing System that stops most of the string oscillation after each shot. Vortex String silencers are included to round out the package of dampening accessories.
Comparisons
Bow

Martin Blade X4

Martin Pantera

Version

2013

2013

Picture
Brace Height
7 "
7 "
AtA Length
31.5 "
34 "
Draw Length
25 " - 31 "
25.5 " - 32 "
Draw Weight
35 lbs - 70 lbs
35 lbs - 70 lbs
IBO Speed
315 fps
320 fps
Weight
3.75 lbs
4.1 lbs
Let-Off
80%
80%
Where to buy


Best prices online

Not available now.
Please check later.

compare more bows
Compared to the previous year's
Martin Pantera
, this bow has noticeable upgrades. The largest difference being the 2.5" reduction in axle to axle measurement, the Martin Blade X4 also has a completely new riser design. Even though the bows both include the saddleback thermal grip, fury XT cam system, and finish options, this new offering is both cheaper and lighter in weight, from 4.1 to 3.75lbs respectively. Being the lower price unit of their current lineup, it both shoots and looks like one with twice the price tag.
Usage Scenarios
The Blade X4 is an all-around general purpose bow; one that fits the bill as a silenced hunting machine or as a 5 spot target rig. The compact short limbed design allows for little limb travel, ultimately saving valuable treestand space in the woods. Likewise, the adjustable valley creates the possibility to achieve 65% or less letoff, a premier feature most advanced 3D and tournament archers desire.
Summary
Martin Archery has definitely created a solid performer as an around great shooting and easy to use bow. Even though it is not the fastest and quietest bow in the bunch-for the price, it is one of the most feature-inclusive and adjustable bows produced this year. For those prospective individuals looking to be introduced into archery in general, or for the seasoned whitetail hunters of the Midwest, this is a bow to be considered with other top performers.
Martin Blade X4 Review