Martin Firecat Review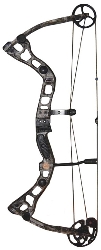 Where to buy


from $489.99
Compare Prices

Editors' review
The Martin Firecat Pro-X is the flagship bow of the 2008 Martin line. While the Firecat's cam system is rather aggressive, many archers believe that the draw cycle is relatively smooth for the blazing speeds this bow generates. A lot of shooters strongly agree in that this bow is a great value for money. While it's not the smoothest and quietest bow out there, the Firecat is often described as being a great alternative to its more expensive competitors. Overall, while this bow is not ideal for beginners due to its aggressive feel, more experienced archers who like fast rigs will enjoy shooting this bow.
Be aware, that in 2010 the Martin design team decided to create a single cam version of the Firecat called Martin Firecat TR1. While having a similar name the Firecat TR1 is quite different to the original Firecat reviewed here. Therefore, if you are interested in a single cam version of this bow have a look at the Martin Firecat TR1 bow. Otherwise, keep reading this review.
Limbs and riser
A machined aluminum riser and a new Roto Limb Cup system help reduce the mass weight to 3.5 lbs. Compared to traditional limb pockets the Roto Limb Cup system has two main advantages. To begin with, this system is designed to align the limb perfectly to the cup and to help stabilize the bow. Secondly, the cup system is built with less material thus further reducing the overall weight of the bow. The Firecat is equipped with Martin's proved laminated Coreflex limbs which become parallel at full draw. Overall, the limbs, riser, and the new cup system help reduce the bow weight without affecting precision and stability.
Eccentric system
The engine behind this bow is Martin's blazing fast C.A.T Hybrid Duo Cam system capable of generating IBO speeds of 335 fps to 345 fps. This modular cam system is designed to maintain synchronization, reduce cam lean, and make the bow easier to tune. The draw lengths are adjustable over a 26"-30" range without using a bow press. The standard module covers a range of 26" to 29", while the long-draw module is used to further adjust the draw length from 26.5" to 30". The let-off is 80%.
Draw cycle
Multiple tests conducted by experts indicate that while the Firecat's C.A.T Hybrid Cam system is smooth, it is fairly aggressive (no surprises here - this is how fast speeds are achieved) and has a large let-off at the end. With such aggressiveness and 80% let-off the bow drops into the valley severely. However, this is not a problem for the majority of archers who say it takes a little bit to get used to it.
While some archers say the rapid let-off is something they really like, others say such design contributes to a pronounced hump at the end of the draw cycle. It is worthwhile to note though, that the hump can be significantly reduced or even completely eliminated by tweaking the bow properly.
Being an aggressive bow the Martin Firecat is not the most ideal choice for beginners. If you are just starting, consider getting a smoother and a more forgiving bow such as the
Martin Bengal
. On the other hand, if you are a more experienced archer and you like aggressive and fast bows, the Firecat could be a great choice for you. If you want a quieter bow consider getting the
Bowtech Air Raid
- a really quiet rig with similar specs.
Value for money
Admittedly, the Martin Firecat is one of the best bows for the money. While it's not the smoothest and most forgiving bow, the Firecat will cost you much less than some higher priced rigs with similar characteristics. While it's possible to get a better quality bow with similar specs, the amount of money spent may not be worth it especially if you are on budget.
Bow

Martin Firecat

Martin Bengal

Bowtech Air Raid

Version

2010 TR2

2010 Mag

2010

Picture
Brace Height
7 "
7 "
6.875 "
AtA Length
32.25 "
32.25 "
33.875 "
Draw Length
26 " - 30 "
25 " - 30 "
26.5 " - 30.5 "
Draw Weight
50 lbs - 70 lbs
40 lbs - 70 lbs
55 lbs - 75 lbs
IBO Speed
335 fps - 345 fps
315 fps - 320 fps
321 fps - 329 fps
Weight
3.5 lbs
3.5 lbs
4.4 lbs
Let-Off
65% - 80%
65% - 80%
65% - 80%
Where to buy


Best prices online

compare more bows
Summary
To conclude, the Martin Firecat is a fast bow with aggressive draw cycle. This is a quality rig at a very affordable price compared to similar competitor bows. Not ideal for beginners due to its aggressiveness, the Firecat is a great choice for speed addicts who don't want to spend a lot of money on quality bows.
Martin Firecat Review