Martin Firehawk Review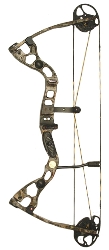 Editors' review
The Martin FireHawk is a short axle to axle bow that has impressive IBO speeds. It is packed with features that make it a shootable and viable choice for hunting or recreational use. Seemingly with a price tag at around $479 this bow will be affordable to many archers.
Finish
The finish on the Firehawk is a durable coating that is available in three color options, Next camouflage, hunter black and midnight blue.
Riser
The riser on this rig machined from aluminum and is designed to be rigid and forgiving at the same time. With eight cut outs along the length of the riser to reduce weight, it helps this bow weigh in at only 3.4 pounds.
Limbs/Limb Pockets
Outfitted on the FireHawk are Martin's Coreflex laminated limbs. These limbs are constructed from a high compression three part laminate, making these limbs tough, durable and made to last a lifetime. The limb pockets are pivoting roto limb cups that are lightweight and maintain a secure alignment of the limbs.
Grip
This rig equipped with the Thermal V grip which represents the third generation of Martin's thermal grip design. It is made of Omega V vibration dampening material and leather to give you a warm feel in cold weather situations.
Eccentric System
The Firehawk features the C.A.T hybrid duo cam system. C.A.T stands for cam actuated timing, which amounts to these cams are linked together keeping them in sync at all times. This system boasts an impressive 320 fps IBO rating along with a comfortable 80% let off. The draw length can be adjusted without the aid of a bow press and has a range of 25-30". The FIrehawk also has a draw weight range of 35-70 pounds and a forgiving 7" brace height. This system also has an adjustable draw stop peg for fine tuning draw length and let off.
Other Components
This bow has several vibrations dampening components installed on it which are as follows; STS shock terminator suppressor, the V.E.M(vibration escape module) and a silent arrow shelf as well. Also this rig is equipped with the CCS cable containment system which is basically Martin's version of the roller guard.
Shootability
Some archers will agree that the Firehawk has a smooth draw but does have a noticeable hump into the valley due to the aggressive nature of the cams. Once at full draw it has a solid back wall and is very easy to hold back with its 80% let off. Martin has outfitted this bow with many vibration dampening components and its shows when you shoot the bow. It also has very little vibration and quiet at the shot.
Firehawk vs. Firecat
These two bows are very similar in appearance and have nearly all of the same components. There are two main things that set these bows apart, which is axle to axle length and IBO speed. The FireHawk is 29 3/4" axle to axle with an IBO speed of 320 fps and the
Martin Firecat
is a longer 32 1/4" with a 345 fps IBO.
Usage
This rig seems like an ideal hunting rig, the short axle to axle assures you can fit a shot into many different situations you might run into while hunting. Other attributes like being quiet, fast and nearly vibe free makes this a good choice for the bow hunter or recreational shooter.
Summary
With the draw weight range of the FIrehawk being 35-70 pounds this bow can be compatible with a wide range of archers. Its short axle to axle length make it a shoe in for tree stand hunting and having many characteristics that make this bow very shootable are good reasons to give this rig a second look. The Firehawk also has a price point that isn't going to break the bank that almost anyone can afford.
Bow

Martin Firehawk

Martin Firecat

Version

2010

2010 TR2

Picture
Brace Height
7 "
7 "
AtA Length
30 "
32.25 "
Draw Length
25 " - 30 "
26 " - 30 "
Draw Weight
40 lbs - 70 lbs
50 lbs - 70 lbs
IBO Speed
315 fps - 320 fps
335 fps - 345 fps
Weight
3.4 lbs
3.5 lbs
Let-Off
80%
65% - 80%
Where to buy


Best prices online

Not available now.
Please check later.

compare more bows
Martin Firehawk Review