Mission Ballistic 2.0 Review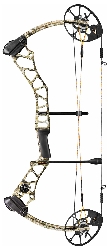 Where to buy


from $425
Compare Prices

Editors' review
The Mission Ballistic 2.0 is a redesign of the original Ballistic. Although it is basically the same, the Ballistic 2.0 has a shorter ATA (28.5" instead of 30.5"), a longer brace height (7 5/8" instead of 7"), and is slightly heavier (4.27 pounds instead of 4.18 pounds). This rig has a very smooth draw cycle, incredible accuracy, and with the 330 fps speed will take down pretty much anything you are going to hunt with it.
Finish
This bow come in three color schemes: Lost Camo AT, Lost Camo OT, and Black.
Risers/Limb
This bow is built around a forged machined aluminum riser which is shorter than the original Ballistic. Although it is shorter, this rig is slightly heavier and is very strong. At each end of the riser, a pair of strong plastic limb pockets hold the parallel fiberglass split-limb setup firmly in place, eliminating any unnecessary movement that would affect accuracy or consistency. The limbs come in 50#, 60#, or 70# peak weight sets, and are easily adjustable by using the limb bolts.
Other Components
This bow was designed for the hunter in mind and comes with one of three different hunting packages. The Basic Package includes a Trophy Ridge Whisker Biscuit rest, Bohning Lynx quiver, and a Copper John Saxon 3-pin sight. The Bow Hunter package has a QAD Ultra Rest Hunter or a Whisker Biscuit, Alpine Bear Claw quiver, Copper John 4-pin Mark 1 sight, and an Axion 3" stabilizer. The Pro Hunter offers a Trophy Taker XFC rest, Mission M5 quiver, Axion Vue 5-pin sight, and an Axion 3" stabilizer.
Eccentric System
The muscle for this bow comes from the AVS cam system. This very efficient cam setup generates plenty of speed, is easily adjustable, and performs at the highest levels. The draw length is adjusted by changing the draw modules, which can be done in a matter of minutes without the need of a bow press. Simply remove the screws, change the module, reinsert the screws (must be done on each cam). The draw length can be adjusted between 26" - 30" in half-inch increments.
Draw Cycle/Shootability
This is a very smooth drawing rig. Although the draw begins strong and remains strong through break-over, it is not so harsh that it detracts from shooting the bow. It has a decent back wall (not great) and a nice valley, but the shooter is advised that you must be ready if you need to let it down. It will try to jump, which makes it hard to hold during the initial let-down. This is a very nice shooting bow, and many shooters have given up their high-end rigs after shooting the Ballistic 2.0.
Silencing Package
The Ballistic 2.0 is quiet by design. However, it does come with sting grubs, a carbon string stop, a Harmonic Stabilizer Lite designed into the lower end of the riser, and a carbon rod cable guide that enhance the inherent silencing capabilities of the bow. With the added stabilizers in the available hunting packages, this is an all-around very quiet shooter.
Grip
The grip is a composite one-piece grip and reduces torque and slippage in damp conditions. Shooters have offered mixed emotions regarding the grip with some saying it is a little bulky, while others say it fits nicely. This is one that you absolutely must shoot to see how it fits you.
Compared to Similar Bows
Bow

Mission Ballistic 2.0

Version

2016

Picture
Brace Height
7.625 "
AtA Length
28.5 "
Draw Length
26 " - 30 "
Draw Weight
50 lbs - 70 lbs
IBO Speed
330 fps
Weight
4.27 lbs
Let-Off
80%
Where to buy


Best prices online
The Mission Ballistic 2.0 has very similar specs as the 2015 Obsession Knightmare GT Hunter. Both are short ATA bows; the Mission is 28.5" and the Obsession is 28.19." The Obsession has a 6" brace height, while the Mission has a 7 5/8" brace height, which should make it more forgiving and ultimately more accurate, although both are very accurate shooters. The draw length range for both are only 1/2" different, however the top end adjustment for the Obsession is 29" where the Mission is 30." They are also very close in overall mass with the Mission being slightly heavier. The Obsession is also more expensive by $300. Both are very good bows, but it will be up to the shooter to decide.
Usage Scenarios
This bow is designed to be a hunting bow, but is very versatile and will fit most archery situations. It is a solid bow, and the shorter ATA (28.5") makes if a perfect fit for the tree stand or the ground blind because of the shorter ATA, but is definitely not limited to only hunting. It will also work well for target shooting or the 3D course. Although it is slightly heavier than the average compound bow, it is still easy to haul around wherever you take it.
Value
This rig is on the lower end of the average price point for a compound bow of this quality. It can be purchased as a bare bow for $599 for the bare bow, and in the $700 neighborhood with the hunting packages that are available. There have been quite a few seasoned shooters that put away their high-end rigs to shoot the Ballistic 2.0.
Summary
The Mission Ballistic 2.0 is a redesign from an older platform; the Mission Ballistic. With a shorter riser/ATA, and a longer brace height, this rig provides the same outstanding features of the Ballistic in a shorter package. At 28.5" ATA, and with a 7 5/8" brace height, this bow still pumps out an arrow at 330 fps with deadly accuracy. Adjustable from 26" - 30" draw length, and 50# - 70# draw weight, this bow will not disappoint the shooter.
Mission Ballistic 2.0 Review