Mission Eliminator II Review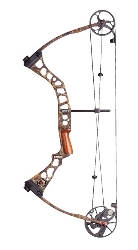 Editors' review
Mission archery has improved their very popular, award winning, Mission Eliminator by listening to shooters and "fixing" what many thought needed to be improved. The result is a short axel-to-axel bow, with improved single cam speed, a walnut grip, and less vibration by adding the optional Mathews patented Harmonic Stabilizer and dead end string stop. Shooters looking for a maneuverable hunting bow capable of ground blind, treestand, and spot and stalk hunting situations at an affordable price may be interested in the Mission Eliminator 2
Finish
The Mission Eliminator 2 undergoes film dipping camo application process resulting in a flawlessly done, very sharp looking Advantage Max-4 HD pattern. The quality meets industry standards with no imperfections or blemishes. Mission also offers a 5 arrow one-piece Mission M-5 quiver in matching Max-4 camo or a matching two-piece quiver system as well. Also optional extras aimed to enhance performance are the Dead End String Stop and the Harmonic Stabilizer offered on higher end Mathews bows.
Mission Accessory Packages
The Mission line has added an additional accessory package to this year's line up giving shooters an option between four packages including a bowfishing option.
The basic package comes with an NAP QuikTune rest, a black Grayling 4-arrow quiver, an Axion Extra three-pin sight, a TruBlock Mini Stabilizer, and a Paradox Braided Sling.
The bowhunter package comes with a QAD Ultra-Rest rest, a camo Alpine Bear Claw quiver, a five-pin TruGlo Bright Site Xtreme sight, a TruBlock Mini Stabilizer, and a Paradox Braided Sling.
The Pro hunter package comes with a Mathews HD II rest, a camo Mission M-5 quiver, Axion Simplex five-pin sight, a TruBlock Mini Stabilizer, and a Paradox Braided Sling.
The bowfisher package includes an AMS WaveRest rest, an AMS Shureshot bowfishing arrow, and an AMS Retriever Pro bowfishing reel.
Riser
A major complaint of the first Eliminator was the over four pound mass from such a compact design. Mission listened and the Eliminator 2 sports a refelexed riser that is lighter than the original Eliminator as a direct result of more CNC machined cutouts. Although the Dead End String Stop is optional on the Eliminator 2, the hole is available for those wanting the added string suppressor where it was not available on previous Mission models. Along with this comes an option for a Harmonic Stabilizer as well.
Grip
The Mission Eliminator 2 comes with a Walnut grip customary of Mathews higher end bows. This walnut grip is very similar to the size and shape of the rubber composite grips seen on previous Mission models. Some shooters report the wood grip to have a blocky feel, but most shooters like the change from the rubber composite grip to walnut because of the feel and the improved look of the bow. Most like the wood grips functionality better and some felt the rubber grip looked cheap as well.
Limbs and Limb Pockets
Eliminator 2 limbs are have not changed from the original Eliminator limbs. Solid in construction (not split limbs) the fiberglass composite limbs are very strong. The limbs connect to the riser using a black composite material and a technology known as a "pivoting pocket," where the limbs are allowed to move independently of the limb pockets. At full draw, the limbs come to a parallel position. Upon the shot, the limbs move in opposite but equal directions cancelling out most residual vibration and noise.
Eccentric System
Mission uses a single cam system Mathews has made very popular over the last few years. The single cam offers a smooth draw but historically less speed than a dual cam design. Mission advertises an IBO speed of up to 319 fps on the Mission Eliminator and many shooters report being able to achieve those speeds out of the box with an IBO set up. This is an improvement to the original Eliminator, which was a bit slower. The single cam perimeter weighted system is very adjustable. Although adjustments have to be made by purchasing new cams instead of changing modules or using an inner cam system like some of the competitor's models. However, when comparing the price of other draw length specific cams, the Mission is one of the cheapest available.
Draw Cycle/Shootability
The Eliminator 2 has an aggressive draw cycle accounting for the respectable speed from such a short axel-to-axel bow. Shooters will feel the transitions in the draw cycle although they are very smooth. The draw does not include any harsh humps and once the shooter arrives at full draw, the back wall is very solid. Aided by the 80% let off, and no creep whatsoever, shooters are able to remain at full draw for an extended period of time without being uncomfortable or overly strained. Most shooters enjoy the smooth feel of the draw and are not concerned with its aggressive cycle.
Silencing Package
The Eliminator 2 continues to use the string cushions mounted on the limbs next to the top and bottom cam similar to those used by Mathews. The rubber string stops help cancel string vibration that causes hand shock vibrations and noise. In addition to these suppressors come D-amplifiers, which are added to the strings to take away residual string vibration. New to the Mission line this year is a rear mounting stabilizer hole for the optional Dead End String Stop. Along with this is a riser cutout designed for the Harmonic Stabilizer designed to eliminate 75% of the post-release vibration. The result of the factory-silencing package coordinating with the parallel limbs is a very quiet shock-free release. The Eliminator 2 also comes with a front mount stabilizer hole to accommodate for a variety of counter weights and further stabilizer dampening accessories.
Mission Eliminator 2 vs. Mission Eliminator
Mission archery listened to shooters of the award winning
Mission Eliminator
and changed all the imperfections with the Eliminator 2. Looking at the specifications of the two bows, they look almost identical, and they are with a few slight changes. The Eliminator 2 has a newly machined riser making the bow about a half of a pound lighter than the original. The Eliminator riser features two other additions as well. The second change to the riser is the added rear mounting stabilizer hole designed for the Mathews Dead End String Stop. To further dampen the residual vibration, the riser sports a hole for an optional Harmonic Dampener designed to eliminate up to 75% of post-release vibration. Along with this, The Eliminator 2 also comes a bit faster with an extra 10 fps. The rubber composite grip of the original Eliminator has been changed to a more Mathews-like walnut grip adding to the looks and appeal of the Eliminator 2 most shooters enjoy.
Bow

Mission Eliminator II

Mission Eliminator

Version

2010

2009

Picture
Brace Height
7.125 "
7.125 "
AtA Length
30.25 "
30.25 "
Draw Length
24 " - 30 "
24 " - 30 "
Draw Weight
40 lbs - 70 lbs
40 lbs - 70 lbs
IBO Speed
319 fps
310 fps
Weight
3.96 lbs
4.20 lbs
Let-Off
80%
80%
Where to buy


Best prices online

Not available now.
Please check later.

compare more bows
Usage Scenarios
The Mission Eliminator 2 is an ideal hunting bow for many shooters. This hunting bow offers an extremely maneuverable size in ground blind, treestand, and spot and stalk situations. For serious tournament shooters, there may be better options available. However, those wanting to get a little extra practice for hunting season by doing a 3d shoot will not be disappointed in its performance. The forgiving 7 inch brace height and added speed from the original eliminator makes this a great hunting bow overall. Those shooters looking for a tournament bow may have better suited options.
Great Value for the Money
Outdoor Life Magazine crowned the Mission Eliminator as the 2009 Great Buy bow. This year the Eliminator 2 takes the original Eliminator and adds some minor changes making it a more desirable bow in terms of speed and shootability. With a $499 price tag, it would be hard for a shooter to find a better deal. Mission also offers a variety of factory accessory packages aimed at different types of shooters offering something for everyone. This low price tag is not an indication of the quality product Mission archery is dedicated to providing. The Eliminator 2 is very competitive when compared to bows with a much higher price tag in terms of shootability, quality, and durability. Those shooters looking for a short axel-to-axel hunting bow should try out a Mission Eliminator, and they may find what they are looking for at a very low price.
Summary
Overall, those who enjoyed the original Eliminator or Mathews DXT are going to appreciate the changes made resulting in the Eliminator 2. The changes may not be enough to upgrade from the original Eliminator, but for those shooters demanding more speed and less vibration, the changes to the original Eliminator are welcomed. Longer draw shooters often report a dislike of short axel-to-axel bows. However, if you are in the market for a short axel-to-axel hunting bow at a great price, the Mission Eliminator 2 may be the bow for you. The short parallel limb design hunting rig offers respectable speed and a variety of higher end options including: a rear stabilizer mounting hole and a Harmonic Dampener option. Choosing from one of the available factory accessory packages will give shooters a great set up for the same price as a higher end bare bow model. Although longer draw shooters normally avoid short axel-to-axel bows because of the string angle, those short to medium draw shooters looking for a maneuverable hunting bow may have found an inexpensive option.
Mission Eliminator II Review