Mission Hype Review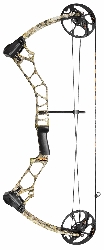 Where to buy


from $350
Compare Prices

Editors' review
Mission Archery has built a radical new compound based off of one of the many popular bow choices of the past few years, the Riot. Being fitted with a brand new cam system, a redesigned riser, and overall costing less to the prospective archer, there is a lot to love with the Hype. With 55lbs of adjustability in terms of draw weight and 11" in terms of draw length with a simple turn of an allen wrench, this compound can fit the largest framed bowhunter to the smallest target archer for less than $400.
Finish
The Hype features four distinct camo options; Lost Camo AT (all-terrain), Lost Camo OT (snow), Lost Camo OT Pink, and Black. Using the hydrographic dipping process, the finish is applied as a layer and is quite resistant to regular wear that may apply when carrying to and from the woods or in general usage. Factory Zebra strings are included and tend to last upwards of two years with correct maintenance. Overall the finish is comparable to other flagship models and is of no relation to the price of this bow.
Riser
Geometrically designed with almost a dozen cutouts while maintaining ample strength, the riser is machined out of a solid piece of aluminum. With anodized limb pockets, a fiberglass cable rod, and threaded holes for the addition of a string stop silencer, there are many features to this compound. Maintaining a 31" axle to axle measurement and a 7" brace height, it is compact enough for easy carry but provides enough forgiveness for accurate shot placement.
Limbs
This bow features pre-stressed split composite limbs and a parallel limb structure for a pleasant shooting experience. With long limb bolts, solid limb pockets and the ability to adjust between a vast draw weight range between 15 and 70lbs, the bow keeps its robust nature and integrity even at the extreme settings. As an additional feature, limb graphics are included for a cosmetic addition.
Grip
Mission's slim ergonomic grip is made out of a rubber composite not only to keep hands warm in cold weather in a hunting scenario, but to provide a slim, accurate shooting platform to base off of throughout the entire shot cycle. It is wider than the average machined grip and side plates, but the tradeoff is minimal and it won't take long to get used to if archers are used to other specific styles of grips.
Eccentric System
The Hype's newly designed F.I.T. (Focused Inertia Technology) Cam delivers a smooth draw cycle with its overall round cam shape, all the while reducing noise and recoil with a perimeter weighted system. With a draw length range from 19" to 30", almost every archer around can fit and shoot this bow effectively. Although it may be capable of reaching max arrow speeds of 310fps at the largest draw length and peak weight, any reduction in either value will decrease arrow velocity immensely, making this compound fairly slow in today's market. With the benefit of adjustability at your fingertips, the downside is the performance- although this compound splits the difference quite well. Lastly, 80% letoff is incorporated with these cams at factory specs.
Draw Cycle/Shootability
In the draw and weight range of the average archer, this bow is very comfortable and generous in terms of the draw cycle. However, when it reaches longer draw lengths and/or higher weights, the cycle becomes quite rapid and slightly stiff. Without a solid limb actuated draw stop, some inconsistencies may arise due to releases from different stopping point on the draw cycle, but overall, this is a very pleasant bow to shoot-especially for younger and less experienced archers. Its 3.7lb mass weight is very forgiving and allows for weight to be put where necessary to balance the bow-whether it be stabilizers, side bars, or a weighted sight.
Comparison
Bow

Mission Hype

Mission Riot

Version

2015

2014

Picture
Brace Height
7 "
7 "
AtA Length
31 "
31 "
Draw Length
19 " - 30 "
19 " - 30 "
Draw Weight
15 lbs - 70 lbs
15 lbs - 70 lbs
IBO Speed
310 fps
310 fps
Weight
3.7 lbs
3.85 lbs
Let-Off
80%
80%
Where to buy


Best prices online

compare more bows
Compared to the predecessor, the Riot, Mission has put their time and effort into genuinely improving an already likeable bow into another that is noticeably better. Although the
Mission Riot
included a string stop, the Mission Hype has fully redesigned cams to eliminate more of the vibration. At an added expense while still under $400, the prospective archer can get the Hype DT that adds not only a string stop but a harmonic dampener into the riser to further cancel oscillations after the shot sequence. Similarly, the Hype series has a lighter riser by 0.15 lbs due to slightly larger cutouts- otherwise the models are exactly similar in regards to IBO, ATA, Brace height, draw length range, and draw weight range specs. All In all, both bows have quite a lot going for them and would be well suited for archers of all ages and experience levels.
Usage Scenarios
Although the Hype is designed to function as an all-around, compact hunting compound, it has generous specifications to allow for use as both a target bow and one that can be used for training purposes-ultimately providing a younger archer means to familiarize and become passionate about the sport. From bowhunting and backyard shooting to 3D archery and five spot, this bow fits the bill for it all.
Summary
Mission Archery has specialized in producing unique bows not only customizable to a vast array of age groups and can be used in many circumstances but are continually improving to benefit the archer behind the arrow, shown in the Hype. Although this may not be a speed machine or a "flagship" piece of décor, it has all the means to prove itself as being a tough, reliable hunting partner in the woods and a consistent, forgiving arrow-shooting machine at the target. With an MSRP of $359 and a large attended audience, there is ample reasoning to consider the Hype as either the first one or your next bow in your hands.