Mission Riot Review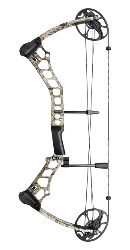 Where to buy


from $269.95
Compare Prices

Editors' review
The Mission Riot is one of the most adjustable bows on the market offering 55 pounds of draw weight adjustability and 11 inches of draw weight adjustability. All of this comes at a reasonable price of $399, and accompanied with the Mathews name, that's not too shabby. For budget conscious shooters, or those with some growing left to do, the Mission Riot is a wonderful rig worthy of test shot.
Package Options
Some shooters like to spend time researching different accessory options and choosing the best options available to them based on what they need. Other shooters like being able to purchase a bow and start shooting right away. For those shooters, Mission offers three factory package options available directly from the factory.
Basic Package: The basic package includes just that, the basics. Shooters buy the Riot equipped with a Trophy Ridge Whisker Biscuit Quick Shot rest, a Bohning Lynx quiver, and a 3-pin Copper John Saxon sight with wrapped fibers. This package offers everything shooters need to get started.Bow Hunter Package: This package is designed, as the ultimate hunting package for shooters interested in a little more than the basic package has to offer. This package includes a QAD ultra rest hunter or whisker biscuit, an Alpine Bear Claw quiver, an Axion MA4 sight, and a 3-inch Axion stabilizer. This package really has everything shooters need with some higher end options as compared to the basic options.Pro Hunter: Finally, the pro hunter package option offers the highest end accessories available from the Mission factory. This package comes with a QAD ultra rest LD, a Mission M5 quiver, a Copper John Mark III 5 pin sight, and a 3-inch Axion stabilizer.
Finish
Past years left Mission shooters limited to finish options available on their rigs. The Riot offers some really great options, and should have something everyone would be interested in having. The dipping process used for the Riot is done very well. The bows will not have any noticeable blemishes and it is sure to withstand the wear and tear a bow hunter's rig goes through on a regular basis. Finish options include: Mission very own design of Lost Camo AT, all black, White Marble, White Zebra, Green Marble, Green Tiger, Pink Marble, Pink Zebra, and Pink Camo. With all these options available, most shooters should find something to match their needs.
Riser
The Riot riser sports a compact design that helps keep the overall axel-to-axel measurement small. The reflexed riser really does nothing too fancy, but does a nice job remaining strong during the shot. The cutouts give the bow a rather plain design, but it does not impact the performance in anyway. Mounting to the back of the riser is a Dead End String Stop. This string stop is adjustable enough for shooters to set it how they want. It also does a nice job transferring the strings energy and vibrations away from the shooters hand. The Riot utilizes a traditional cable slide as well.
Grip
The rubber composite grip featured on the Mission Riot is a welcomed addition for cold weather hunters. The grip is a little on the blocky side for some shooters. Although after spending time shooting the bow, the grip becomes a little more comfortable, at first it feels big in the shooters hand. Sliming the grip down could make it easier to be placed in the proper hand placement for improved accuracy. However, the Riot bow is designed with hunters in mind, so with gloves on, it may be more comfortable for some shooters to hold a little bigger grip. Overall, it is not a deal breaker, but it will take some adjustment time to feel completely comfortable.
Limbs
The limbs available on the Mission Riot are extremely adjustable ranging for 15-70 pounds. This means shooters just getting started at a young age will have a bow able to grow with them through the years as they get stronger and become able to pull more weight. The limb pockets have a bulky look to them, but they do a great job keeping the limbs locked down no matter what their draw weight is set at. Mission chose to use parallel solid limbs for the Riot, and they do a nice job with helping to cancel out vibration and sound after the arrow has left the string. The limb graphics also add a little flair to the overall looks of the bow as well.
Eccentric System
The Mission Riot cam system is truly amazing. Without having to purchase modules or expensive cams, the Riot is adjustable from 19-30 inches. An added bonus allows the 11 inches of adjustability to be done without using a press. Simply moving the bolt to the properly marked hole in the included module will allow the bow to be drawn to the correct length. With 80% let off, and an IBO rating of up to 310 feet per second, the Riot cam produces decent speed for offering so much adjustability.
Draw Cycle/Shootability
Mission bows are known for being smooth drawing bows, and the Riot continues the trend. The Riot is extremely smooth and feels great while being drawn. With the weight stacking up toward the beginning of the draw cycle, there are not humps before reaching the decently solid back wall. The bow holds well on target for only measuring 31-inches axel to axel. After the bow is released, shooters will feel a bit of hand shock, but nothing a few accessories cannot fix. The forgiving 7-inch brace height adds a lot to the forgiveness of shooting the compact Riot. For a bow priced at under $400, it is going to be extremely difficult to find a bow that shoots and feels better. It would be nice for the speed to be a little faster, but shooters love how smooth this bow is.
Usage Scenarios
The Mission Riot is a hunting bow. With a compact 31-inch axel-to-axel measurement, and a 7-inch brace height, the Riot has some favorable specifications. This bow also has great appeal for shooters still growing because of the range and ease of adjustability.
Comparisons
Bow

Mission Riot

Mission Craze

Version

2014

2014

Picture
Brace Height
7 "
7.5 "
AtA Length
31 "
28 "
Draw Length
19 " - 30 "
19 " - 30 "
Draw Weight
15 lbs - 70 lbs
15 lbs - 70 lbs
IBO Speed
310 fps
306 fps
Weight
3.85 lbs
3.6 lbs
Let-Off
80%
80%
Where to buy


Best prices online

compare more bows
The Mission Riot and the
Mission Craze
has some wonderful adjustability. There are many similarities between the two bows, and they should appeal to the same type of shooter. The Riot features a half-inch shorter brace height and a couple inches longer axel-to-axel measurement. However, the Riot only shoots 2 feet per second faster according to their ratings. Like any archery decision, the final choice will come down to what feels the best in the shooters hand.
Summary
For under $400, it is hard to find a compact hunting bow that feels better than the Mission Riot. Along with the great feel, the Riot also offers adjustability giving those archers still growing a chance to shoot the same bow through the entire transition. Aside from new archers, shooters on a budget will be happy to see what the Riot offers in this price range. There will be some noticeable hand shock, and for a 31-inch axel-to-axel bow, many feel it should be less than 4.3 pounds. However, after shooting the Riot, shooters will be impressed with its performance. It deserves a test shot for anyone interested in a wonderful bow option with an MSRP of $399.
Mission Riot Review