Mission X3 Review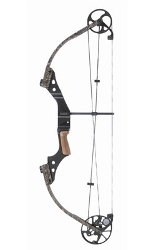 Editors' review
Are you an entry-level shooter just getting your feet wet in archery? Or are you a seasoned veteran shooter that is looking to save some money on a hunting bow? For either one, the Mission X3 offers exceptional performance at a very affordable price. This lightweight package is available in draw weight and draw length ranges to accommodate nearly all adults and has an IBO speed of 310 fps. Since Mission bows are made by Mathews, you get the well respected customer service and warranty that the top of the line Mathews bows come with. The Mission X3 is no longer manufactured and can be picked up used for a great price.
Riser & Limbs
The finish on the riser of the X3 is very durable and available in Black only. From a distance, this riser looks like one of the cheaper Mission extruded risers, but it is in fact one of the better quality fully machined risers, with only a few cutouts. This short riser helps keep the weight down as this bow comes in at 3.95 pounds. The limbs come dipped in Realtree Advantage Max 4 HD, giving it a look that differs from what is available in the Mathews line. On the riser you will notice a carbon cable guard rod, which is different from the roller guards seen on most Mathews models. Mathews claims a smoother draw from the roller guards and compared side by side you may see a small difference between the two, but this does not make the bow shoot any worse than it would with a roller guard.
Grip & String
The grip and the string are two things on this bow that receive the most complaints. A beautiful walnut grip is included on the X3 but if you have stayed away from Mathews bows because of the grip, then you will probably want to change the grip out on this bow if you purchase it. The grip is not one of the newer slimline grips and a lot of shooter feel that it is too bulky to shoot comfortably, but every shooter is different so you should try it for yourself. A Zebra Hybrid string and cable is used on the X3, which is made by the same company as the Barracuda string that comes standard on the high end Mathews bows. The two are built by the same basic process, except that the Hybrid string does not come pre-stretched. The Hybrid string will take more shots to get the initial settling out of the string, before you can depend on stability and being able to keep the bow tuned to ideal specifications.
Eccentric System
A perimeter weighted single cam is used on the X3 with an idler wheel also utilized as well. Just by looking at this round cam, you should be able to tell that it is going to produce a smooth draw. With an IBO of 310 fps, you will not find the harsh draw that speed bows are famous for. The initial cam rotation, brace height, axle-to-axle, and idler lean are easy to setup since this bow uses single cam technology. There is a metal inertia disc placed in the cam to help kill vibration after the shot. Cams are available for this bow for draw lengths from 25"-30" in 1/2" increments and must be changed in order to change the draw length. For a young shooter who is still growing, there are better options out there since changing cams often could become expensive. When the X3 was still manufactured, some dealers offered free or highly discounted cam changes but that will be harder to find since the bow is no longer made. It would be difficult to tell the difference between 80% let-off of higher end bows and the 75% let-off that this bow features. 75% let-off seems to be a good balance between what hunters prefer at 80% and what target shooters prefer at 65%.
Draw Cycle / Shootability
At an IBO of 310 fps, a smooth draw is what you should expect, and the X3 certainly offers that. The axle-to-axle length of the X3 is 33" with a brace height of 7", which is about the average of most of today's hunting bows. Unlike the short brace height speed bows, the 7" brace height will be forgiving for beginning archers while the 33" axle-to-axle length will offer stability over the shorter bows that are being marketed. The shot on this bow is quiet but there is a small amount of vibration. When comparing this bow to Mathews models, it is easy to see that there are no harmonic dampers and this is likely the largest contribution to the X3 having a small vibration.
Silencing Package
The silencing package on the X3 is limited, but what can you expect for a low priced bow? There are string suppressors at the limb tips that help keep the string from going forward past brace height after the shot. By doing this, they effectively lessen string oscillations and vibration. The other part of the silencing package is the Cable-X silencers which are installed in the cable and are an x-shaped piece of rubber. These simply help to lessen string and cable vibrations after the shot. The silencing package does a good job as a quiet shot is produced, but there is still a small amount of vibration that could be lessened by use of a string stop.
Comparison: Mission X3 vs Mathews Switchback
The axle-to-axle and brace height on the Mission X3 are the same as that of the Matthews Switchback, but that is where the similarities end. The Mission X3 is cheaper, lighter, and a little bit slower but for someone looking to save some money on a bow purchase, or someone just looking to begin archery, the X3 is a good choice. The
Mathews Switchback
is more expensive because it comes loaded with all of the bells and whistles that were left out on the Mission X3, but they certainly help produce less vibration on the shot. The Switchback is 8 fps faster and features the parallel limb design that has become popular ever since its inception. The price difference between these bows, when they were new, is unreal. Now that you will have to buy them used, you can probably save about $300 by buying the X3 instead of the Switchback. The decision between these two bows should come down to personal preference, and how much you will be shooting.
Usage Scenarios
The Mission X3 is designed with hunting in mind. It has a moderate 7" brace height and a 33" axle-to-axle length, making it very maneuverable in the woods or in a tree stand. With speeds up to 310 fps, it definitely pumps arrows out quickly enough to take down the most popular big game animals.
Bow

Mission X3

Mathews Switchback

Version

2009

2007

Picture
Brace Height
7 "
7 "
AtA Length
33 "
33 "
Draw Length
25 " - 30 "
25 " - 30 "
Draw Weight
40 lbs - 70 lbs
40 lbs - 70 lbs
IBO Speed
310 fps
318 fps
Weight
3.95 lbs
4.34 lbs
Let-Off
75%
65% or 80%
Where to buy


Best prices online

Not available now.
Please check later.

compare more bows
Value
The value on the Mission X3 is unreal as the MSRP, when new, was $339. Even at this low price, Mathews took care of the warranty. Since they are no longer manufactured, it is very unlikely that you will find one new at a dealer. If you buy one used, you will not be covered under warranty since only the original owner is covered.
Summary
The Mission X3 is a nice shooting bow at an affordable price that can be appreciated by new archers and veteran shooters, alike. Producing speeds up to 310 fps with a silky smooth draw, this bow will be a pleasure to shoot. There are better options out there for young growing shooters, since a cam change is required to change the draw length. If price is on your mind when shopping for a bow, consider the Mission X3. With the money you can save on initial price, you will be able to deck it out with nice accessories before even meeting the price of a bare top of the line bow.
Mission X3 Review