Bear Truth Review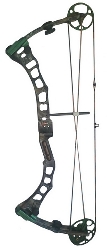 Where to buy


from $61.99
auctions from $350
Compare Prices

Editors' review
The Truth represents a new generation of Bear bows and was designed as a result of collaboration between Bear Archery and Team Primos. With a number of technological innovations applied by Bear engineers, this quality single cam bow is a good value for money for those archers who are on the budget.
Riser and Grip
With numerous cutouts, the Truth's riser is made of 6061-T6 aircraft aluminum to increase strength and reduce the overall bow weight. Also, vibration and noise are further reduced with Sims dampeners installed on the riser tips. The Bear's Ergonomic Grip is slim and has two narrow wooden pieces on both sides of the riser. Some shooters say that while this grip has a very basic design, it delivers consistent hand placement and helps to reduce torque. However, we found other comments from shooters who wished this grip would be softer.
Limbs
The Bear Truth is equipped with innovative beyond parallel limbs designed to reduce noise and vibration upon releasing the arrow. Compression Molded Quad Limbs are manufactured differently compared to technologies used by other brands. This special Bear technology is used to manufacture 4 different limbs instead of producing 2 limbs and cutting them after that. The result is uncut fibers that pack energy in the fibers and prevent excessive release of energy upon release. Not only does this technology help to increase arrow speeds but it also allows for increasing durability and rigidity of the limbs. Also, the limbs are capable of going to post parallel angles and, therefore, deliver quiet release and minimal hand shock.
Limbs-to-riser connection
The machined aluminum Pivoting Limb Pockets are used to securely connect the limbs to the riser. The pockets ensure a tight connection between the limbs and the riser is maintained regardless of draw weight adjustment. This design helps to reduce vibration while increasing durability and consistency.
Eccentric system / Draw cycle
Bear's new accommodating Elliptical Perimeter-weighted single cam system is the driving force behind advertised IBO speeds reaching 310 to 314 fps. The draw length can be adjusted from 23" to 30" through a set of cam modules and without using a bow press. In addition, the cam is equipped with a string anchor post that is used for making smaller draw length adjustments in fractional inches. While modules can be replaced without using a bow press, smaller draw length adjustments can not be done without it. Outfitted with stainless steel sealed ball bearings, this single cam eccentric system is efficient and delivers a smooth draw cycle with a narrow valley and a very solid back wall.
Silencing system / Quietness and vibration
Being a quiet bow, the Bear Truth is ideal for hunting. Based on the results of comprehensive tests, Bear engineers optimally positioned eight Sims vibration dampeners to reduce vibration and make this rig as quiet as possible. This design, combined with parallel limbs, makes this bow a pleasure to shoot. With minimal noise level and low recoil upon release, this bow is a quiet performer according to numerous Bear Truth tests that we explored.
Overall quality
While many archers say that the Truth is a quality rig, they very often mention the factory strings could be of better quality. Some shooters say the string might not last long and should be replaced with a quality set of strings. Apart from that, all other components appear to be very solid and work together as a reliable and high-performing system.
Summary
To conclude, the Bear Truth is a quality bow at a very affordable price. Although the factory strings could be of better quality, overall this rig delivers good performance and is reasonably quiet for the money. While it's not the fastest bow out there, its single cam system is smooth but has a narrow valley. The Bear Truth is a good choice for average shooters who like smooth bows without super fast speeds and don't mind narrow valleys. Also, this bow is a great choice for those shooters who are on the budget.
Bear Truth Review