G5 Prime Alloy Review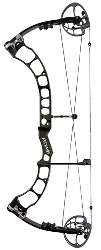 Where to buy


from $379.99
Compare Prices

Editors' review
The Prime Alloy is another amazing bow from a reputable company that seems to continue to grow. The G5 family company has some of their own unique features in bows. This riser is stronger with its new material. The dual cam technology on G5 bows has pretty much eliminated torque along with producing a wicked smooth well balanced draw. When it's all put together the Alloy is has a great feel and easy to shoot, but is slightly slower than some of the bows in its class.
Finish
The finish on G5 bows is durable without any issues of chipping for flaking. It seems to be long lasting so far with the bows they have produced. They use Durafuse Finish on their bows. The Alloy has color options of Realtree Xtra, Optifade Open Country, Optifade Forest, and Jet Black. They all look great.
Riser/Limbs
This new for 2014 Alloy features a newly designed reflex riser. It is counter balanced and composed of 7000 series aluminum. This premium aluminum is light and strong. The counter balance part of the riser gives it a lighter feel. This bow has an axle to axle measurement of 33.25" which is about 2.25" longer than the Defy. The design of the riser is nice on the eye and has some smooth looking cut outs. The bottom of the riser has the string stop integrated into it that is completely moveable to change its length.
The extra-wide Gordon Glass Limbs seem to have just the right amount of flex. They bend just past parallel. The limbs are connected to the riser with limb pockets with help reduce vibration. The limbs and pockets are fairly basic, but they do their job great together.
Grip
The Ultra Fit grip on the Alloy has a nice and soft feel, but might be a little too thick from some likings. It can be removed for a thinner feel of just the riser. The rubber grip would help to keep hands warm while hunting in colder weather. The bow seems to feel well balanced with neither of the grip options encouraging any torque.
Roller Guard
The Flexing Roller cable guard is another new and advanced innovation from G5. The flexible rod with rollers on the end increases the fluidity of the draw on the Allow. This system allows the cables to be move closer to the arrow at the draw. It reduces lean and load toward the side of the bow. With the Flexing Roller cable guard combined with parallel cams there is nearly no cam lean what so ever during the draw of this bow. It feels amazingly steady.
Eccentric System
The cam system on the Alloy is very specialized with G5. There is no other bow company in the industry that uses this double cam system. This system called the "Parallel Cam" works with a harness connected to the string. Both sides of each cam are joined by the harness and gets rid of pull from one side that produces cam lean on binary cams. Bow torque produced by the shooter is also reduced with this system. These cams are also equipped with adjustable draw stops and when altered they can offer a wide range of let off percentages for a custom feel. The draw length is cam specific with these cams so a different draw length needs a different cam. The Alloy comes in draw lengths of 26" to 30" with .5" increments. This bow has an IBO speed of 335 fps which is decent speed, but it could always use a little more to keep up with a few other bows that are available. It comes in 50, 60, and 70lb. draw weights. The let off is 75% at full draw.
Draw Cycle/Shootability
The draw is amazing on this bow with no rigid feel at all. This could easily be considered the best aspect of this bow. Shooting it feels so comfortable and steady. The whole draw cycle is smooth without a big hill to get over. It has a nice hard back wall with a generous valley to be able to creep some without wanting to jump forward right away. At the shot it is quite dead in the hand feeling nice and sturdy. The balance of this bow also feels great and a stabilizer helps it to feel even better overall. This bow is quite quiet with very little vibration. The 7000 series forged aluminum riser could be part of the reason. It really is a pleasure to shoot.
**Silencing PackageThe Alloy is a nice and quiet bow. The string stop and Bow Jax limb dampeners on the inside of the limbs play a large role in silencing this bow. The string stop is adjustable and can be moved to check out what position to check out where it works best to reduce the most noise at the shot.
Comparisons
Bow

G5 Prime Alloy

G5 Prime Defy

Version

2015

2013

Picture
Brace Height
6.75 "
7.25 "
AtA Length
33.25 "
31 "
Draw Length
26 " - 30 "
26 " - 30 "
Draw Weight
40 lbs - 70 lbs
40 lbs - 70 lbs
IBO Speed
290 fps - 335 fps
330 fps
Weight
4.2 lbs
4.1 lbs
Let-Off
75%
65% - 75%
Where to buy


Best prices online

compare more bows
The
G5 Prime Defy
is highly comparable to the G5 Prime Alloy. The Alloy is 2.25" longer and .1 lb. heavier. It is 5 fps faster than the Defy according to the IBO ratings. These two bows are very similar in feel if they are set up the same way. They both have the same amazing attributes, the Alloy may be slightly more stable due to its' length and a little faster. The Alloy seems to be a little better well rounded bow in that in addition to hunting it can also find it's place in competitive shooting as well where the Defy is a little too short to be as effective in 3D or target competition.
Perfect Usage
This bow can do it all and do it all well. It is a great hunting bow and is also just about right for 3D shooting and some target shooting as well. It can compete with some of the "target" bows and also be deadly in the field. There may be some that thinks it's slightly long for a hunting bow and some that may think it is slightly short for a competition bow, but it can be just right for both.
Summary
This bow is an absolute pleasure to shoot. The technology from G5 is amazing and it puts together a sweet draw cycle. It is truly well rounded and has the attributes to be great at everything a bow can be used for. The comfort level and ease to shoot are second to none. It may not be the fastest bow in its' class, but there is still enough for nearly anything that it would be used for. The Parallel Cams and Flexing Roller cable guard are real highlights. The price tag isn't cheap with an MSRP of $999, but it is all subjective as to whether it is worth the price.
G5 Prime Alloy Review