G5 Prime Centroid Review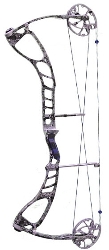 Where to buy


from $499.99
Compare Prices

Editors' review
The 2012 G5 Prime Centroid is loaded with technology and getting great response from the public. The advances from G5 are unique in nature. The Centroid has made improvements from last year with new riser material that is lighter and stronger. The engineering that has been put into this bow has eliminated bow torque creating a smooth, balanced draw. Although there are some trade offs, with speed for example, the Centroid is a nice shooting bow.
Finish
There have been no seen reports of finish problems on the Centroid. It seems to be quite durable and, so far, long lasting. The Durafuse Finish that G5 uses on their products is available in Realtree AP, Optifade Forest, Optifade Open, Jet Black, and Durafuse Ice Blue. With all of these color options there has to be one that would satisfy any archer.
Riser/Limbs
The 2012 Centroid composed its' riser with an improved metal. The 7000 series forged aluminum is stronger and lighter than competitors 6061 aluminum risers. It has a 34.25" axle to axle length. It has a basic general design, however, the cutouts are somewhat modern looking. The aluminum string stopper is connected to the bottom of the riser and is fully adjustable.
The C2 designed laminated limbs on this bow are functional and reduce stress. They are connected to the riser with basic limb pockets. Although there is a lot of technology in this bow the actual limbs and pockets are not anything ground breaking at this point.
Grip
This bow has a 2 piece molded side plate style grip. The Shield Grip is supposed to be weather and odor proof. It is thin at the top and comfortable in your hand. It won't do well at keeping your bow hand warm during colder hunting weather. It does great at assisting the already well balanced bow.
Roller guard
The Ti-Glide flexible cable guard system is a unique feature on the Centroid. The flexible titanium spring rod cable guard system allows the cables to be pulled toward the arrow during the draw. This regulates side load on the cam and G5 claims that cam lean is reduced by 25%. The Ti-Glide and Parallel Cam technologies combined virtually eliminate cam lean during the draw cycle on this bow.
Eccentric system
Another unique feature on the Centroid is the double cam system or "Parallel Cam." This system reduces left and right nock travel. The technology of the Parallel Cam also reduces archer induced bow torque and limb failure. It is however cam specific requiring a separate cam for each draw length. The Centroid is available in 27" to 31" draw lengths with .5" increments. The IBO speed is 332 fps which seems fairly accurate, but this would not be considered a "speed bow." It is available in 50, 60, and 70 lb. draw weights and has 80% let off.
Draw cycle / Shootability
The draw on this bow is unbelievably smooth thanks to the technology that has been put into it. Limb safety and shootability are the best aspects of the Centroid. The entire draw feels almost flat with hardly a hump anywhere. At let down it is equally as smooth. Some have compared the draw cycle to Elite's bows. It has an extremely solid backwall with a little room to creep in the valley to make it comfortable. It kicks back just a little at the shot, but the bow it pretty dead in hand. Although this bow is already extremely well balanced a stabilizer of some sort would never harm it any. The shot is somewhat loud, but nothing that would be a major problem at all and might be improved with a stabilizer.
Silencing package
The Centroid is not extremely loud, however, it is not a quiet bow either. Although it does come equipped with a string stopper there are no string suppressers on the string. Bow jax do come standard on the limbs. The aluminum string stopper is fully adjustable and could help to reduce some additional noise if it was experimented with.
Comparisons
Bow

G5 Prime Centroid

G5 Prime Shift

Version

2012

2013

Picture
Brace Height
7 "
7 "
AtA Length
34.25 "
30 "
Draw Length
27 " - 31 "
26 " - 30 "
Draw Weight
40 lbs - 70 lbs
40 lbs - 70 lbs
IBO Speed
332 fps
332 fps
Weight
4.0 lbs
3.7 lbs
Let-Off
80%
80%
Where to buy


Best prices online

compare more bows
The 2012 Centroid has a stronger riser and shaved .3 lbs. off of it's total weight from last year. It is very similar to the other G5 Prime bow, the Shift. The
G5 Prime Shift
has a much shorter riser by 4" compared to the Centroid so it is a little less forgiving. The Centroid is .3 lbs. heavier, but all other specs are nearly identical between these two bows including IBO speeds. Both of the G5 models have MSRP prices of $999.
Best usage
This bow is well rounded enough to be used in all aspects of archery. Although it is a little long for some for good maneuverability while hunting it is ideal for others. It would also make a great 3D bow for recreation or competition. It is not made purely for archery competition, but some may find it useful in this field.
Summary
The G5 Prime Centroid has an extremely smooth draw due to all of the innovative technology that has been put into this aspect of the bow. The backwall on this bow does not get any better. The brace height and draw cycle make a great combination for comfort. It isn't real fast, but it is not a slow shooting bow either. The Parallel Cam and Ti-Glide flex cable guard are unique and somewhat ground breaking. However, it's not the most affordable bow given its MSRP price tag of $999.
G5 Prime Centroid Review