Martin Cheetah Review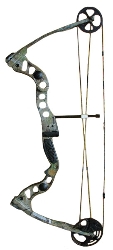 Where to buy


from $150
auctions from $200
Compare Prices

Editors' review
Ideal for tree-stand or blind hunting, the Martin Cheetah is a compact, smooth, and quiet bow at a very affordable price. With a forgiving brace height and efficient eccentric system, this bow is a great performer with a very smooth draw.
Eccentric system
The engine behind this bow is an efficient and smooth single cam M-Pro eccentric system. With the draw length adjustable from 25 to 30 inches, this cam system is capable of generating IBO speeds of up to 310 fps (and up to 320 fps for the 2008, 2009, and 2010 Martin Cheetah modifications - see full
Martin Cheetah specs
). Overall, this cam system is very efficient, delivers good speeds, and is very smooth to draw as noticed by many shooters.
Quietness and vibration
With parallel limbs and machined aluminum riser, the Cheetah is very quiet and has very little hand shock and vibration according to multiple Martin Cheetah tests conducted by experts and archers. In fact, many shooters are surprised with how quiet this bow is, considering its price.
Value for money
Speaking about the price, it is worthwhile to note this bow is a great value for money. We were overwhelmed with the number of comments indicating that this bow is a fantastic value for money. A lot of people say the Cheetah is too good for the price. So, if you are on a budget and looking for a quality bow, the Cheetah could be a great choice.
Overall quality
While the majority of comments from archers indicate the Martin Cheetah is a great bow, there is something minor that hunters did not like. Some shooters say the strings on the Cheetah could be of better quality. While this is not a big deal for some of them, others prefer to get rid of the standard strings and get a better quality set. Those who dislike the strings still like this bow and say that once the standard set is replaced the bow becomes immaculate.
Other recommendations
If you prefer a longer bow, look at the
Martin Bengal
or
Martin Pantera
. Equipped with the same cam system and having very similar specs, these two bows have a longer axle-to-axle length.
Summary
To summarize, the Martin Cheetah is a very quiet, compact, and forgiving bow with high maneuverability and lack of hand shock. While the standard strings set could be of better quality, this is a high quality bow. Parallel limbs and efficient eccentric system make this bow a great choice for those shooters who like getting value for money.
Bow

Martin Cheetah

Martin Bengal

Martin Pantera

Version

2010 Mag

2010 Mag

2013

Picture
Brace Height
7.25 "
7 "
7 "
AtA Length
30 "
32.25 "
34 "
Draw Length
25 " - 30 "
25 " - 30 "
25.5 " - 32 "
Draw Weight
40 lbs - 70 lbs
40 lbs - 70 lbs
35 lbs - 70 lbs
IBO Speed
315 fps - 320 fps
315 fps - 320 fps
320 fps
Weight
3.4 lbs
3.5 lbs
4.1 lbs
Let-Off
65% - 80%
65% - 80%
80%
Where to buy


Best prices online

compare more bows
Martin Cheetah Review