Martin Leopard Review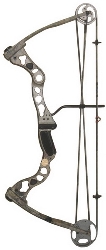 Where to buy


from $99
Compare Prices

Editors' review
While Martin Leopard is not the top quality bow, overall it is an affordable and good shooting rig that would fit small-to-mid frame archers with shorter draw lengths. While the cam system can not generate blazing IBO speeds, it's smooth to draw as noted by archers.


Riser
The riser on the Leopard consists of multiple parts to reduce the overall cost. It consists of machined aluminum components and damping features to reduce vibration and noise.


Eccentric system
The Martin Leopard is equipped with the Mini M-Pro Cam eccentric system - a smaller version of the Martin's M-Pro Cam. This modular single cam offers draw lengths adjustable over a 22"-27" range.


Draw cycle / Shootability
While it wasn't easy to find reviews about this rig, our observations indicate that the Leopard is a good shooting bow with a smooth draw cycle.


Summary
To summarize, the Martin Leopard has been specifically designed to fit small-to-mid size archers. With an easily adjustable and smooth eccentric system, this is not the quickest bow out there. At just 3.6 lbs and measuring 30 inches from axle to axle, this lightweight and compact bow offers shorter draw lengths, and, as a result, would be a better fit for young archers and women. While this is not the best quality bow, its low-end price tag makes it a good choice for beginners with a small-to-mid size frame.