PSE Bow Madness XS Review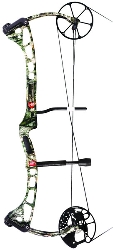 Where to buy


from $64.99

from $499.99
Compare Prices

Editors' review
At only 3.7 lbs and measuring 28.5" from axle to axle, the PSE Bow Madness XS is a great bow for tree-stand or blind hunting. This rig is one of the three bows from the Bow Madness series released by PSE and Drury Outdoors in 2009. In terms of specifications this is the shortest bow from the series.
Riser and Grip
Due to its thin and sleek riser, the Bow Madness XS is a lightweight bow with the mass weight of 3.7 pounds. The new PSE Slim Low Torque (SLT) grip is considered by many archers as thin and comfortable. This grip is fully machined and is equipped with contoured rubber side panels. Many shooters say the side panels are positioned in such a way that the grip sits in the hands nicely. However, if you are not comfortable with thin grips you will highly likely need some time to get used to this thin grip.
Eccentric system
PSE powers the Bow Madness XS with a smooth-drawing Madness Cam system, advertised to hit IBO speeds reaching 316 FPS. This single cam system is reported to be very smooth and can be easily adjusted. The draw length can be adjusted in 1 inch increments over a range from 25" to 30" without using a bow press. The short draw length adjustments (25" to 28") are made on the inner cam module, whereas the long draw lengths are adjusted on the standard cam module (27" to 30"). The let-off can be adjusted from 65 to 80%.
Draw cycle and shootability
The Bow Madness XS has received a lot of positive comments from many shooters in regard to its smooth draw cycle and solid back wall. Although this rig is highly maneuverable, it does not hold as well as the standard Bow Madness. Nevertheless, shooters admit the Bow Madness XS holds well for a short bow.
Quietness and vibration
According to multiple Bow Madness XS tests, a bare bow has some hand shock and vibration. This can be improved by installing a stabilizer and limb savers.
Overall quality
While shooters agree this is a good quality bow, factory strings could be of better quality because they tend to stretch and twist. While this is not a huge problem for some archers, others like to replace factory strings with a better quality set. Those who don't like factory strings agree, however, that once the strings are replaced this rig is almost flawless.
Value for money
Many shooters agree this bow is a great value for money. With a modest price tag, this bow is as good as some of its more expensive competitors with similar characteristics.
Summary
To summarize, the PSE Bow Madness XS is a quality maneuverable bow at a very affordable price. While it is not expensive, this rig is as good as some of higher priced competitor rigs. Being lightweight and stable, a bare Bow Madness XS has some hand shock and vibration but can be made quieter by installing a stabilizer. Also, this rig has a smooth single cam system and delivers a solid back wall. Undoubtedly, this bow is a great choice for tree-stand or blind hunting.
PSE Bow Madness XS Review