PSE Chaos One Review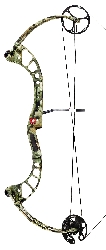 Where to buy


from $300
Compare Prices

Editors' review
In 2010 PSE engineers saw a need for a single cam version of the popular Chaos for small framed archers. The single cam Chaos One is a bit faster than the original Chaos. However, this bow has less draw length adjustability, so it may not be suited for the very young shooters but will be perfect for women, and teens.
Finish
The Chaos One is finished in your choice of Mossy Oak Treestand, Black, Pink Camo, Mossy Oak Break-up Infinity or Skulz Camo. Not all of these finishes listed are available in each model year. Each finish option is designed to be resistant to fading and very durable.
Limbs and Riser
The Chaos One continues to utilize PSE's X-tech limbs, the same highly preloaded, beyond parallel limbs that are on PSE's Pro Series bows. These limbs, along with other technology, are what set this bow above the competition. The limbs are connected to the 6061-T6 Aluminum riser with split limb pockets designed to keep each limb perfectly aligned.
Grip
The Chaos One continues to use same SLT Grip that the original Chaos used. This slim grip helps shooter to gain consistent hand placement, minimizing the chance of hand induced torque. In addition, most archers find the SLT Grip to feel comfortable in their hand.
Eccentric System
IBO speeds of the Chaos One show it is faster than the original Chaos, which is correct if you compare them at their respective peak draw length and weights. However, these are different on each model. When compared at the same draw length and weight the two bows should produce a similar speed with the original out doing the Chaos One by a few FPS.
The Chaos One uses the NI Single Cam System to produce a significantly smoother draw, while maintaining the reliability and performance the original has. The bow employs an Asymmetric Idler Wheel to help achieve optimal performance and accuracy. To adjust the draw length on this bow, simply remove the screw securing the rotational inner-cam, rotate to the desired draw length then reinstall the screw. These cams also allow for an adjustable let-off at either 80% or 65%.
Draw Cycle/Shootability
The Chaos One, being a single cam bow, obviously has a smoother draw cycle than its dual cam counter-part, but still has a solid back wall. Like the original Chaos, this bow needs a few additions to make it perform the way it should and keep it quiet. First, the addition of a string stop (STS) would do wonders; most shooters will also want to add a stabilizer. There are many other vibration dampeners out there that can also be added if need be. Over all, this bow is incredibly easy to shoot and is very accurate.
Chaos One vs. Chaos and other PSE youth/beginner bows
The Chaos One is almost identical to the original
PSE Chaos
. It is built using the same materials and parts except for one difference, the Cam system. While the original Chaos is a dual cam bow, the Chaos One employs a single cam performance system that has less draw length adjustability but smoother draw cycle.
PSE also manufactures a few other models designed for the same demographic as the Chaos and Chaos One. These bows do not utilize the X-tech technology and thus are a budget friendly option. The Mini Burner has similar specs for draw length and draw weight as the Chaos bows. The Discovery 2 is a bow made with the whole family in mind; it can handle shooters with up to a 30 inch draw with no adjustments. The Mini Burner and Discovery are two other great options PSE has made available for youth and beginning archers.
Bow for hunting and 3D shooting
Other than the original Chaos, the shooters these bows are designed for do not have many options with the kind of technology, power and shootability the Chaos One offers. While this bow is designed for hunting, it is also one of the best 3D bows available to these archers. The Chaos One is about $100 more expensive than most of its competition, but it is well worth it.
Bow

PSE Chaos One

PSE Chaos

Version

2013

2013 AD

Picture
Brace Height
6.75 "
6.25 "
AtA Length
30.5 "
32.25 "
Draw Length
24 " - 29 "
1.56 " - 28 "
Draw Weight
30 lbs - 60 lbs
19 lbs - 60 lbs
IBO Speed
304 fps - 312 fps
290 fps - 298 fps
Weight
3.4 lbs
3.2 lbs
Let-Off
75%
75%
Where to buy


Best prices online

compare more bows
Summary
The Chaos One is designed to follow in the footsteps of the original Chaos as a top quality bow offering high end technology in a bow designed for teens, women and small framed shooters. Going to the NI Single Cam System gave this rig a very smooth draw cycle that any shooter will enjoy. This helps make it a great bow for beginners just learning to shoot or experienced archers with a short draw length wanting to shoot a bow with all the features of the top, full size, bows. While this bow may cost more than most of its competition, the features and technology packed into the Chaos One justify the price, in fact, making it a bargain for what you get.