PSE Chaos Review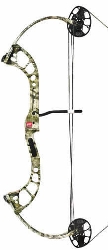 Where to buy


from $199.99
auctions from $155.5
Compare Prices

Editors' review
The PSE Chaos is not your traditional youth bow. It was developed to give youth/small framed archers an option that is built with the same technology and performance of the main line bows and yet has the adjustability required for the growing shooter. Some have called this the speed bow for the short draw archer.
Finish
The Chaos is available in 5 different finishes depending on which model year you purchase: Mossy Oak Treestand, Black, Pink camo, Mossy Oak Break-up Infinity, and Skulz Camo. Each finish is durable and resistant fading, however not all of these finishes were available each year.
Limbs
Part of the reason this bow stands out against other bows built for small framed archers is because PSE has given the Chaos it X-tech limbs. These are the same limbs that are put on their Pro Series bows. These highly preloaded, beyond parallel 12 inch split limbs are light and incredibly powerful. They, along with the cams, allow this bow to shoot incredibly fast speeds for this size of a bow.
Grip
The slenderness of the SLT (Slim Low Torque Grip) Grip helps shooters place their hand in the perfect position shot after shot. In turn, a consistent, comfortable, grip promotes consistent and accurate shooting.
Eccentric System
The Chaos has featured two different cam systems over the last three years. 2009 and 2010 gave the Chaos the SI Cam system which is engineered to minimize string vibration and allowed for 10 inches of draw length adjustment. In 2011 PSE engineers introduced the FC Cam system. This cam does everything the SI did and a bit more. There is now 12 inches of draw length adjustment and more draw weight adjustment. In addition, PSE added some new technology to this cam system which allows for the draw weight to be maintained when changing draw length or can be set to allow the weight to change with the length. Both cam systems have 70% let-off and allow draw length changes without the use of a bow press. Draw length is easily changed by adjusting the rotational inner cam.
Draw Cycle/Shootability
The draw cycle on the Chaos is smooth but slightly stiff. Some shooters recommend shooting about 10% less draw weight than you do on your current rig because it is a stiffer draw. Once at full draw it does hold nicely on a solid back wall. As with many bows, archers will want to add a few things to make it really perform. This bow could use a stabilizer, and a string stop STS to start with. This will help quiet down the bow and eliminate most of the vibration. Additional vibration dampeners can be added to suit the shooters preference.
PSE Chaos vs. Diamond Razor Edge
The Chaos is most often compared to the Diamond Razor Edge. Price for each is identical. During the first two years the Chaos was available the chief complaint (Chaos vs. Razor Edge) was that the Chaos did not have as much draw weight adjustment. The Razor Edge could also adjust its draw length in 1/2" increments vs. the Chaos' 1" increments. On the other side, while they have similar draw cycles, the Chaos boasts the more solid back wall. With a 60lbs peak weight introduced in 2011 the Chaos is now better suited to compete with the
Diamond Razor Edge
.
Bow for hunting and 3D shooting
For the demographic this bow will serve, it will be best used for hunting and 3D. The Chaos is designed for hunting but given the choices these shooters have in bows it is likely to be one of the best bows they will find for 3D also. At $300 for the bare bow, it is a real value. Most bows built for these archers are priced pretty close to $200 but seriously lack the technology and could almost be considered "toy bows" in many cases. Thus, the Chaos may be more money but the quality and performance more than makes up for the difference.
Bow

PSE Chaos

Diamond Razor Edge

Version

2013 AD

2012

Picture
Brace Height
6.25 "
7 "
AtA Length
32.25 "
31 "
Draw Length
1.56 " - 28 "
19 " - 29 "
Draw Weight
19 lbs - 60 lbs
15 lbs - 60 lbs
IBO Speed
290 fps - 298 fps
308 fps
Weight
3.2 lbs
3.8 lbs
Let-Off
75%
75%
Where to buy


Best prices online

compare more bows
Summary
The PSE Chaos is a great shooting rig specifically designed for small frame shooters. Packed with a lot of power this bow delivers great performance at a very reasonable price. While the archery industry is lacking in high-end bows for these small framed shooters, PSE has noticed this void and created the Chaos to fill it. This bow is very versatile and has a lot of adjustability so the bow can grow with the archer. PSE packs a lot of technology into this small package, making it worth the additional dollars over the competition. While this bow is not suitable for very young children, older kids can start using this bow and it will grow with them. Youth, teens, women and small framed shooters alike will find this bow very shootable, adjustable, and performant.
PSE Chaos Review