PSE Deer Hunter Review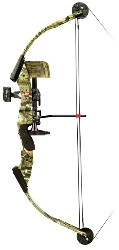 Where to buy


from $79.99
Compare Prices

Editors' review
The PSE Deer Hunter is one of PSE's longest running bows not to mention, one of the best-selling bows of all time. This rig is great for archers young and old whether using it for learning, target shooting or hunting. Part of the reason for the popularity of this model is its versatility and quality, with the Deer Hunter almost anyone can grow up shooting it and continue to shoot it for their entire life.
Riser & Limbs
PSE uses precision-engineered, stress-optimized Magnaglass limbs which are attached to the machined aluminum riser through the limb pockets. The aluminum riser is a very simple riser but it fits this bow very well.
Grip
The Vibracheck rubber grip is a very comfortable, all weather grip most shooters will like. However it is quite wide, thus some torque can be expected from beginners.
Eccentric System
PSE has been using the Stage 3 Twin Cam for decades. It features multiple string slots for draw length and draw weight adjustments. This Cam system is not known for its speed, IBO speeds are just 265 fps @ 29", but for the adjustability, versatility and incredibly smooth draw. This Eccentric System allows draw length adjustments from 23" to 30" and peak draw weight adjustments from 40lbs to 65lbs with the use of three different size cam wheels. However, to adjust the draw length within each cam does require a bow press.
Draw Cycle / Shootability
The PSE Deer Hunter has an ultra-smooth draw cycle with a good back wall. This bow is over 38" axle to axle with a very forgiving 7 5/8" brace height making it one heck of a shooter. Thanks to the long axle to axle length this bow can even be shot accurately with fingers. Of course, this is not the quietest bow on the market but with this addition of a stabilizer and some string leeches it can be quieted down to a desirable level.
PSE Deer Hunter vs. PSE Nova NI
Compared to the Deer Hunter the Nova NI has a few features that set it a step above. While the Deer Hunter does have a lot of adjustability it requires different cams to achieve full adjustability. Were as the
PSE Nova
NI features a single cam with up to 6 inches of adjustability in draw length and is a much faster shooter. For only $30 more the Nova NI is a better value but may not fit for some younger archers because it does not have as much draw weight adjustment.
Usage
Because this is an entry level bow most shooters that purchase the Deer Hunter will use it for any scenario they find themselves in, and rightfully so, it will do the job. However, it is mainly designed for the beginning archer to learn with and hunt with.
Bow

PSE Deer Hunter

PSE Nova

Version

2012

2011 (NI Cam)

Picture
Brace Height
7.625 "
7.625 "
AtA Length
38.25 "
32.75 "
Draw Length
24 " - 29 "
25 " - 30 "
Draw Weight
30 lbs - 65 lbs
40 lbs - 70 lbs
IBO Speed
257 fps - 265 fps
295 fps - 303 fps
Weight
3.6 lbs
3.8 lbs
Let-Off
65%
65% or 80% (Adj)
Where to buy


Best prices online

compare more bows
Value
The Deer Hunter is a good value for the money. The 2011 model has a great price but when you consider PSE also throws in their Gemini sight, Mongoose quiver and Mustang rest it becomes a very attractive value. For a beginner to only have to spend about $250 and have everything they need to get started except arrows, this is a tough value to beat.
Summary
While the PSE Deer Hunter may not be the top quality bow that most of us want to shoot, it is a very good all-around bow, especially for a beginner looking to get into archery and not spend a lot of money. This rig is an accurate and forgiving bow that will serve its shooter well, whether a new archer just learning to shoot or someone who has been shooting for years, it can get the job done. This bow is especially great for the beginner because it can be adjusted to grow with the shooter be the only bow many people would ever need.
PSE Deer Hunter Review