PSE Moneymaker X Review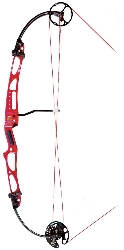 Editors' review
The PSE Moneymaker X was designed for target archers, by target archers, with the purpose of winning tournaments, and Moneymaker shooters have done just that since it first hit the production lines in 2008. PSE has produced a hybrid cam and a single cam version of the Moneymaker each year, this review will cover both. Combining the long axle to axle length with the very forgiving brace height and a deflex riser has helped PSE create one of the most accurate bows ever built.
Finish
The PSE Moneymaker X has been available in as many as five different colors; green, black, red, orange, and grey. Each finish is anodized and polished for a very high quality look and feel. Not all colors are available for each model year.
Grip
All versions of the Moneymaker X employ the B.E.S.T. (Biomechanically Ergonomic Slim Throat) Grip. This slim grip helps shooters with consistent hand placement, which in turn will produce accurate shoots. Most shooters will also find the B.E.S.T. Grip very comfortable.
Riser / Limbs / Limb Pockets
The deflex riser employed on the Moneymaker X gives the bow a long, forgiving brace height, helping to make the bow incredibly easy to shoot. Additionally, because the handle position on a deflex riser is forward of the limb pockets hand induced torque is reduced. The new models of 2011 have an updated riser designed to further reduce handle deflection.
Independently Adjustable Split Limb pockets connect the Deflex riser to the X-tech limbs. PSE utilizes these limb pockets which allow fine tuning to maximize the performance of the X-tech limbs. Each limb is prestressed and tapered on both ends allowing them to flex to a further extent along the entire limb. This design makes the X-tech limbs some of the most efficient and reliable limbs ever created.
Eccentric System
The Moneymaker X is made in a hybrid and single cam version each year; thus two different performance systems are described
Hybrid Cam versions:
LF (2008-2010) - PSE's "Little hybrid Fast cam" is a modular hybrid cam built specifically for long axle to axle bows. A bow press is not required to change the draw length and is only needed to make post adjustments to fine tune the draw cycle. Also, this eccentric system is designed to produce straight and level nock travel at all draw lengths while launching arrows at 310 fps.
Hybrid (2011) - This updated TH Hybrid cam system features a Posi-Lock Inner cam for precise draw settings. Draw length adjustments are made by moving the rotational inner cam without the use of a bow press. This cam also features optimized nock travel at all draw lengths and generates speeds of up to 314 fps.
Single Cam versions
NI (2008-2010) - The NI cam system has been featured on a few different bows because it is so smooth and easy to adjust. The draw length is adjusted with a Rotational Inner Cam without using a bow press. However, you will need a press to adjust draw posts. The Moneymaker is not a speed monster and can only generate IBO speeds of up to 302 fps. The let-off can be adjusted from 80% to 65%.
One Cam (2011) - The Moneymaker X One Cam employs the MS Single cam which is a new single cam system that is specifically designed for target shooting. Like the new TH Hybrid cam this system uses the Posi-Lock inner-cam for precise draw settings. Draw length changes are made with by rotating the Rotational Inner Cam without the need of a bowpress. This cam system also features a tuned and matched asymmetric idler wheel for optimized performance. With the MS Single Cam the Moneymaker X shoots arrows at 305 fps IBO.
Draw Cycle / Shootability
Draw cycles on the single and hybrid cam versions of the Moneymaker X are said to be smooth with a gentle rollover to a solid wall. Thanks to the deflex riser, this bow practically aims itself. While that might be an over statement, this bow holds on target so well that some shooters have described it that way. After release this bow is also dead in the hand with almost no noticeable hand shock. Furthermore, it is surprisingly quiet, which is enhanced on the 2011 models with the addition of the factory installed Vibracheck Hush Kit.
There are slight differences in the draw cycles because of the cam systems. These differences are:
Hybrid cam
Stiffer, but still smooth draw
Short valley
Harder to hold at full draw
Single cam
Silky smooth draw
Easier to draw
Easier to tune
Don't have to worry about timing issues
Comparing Hybrid and Single Cam versions
The Moneymaker X was co-designed by PSE's Professional Shooting Team. It is said PSE had to come up with a hybrid cam and single cam version to keep their team happy. The 2011 versions continue to be designed and built with the highest quality materials and with the most advanced technology available. The new versions are equipped with updated cam systems allowing for easier adjustments and faster IBO speeds. Overall the two versions of the Moneymaker X are much the same in each given year. However, draw cycle and shootability will differ between them. It is up to the shooter to decide which fits their individual style and feel best. Whether the archer decides on a hybrid or single cam version of the Moneymaker X they will be getting one of the best bows ever built for target shooting.
Bow for Target Shooting
The PSE Moneymaker X was designed purely for target shooting. The hybrid and single cam models both have a long axle to axle length and brace height helping to make it one of the most accurate and forgiving bows ever built. Furthermore, the Deflex shaped riser, generally only found on target bows, is designed to reduce torque and help hold on target with ease.
Summary
The PSE Moneymaker X was designed by some of the best archers in the world. Thus, it only makes sense that this bow is one of the most accurate and easiest shooting target bows ever manufactured. Shooters will need to choose between the hybrid cam and single cam versions of this rig. Both feature smooth draw cycles, forgiving brace heights, long axle to axle length and a deflex riser which all combine to enhance the shootability of each model. Whichever the shooter chooses, target archers are sure to be pleased with the performance and feel of this bow.
PSE Moneymaker X Review