PSE X-Force Axe 6 Review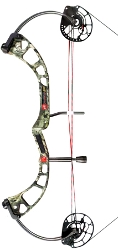 Where to buy


from $329.99
Compare Prices

Editors' review
The PSE X-Force Axe 6 belongs to the PSE Axe series and is considered to be one of the best speed bows in 2010.
Grip
The Slim Low Torque (SLT) grip is fully machined and has contoured rubber side panels. This design allows for more comfort and consistency as reported by the majority of archers who shoot this rig.
Limbs
The X-Force Axe 6 is equipped with the new Next Generation X Technology Split Limbs which go to beyond parallel angles at full draw. This technology allows for reducing shock, vibration, and noise after releasing the arrow.
Silencing system / Quietness and vibration
According to our observations, a bare Axe 6 has a little bit more shock and vibration when compared to the quietest (bare) speed bows. However, according to multiple reviews we explored, it's considered to be quiet enough for a speed bow. Shooters also say that installing a stabilizer and other silencing components makes this rig even quieter and significantly reduces vibration and shock. Overall, the Axe 6 is reported to be surprisingly quiet for a speed bow.
Eccentric system
PSE's new AXE Hybrid Cam system is the driving force behind advertised IBO speeds reaching 337 to 345 fps. This highly adjustable eccentric system has an inner module on each cam to easily adjust the draw length from 25.5 to 30.5 inches, in 1/2" increments. Each inner module can be moved and adjusted with the help of a 7/64" hex wrench. The let-off is 75%. Overall, shooters are very happy that no bow press or modules are needed for adjusting the draw length on this rig.
Draw cycle / Shootability
The X-Force Axe 6 has a smooth but stiff draw cycle as confirmed by the majority of archers shooting this bow. Experts say, the draw cycle is a tad more in effort in the beginning of the cycle, but gets smoother all the way to the end. While the draw cycle is smooth, it's also relatively stiff. All speed bows have stiff draw cycles, but not all of them are as smooth as the Axe 6. With the two draw stops, this rig has a very solid back wall. Also, shooters say the Axe 6 is a lightweight and well balanced bow. Overall, the majority of people who shoot this bow agree that the Axe 6 is one of the best shooting speed bows on the market.
PSE Axe 6 vs. PSE Axe 7
Some archers like comparing the Axe 6 with another bow from the Axe series: the Axe 7. When it comes to the specs, the main differences between the two is that the Axe 6 has a shorter brace height (6"), is 10 FPS faster than its 7" brother, and is better suited for archers with shorter draw lengths.
When it comes to shootability, archers with shorter draw lengths will often not feel any difference between the two bows. That is why such people often say they are extremely happy with the Axe 6 because it's 10 FPS faster. However, many experts agree that for longer draw length shooters (28"+), the
PSE X-Force Axe 7
will be a better choice due to its more forgiving brace height, shifted draw length range, and a better string angle.
Bow

PSE X-Force Axe 6

PSE X-Force Axe 7

Version

2011

2011

Picture
Brace Height
6 "
7 "
AtA Length
32.5 "
32.5 "
Draw Length
25.5 " - 30.5 "
26.5 " - 31.5 "
Draw Weight
50 lbs - 70 lbs
50 lbs - 70 lbs
IBO Speed
337 fps - 345 fps
327 fps - 335 fps
Weight
4.0 lbs
4.0 lbs
Let-Off
75%
75%
Where to buy


Best prices online

Not available now.
Please check later.

compare more bows
Summary
To conclude, the PSE X-Force Axe 6 is one of the best 2010 speed bows. This is a very fast, lightweight, and well balanced bow with a solid back wall. While the draw cycle is relatively stiff, it is very smooth. In addition, the eccentric system is highly adjustable: no bow press or modules are needed to adjust the draw length. Overall, the PSE X-Force Axe 6 is a great choice for those shooters who prefer fast and high quality rigs.
PSE X-Force Axe 6 Review