Bear Showdown Review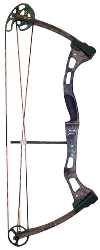 Where to buy


from $64.99
Compare Prices

Editors' review
The Bear ShowDown is a solid choice for the entry level archer. While this bow isn't full of bells and whistles it is a no nonsense rig with a very economical price tag. All around a very adjustable bow with a good draw weight range.
Finish
As on the whole Bear line up, the finish on this bow is a quality, durable finish that comes in Realtree All purpose green camouflage. The limb pockets and cams are coated in a green finish.
Riser
The riser is constructed from machined 6061-T6 aircraft aluminum which makes this riser very rigid and durable. The riser is designed to minimize riser flex which in turn gives you a more forgiving and accurate shot.
Limbs/Limb Pockets
The limbs on the Showdown are compression molded quad limbs that rest in the parallel position. They are constructed of continuous, uncut fibers that make them very reliable. The limb pockets are constructed of aluminum and are designed to have a tight riser to limb fit. They are also equipped with rubber isolation boots so that the limb never actually touches the limb cup or riser cutting down on buzz and vibration.
Grip
The grip is made from a synthetic composite grip in a two piece side plate design. The grip is quite wide compared to the other bows in Bear's line up.
Eccentric System
The ShowDown comes with a single cam and idler wheel system. This same cam system has been featured on previous higher end Bear bows. The cam is a more aggressive style cam and that where most of the speed comes from on this rig. In addition this cam allows 1" draw length adjustments from 25-31" and 1/2" post adjustments. This set up also has 80% let off and has a 290 fps IBO speed.
Shootability
The ShowDown has a rather smooth draw cycle but does have a decent hump through the valley. It transitions well to full draw and once there it holds very well with the 80% let off. Once shot this bow does have a slight string twang and hand shock. Vibration dampening components would be recommended for install of this bow. With the installation of some limb savers, vibration dampening stabilizer, string leeches and a string suppressor the shootability of this rig could be greatly improved.
Showdown vs. Lights Out
The Showdown and Lights out are the closest to each other in price point of this Bear line of bows. These bows share the same style grip and the risers are made from the same material. Outside of those things they are considerably different. With the Showdown being a more no frills super economic bow, the
Bear Lights Out
has a smoother drawing cam, higher IBO speed and has a string suppressor installed.
Usage
For most applications the Showdown would be a beginner's bow. While a hunter on a budget could be happy with this rig, the purchase of some vibration dampening components would greatly help the shootability. If chosen for hunting its short axle to axle length would be good from a tree stand and with 80% let off it can be held for a good duration of time without your arm getting tired.
Bow

Bear Showdown

Bear Lights Out

Version

2009

2009

Picture
Brace Height
8.75 "
8.75 "
AtA Length
31.75 "
30 "
Draw Length
25 " - 31 "
25 " - 31 "
Draw Weight
50 lbs - 70 lbs
40 lbs - 70 lbs
IBO Speed
286 fps - 290 fps
296 fps - 300 fps
Weight
3.8 lbs
3.7 lbs
Let-Off
80%
80%
Where to buy


Best prices online

compare more bows
Summary
Overall the price tag on the ShowDown is at a level that anyone can afford. If you are giving archery a try for the first time this would be a solid choice for you. If you are just looking for an affordable rig then the installation of some vibration dampening components will most likely been needed to help with consistent shooting. In conclusion this bow has potential but in most cases would probably suit the beginner archer the best.
Bear Showdown Review