Bowtech Carbon Icon Review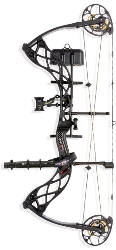 Where to buy


from $525
auctions from $374.99
Compare Prices

Editors' review
The 2015 Bowtch Carbon Icon is a solid bow. It feels great and weighs very little with options for a more or less agressive draw. Bowtech is an experienced company and seems to have great followers that will include many that will fit the nich for what this bow offers at a decent price. It's a nice and compact hunting bow. Carbon bow enthusiasts can save some money with this bow.
Finish
This bow only has two color options unfortunately. It comes in either black ops, or Mossy Oak Break Up Country. The camo on the riser is dipped and can have a stretched out look in some places. This camo option is not a common pattern, but looks pretty similar to the standard Mossy Oak Break Up. The finish has not had any complaints of being undurable at this point and seems to be holding up well.
Riser/Limbs
The Carbon Icon has a 31" axel to axel measurement. It has an incredibly light weight of only 3.2 lbs. and still feels real steady in the hand. The Knight Riser is a carbon riser and has a good cross weaved look to it. This riser is also used on the Diamond Carbon Cure, Bowtech Carbon Knight, Bowtech Carbon Overdrive, and Bowtech Carbon Rose. The string stop comes standard on the bow and protrudes from the bottom portion of the riser. A stabilizer bushing comes standard.
The limbs are solid in structure and are nearly parallel when flexed. For it being a shorter bow it is quite forgiving. The riser/limb combination produce a 7" brace height on this bow.
Grip
The grip on the Carbon Icon consists of only carbon printed side plates on the riser. They have a glossy finish with black carbon printed on it. It seems to feel well and balanced and maybe just a small amount of torque. It doesn't feel too slippery, it may get a little chilly in the hand when hunting in extreme cold.
String Suppressers
The string stop does an awesome job at suppressing noise and vibration on this bow. It is integrated into the riser and deadens the string. The rubber end softens the shot and looks durable. Although it is not completely absent there is little shock and buzzing after the shot mostly because of this string stop.
Eccentric System
The dual cam set up is not lightening fast, but it is less money than many other models. These Binary cams feature Bowtech's revolutionary PowerShift FlipDisc2 technology. This flip disc module allows two different feels within the same bow. It has a performance and a comfort setting. By simply flipping the disc one can change this setting from a fast and aggressive to slower, but more comfortable. The speed difference is about 15 fps. It has a rotating module that will adjust the draw length without a bow press 26.5" to 30.5" in .5" increments. It has 80% let off and comes in 50, 60, or 70lb. draw weights. The IBO speed is 335 fps and it seems pretty true to that.
Draw Cycle/Shoot Ability
The draw on the Carbon Icon is nice and then really nice with the comfort setting of the flip disc. It has a hard draw stop that provides a firm back wall. The draw stop adjusts with the draw length adjustments by the owner. The valley almost feels even better in the comfort setting, but it can also be varied with the draw stop to your preference by having in the correct setting for the draw length or one setting longer for an larger valley. A stabilizer would benefit this bow in balance and recoil. The slide type cable guard set up can not match up with the roller guard systems on most of the higher end bows these days.
Silencing Package
For this bow being a little more of a "middle of the road" model it has a fairly low level of noise. The soft string stop kills the majority of sound and vibration. There are 2 other rubber silencers on the cables of the bow that also help to deaden vibration without slowing the string down.
Comparisons
Bow

Bowtech Carbon Icon

Bowtech Carbon Overdrive

Version

2018 DLX

2014

Picture
Brace Height
7 "
6.5 "
AtA Length
31 "
31.5 "
Draw Length
26.5 " - 30.5 "
25 " - 30 "
Draw Weight
40 lbs - 70 lbs
40 lbs - 70 lbs
IBO Speed
335 fps
342 fps
Weight
3.2 lbs
3.3 lbs
Let-Off
80%
80%
Where to buy


Best prices online

compare more bows
The Bowtech Carbon Icon is a few bows down the line of flagship bows of this year a couple of years past. It will do more than a large majority of bow hunters are looking for and among many others is shares that same riser as the
Bowtech Carbon Overdrive
. The Overdrive is about 7 fps faster on its' IBO, but is .5" shorter on its' IBO. It is also a .5" longer, weighs .1lbs. more, and has many more color options. The Carbon Icon does have Powershift Technology and Flip Disc Performance unlike the Overdrive. With the differences between this bows seeming somewhat minor the difference in MSRP price is greater with the Overdrive being $249 higher.
Perfect Usage
This is a good hunting bow and would be great for the hunter on a bit of a budget. It is more than enough for any big game and light enough to carry on longer hikes or stalks. The Carbon Icon would fit a large range of shooters, but may be a little short in total length for taller or longer draw length shooters. Leisurely 3D shooters would be fine with this bow.
Value
The work value is what really comes to mind with this bow. It is a great bargain and although it is not quite a budget bow it is a real good deal. With it being so light in weight it still has plenty of quality. Bowtech also offers this bow in a package that they call the "RAK Package", Ready, Aim, Hunt. For only $100 more it includes a quiver, Bowtech wrist strap, Octane stabilizer, capture type rest, sight, loop, and a peep.
Summary
This is more than a regular bow with a decent price. It's extra light weight due to its' carbon riser takes it beyond basic. It has many options and new innovations along with being at least fairly comfortable to shoot at even the more aggressive settings. It has a solid backwall with a generous brace height. Many archers would be happy with this bow with its range in size and easy adjustability. The Carbon Icon is quite a bargain with an MSRP of $649 for the bare bow and $749 for the RAK Package.
Bowtech Carbon Icon Review